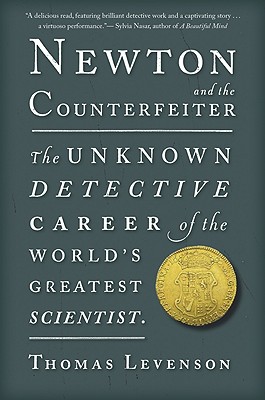 Newton and the Counterfeiter (Paperback)
The Unknown Detective Career of the World's Greatest Scientist
Mariner Books, 9780547336046, 336pp.
Publication Date: April 12, 2010
Other Editions of This Title:
Hardcover (6/1/2009)
MP3 CD (8/30/2016)
* Individual store prices may vary.
Description
A fascinating slice of true-crime history that unfolds in 1695, when law enforcement was unheard of and modern money was little more than a concept
When renowned scientist Isaac Newton took up the post of Warden of His Majesty's Mint in London, another kind of genius—a preternaturally gifted counterfeiter named William Chaloner—had already taken up residence in the city, rising quickly in an unruly, competitive underworld. In the courts and streets of London, and amid the tremors of a world being transformed by ideas Newton himself had set in motion, Chaloner crosses paths with the formidable new warden. An epic game of cat and mouse ensues in Newton and the Counterfeiter, revealing for the first time that Newton was not only one of the greatest minds of his age, but also a remarkably intrepid investigator.
About the Author
THOMAS LEVENSON is a professor of science writing at MIT and the author of three previous books: Einstein in Berlin, Measure for Measure, and Ice Time. He is also the producer of ten documentaries for which he has won numerous awards.
Praise For Newton and the Counterfeiter: The Unknown Detective Career of the World's Greatest Scientist…
"Levenson reveals the remarkable and true tale of the only criminal investigator who was far, far brainier than even Sherlock Holmes: Sir Isaac Newton during his tenure as Warden of the Royal Mint. What a fascinating saga! It allows us to see the human side of Newton and how his amazing mind worked when dealing with practical rather than theoretical questions."
—Walter Isaacson, author of Einstein, His Life and Universe and Benjamin Franklin: An American Life

"Newton and the Counterfeiter is a wonderful read that reveals a whole new side to a giant of science. Through a page-turning narrative, we witness Isaac Newton's genius grappling with the darker sides of human nature, an all too human journey reflecting his deepest beliefs about the cosmic order. This is a gripping story that enriches our sense of the man who forever changed our view of the universe."
—Brian Greene, author of The Fabric of the Cosmos

As the great Newton recedes from us in time, he comes increasingly into focus as a man rather than a myth—thanks in no small measure to this learned and lively new study from the estimable Thomas Levinson."
--Timothy Ferris, author of Seeing in the Dark

"Newton and the Counterfeiter is both a fascinating read and a meticulously researched historical document: a combination difficult to achieve and rarely seen . . . Recommended for anyone who wants to know the real story behind this astonishing but largely overlooked chapter of scientific history."
--Neal Stephenson, author of Cryptonomicon and Anathem

"I absolutely loved Newton and the Counterfeiter. Deft, witty and exhaustively researched, Levenson's tale illuminates a near-forgotten chapter of Newton's extraordinary life--the cat-and-mouse game that pitted him against a criminal mastermind--and manages not only to add to our knowledge of the great mathematician but to make a page turner out of it. This book rocks."
--Junot Díaz, author of The Brief Wondrous Life of Oscar Wao

"Newton and the Counterfeiter is a delicious read, featuring brilliant detective work and a captivating story . . . a virtuoso performance."
--Sylvia Nasar, author of A Beautiful Mind

"I loved Levenson's book. It's a rollicking account of the fascinating underbelly of seventeenth-century London--and reveals an aspect of Newton I'd scarcely known of before, yet which shaped the world we know. A tour de force."
--David Bodanis, author of E=MC2

"Levenson's account of this world of criminality, collusion and denunciation is meticulously researched and highly readable...the tale of Newton the economist is one worth telling." -- New Scientist

"Levenson demonstrates a surpassing felicity in his brisk treatment of this late-17th-century true-crime adventure...Swift, agile treatment of a little known but highly entertaining episode in a legendary life."
-- Kirkus Reviews

"Highly Reccommended." -- Library Journal

"Newton and the Counterfeiter packs a wonderful punch in its thoroughly surprising revelation of that other Isaac Newton, and in its vivid re-creation of 17th-century London and its fascinating criminal
haunts." -- Providence Journal

"Newton and the Counterfeiter is as finely struck as one of Newton's shillings." -- The Oregonian

"Levenson transforms inflation and metallurgy into a suspenseful detective story bolstered by an eloquent summary of Newtonian physics and stomach-turning descriptions of prison life in the Tower of London...Newton and the Counterfeiter humanizes a legend, transforming him into a Sherlock Holmes in pursuit of his own private Moriarity." -- Washington Post
Book Videos