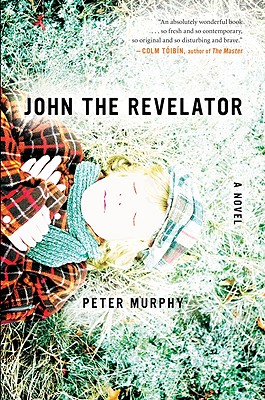 John the Revelator (Paperback)
Mariner Books, 9780547336909, 272pp.
Publication Date: April 13, 2010
* Individual store prices may vary.
Description
This is the story of John Devine — stuck in a small town in the eerie landscape of Southeast Ireland, worried over by his single, chain-smoking, bible-quoting mother, Lily, and spied on by the "neighborly" Mrs. Nagle. When Jamey Corboy, a self-styled Rimbaudian boy wonder, arrives in town, John's life suddenly seems full of possibility. His loneliness dissipates. He is taken up by mischief and discovery, hiding in the world beyond as Lily's mysterious illness worsens. But Jamey and John's nose for trouble may be their undoing and soon John will be faced with a terrible moral dilemma. Joining the ranks of the great novels of friendship and betrayal — A Separate Peace, A Prayer for Owen Meany, Paddy Clarke Ha Ha Ha — John the Revelator grapples with the pull of the world and the hold of those we love. Suffused with family secrets, eerie imagery, black humor, and hypnotic prose, John the Revelator is a novel to fall in love with and an astounding debut.
About the Author
PETER MURPHY, a writer and journalist, has written for Rolling Stone, the Sunday Business Post, and others. He has written liner notes for albums and anthologies, including for the remastered edition of the Anthology of American Folk Music, which features the Blind Willie Johnson recording of the song "John the Revelator."
Praise For John the Revelator…
A Barnes & Noble "Discover Great New Writers" selection for Fall 2009


Advance Praise for John the Revelator


"Full of things I can remember but can't imagine, a stunning debut novel."
–James Dean Bradfield, lead singer of the Manic Street Preachers


"The prose is a bag of fireworks, crackling with idiom and humour. Domestic, mythic, creepy, funny. Brilliant."
--Nick Laird, author of Utterly Monkey


"There's a novel which there's a lot of excitement about by Peter Murphy called John the Revelator. I've read it and it's an absolutely wonderful book, I mean it's a really wonderful book. And people say 'oh, you know, Irish fiction is stale,' well things can change overnight, and books like Peter Murphy's can change things and be so fresh and so contemporary, so original and so disturbing and brave. I don't know what else is coming out of the blue like that, and that's the way it goes."
—Colm Toibin, The International Herald Tribune


"Everything about John the Revelator excited me—I couldn't wait to turn the page and keep on going. It was like reading for the first time, almost as if I'd never read a novel before."
—Roddy Doyle, author of Paddy Clarke Ha Ha Ha


"Peter Murphy gives a great read, both wild and grounded. John the Revelator is the bastard of son of J.D. Salinger and Ted Hughes—ballsy, humorous, and brutally honest."
—Sabina Murray, author of The Caprices


"I also read a debut novel by an Irish writer, Peter Murphy, John the Revelator. An atmospheric tale of a young boy growing up in a small village whose life is altered by his friendship with a very free-spirited boy who he meets. It's an interesting debut, filled with humour and energy, and a certain sense of mystery. Best of all is the old crone, Mrs Nagle, who takes up residence in John's house whenever she sees an opportunity. Their face-offs are very funny and original."
—John Boyne, author of The Boy in the Striped Pyjamas and Mutiny on the Bounty


Praise from the UK


Murphy's impressive debut novel traces the childhood and young adolescence of John Devine. It is impressionistic rather than narrative-driven. It is part a traditional rite of passage novel and part hallucinogenic graphic nightmare horror. John the Revelator is the shout and answer refrain of the traditional blues song. . .It is also subtly comic. . .the author is to be admired for taking a well-used theme and giving it a great new twist . . . yet underneath the gothic, there is a gentle, tender novel. Peter Murphy's prose is extraordinarily good and each page is sheer pleasure to read."
—Neil Donnely, Irish Independent News


"John The Revelator is as assured a debut as I've read in years, and Murphy has created a cast of characters that will live long in the memory . . . This is a startling first novel, a remarkable statement of intent."
—John Meagher, the Irish Independent


"There is little to find fault with in this remarkably assured first attempt. Murphy, a music journalist from Wexford, has tapped something special with this insight into teenage psyche in a pocket of rural Ireland . . . This is a strikingly beautiful portrayal of mother and son . . . From the outset, Murphy shows a natural flair for narrative . . . Despite such confidetnly written prose, there is no evidence of arrogance . . . The style and attention to detail tally so well that it's easy to consume John the Revelator in one sitting . . . it is a hugely enjoyable work of fiction that announces Murphy as an Irish writer of substance."
—-Sunday Times Ireland


"Directly from the opening paragraph, Peter Murphy's exuberantly candid first novel draws the reader. . .Murphy succeeds in making his lively, evocative story that bit different, thanks to an assured narrative voice and an ability to detect the bizarre ever lurking within the commonplace. . .Murphy convincingly evokes a child's response to life. . .This novel continually surprises as Murphy never becomes too clever. . .This may be a story of relatively recent contemporary Irish life, but Murphy also conveys a sense of the Ireland that went into making John's world, a place in which the Bible and folklore walked hand in hand."
—The Irish Times


"An Irish music writer, Peter Murphy casts his debut novel like a blues noir, steeped in the music that has clearly inspired him. From the title, Blind Willie Johnson's 1930 gospel call and response, he follows the path of Nick Cave's 1985 Delta descent The Firstborn is Dead, with its shades of William Faulkner, Flannery O'Connor and Harry Crews. But this spook-filled Irish landscape, rendered with gouts of blood-red humour, is entirely his own."
—Cathi Unsworth, The Guardian


"Murphy's writing is resolutely unsentimental, but so moving and powerful that the end had me weeping buckets."
—Kate Saunders, The Times (London)


"Beautifully written, darkly humorous and totally engrossing. An exciting and impressive new talent."
—Anne Sexton, Hot Press


"Murphy has a very obvious affection for language, and for the crackle, spark and music of words. Even when describing decay and sourness, he manages to imbue things with an arresting beauty. He leads the reader down some atmospheric and moody byways, and avoids the dramatically obvious in favour of a gentle unravelling of John's friendship with Jamey, and John's attempts to deal with his mother's illness. The book moves with the organic grace of a coming-of-age movie, where everything of importance happens beneath the surface . . . Murphy is particularly good at describing the feverish angst of adolescence, the sweaty crawling-under-your-skin feeling of not knowing where you're going, and in John Devine he avoids the obvious and trite and creates an obliquely fascinating character."
—Padraig Kenny, Sunday Tribune

"Murphy writes spare arresting prose with the brio of Ireland's current literary star Anne Enright and he has the ear for dialogue of Roddy Doyle."
—Daily Express

"Murphy's eerily atmospheric debut . . . with its dark humour and hypnotic prose, brilliantly captures the uncertainties of growing up."
—Daily Mail


"A moving and affecting first novel."
—Sunday Herald

"[A] jaw-dropping debut...Murphy works literary alchemy on every page, filtering the daily tedium of small-town life through John's bizarre worldview and enriching the story with a caustic humor that still leaves room for genuine moments of friendship and familial tenderness...A terrific, disquieting addition to the long tradition of Irish storytelling."
— Kirkus Review

"In the hallowed pantheon of Irish coming-of-age novels, Murphy's strongly written debut splits the difference between the sensitivity of Portrait of an Artist and the freakishness of Butcher Boy...Murphy understands the gracelessness of teenage boys and that peculiar delinquent wisdom shared by all the great coming-of-age novelists. With this novel, he doesn't have to bow to any of them.
— Publishers Weekly

"Beautifully humane and sometimes nightmarish, this incredible debut novel...establishes Murphy as an author of tremendous imaginative and linguistic power who has mastered Flann O'Brien's supernatural whimsy, Beckett's grim irony, and McCabe's unsparing brutality. Essential reading."
— Library Journal

"...this is a noteworthy debut from a writer who sticks with his stormy vision of the world."
— Dallas Morning News

"[A] soul-stirring debut novel...Murphy sets linguistic traps to capture the reader's attention in line after line of inspired and, yes, revelatory prose."
— Seattle Times
This novel is a wondrous mix of biblical mythology, science, and dark dreams. Did the blurred line between reality and fantasy enhance your reading experience or make it more difficult for you to understand?
What does it tell you about John when, on page 10, he shares a few bits of information about parasites and worms from his new book and then draws the connection between Maggotoriums and the purportedly healing smell that arose from St. John's grave?
Lily is a religious woman who strives to keep her son on the straight and narrow path. Why does she name him John? Why do you think the author titled the book John the Revelator instead of John Divine or something else entirely?
On page 23, John puts a wasp and a caterpillar in a jar so that the wasp can inject the caterpillar with its eggs. Do you think this makes John a cruel boy? Why or why not? What do you think his fascination with the dark stems from?
Animals have served as symbols and portents throughout human history. In this novel, crows make several appearances. Identify each time a crow appears in the story, and discuss the possible meanings behind this recurring story element?
On pages 30–31, Lily tells John the story of Labhra Loingseach. What is the lesson of this parable, and why does she tell it to John at this point? How does the story relate to the events of the novel?
Throughout the novel, John is exposed to three major figures of womanhood: Molly Ross, the young lover who takes his virginity; Lily, his mother, who raises him alone; and Mrs. Nagle, the strange crone who seems to both help and intrude on the Divines. Discuss the roles that these women play in John's life and how they are portrayed in the novel?
Having spent most of his life without any real friends or male role models, John takes to Jamey immediately. He later tells his mother that when Jamey left Kilcody for good, he felt that "something inside of me died, like I was a twin whose body had absorbed that of his brother, and now he lived in me" (p. 210). What is it about Jamey that attracts John?
While drunk, John commits horrible blasphemy in the church, which Jamey captures on film. Though Jamey asks him, John is never able to explain exactly why he flipped out the way he did. What do you think happened? Were you surprised that Jamey continued to write to him, even though John let him take the blame? What did you expect to happen when Jamey was released from the boys' home?
Despite their closeness, John ultimately betrays Jamey. And yet Jamey continues to send postcards and stories to John, even after he leaves town. Discuss the intricacies of this strange friendship, and compare it to other famous literary duos. What other books have you read that place a young friendship at their center? How do these relationships influence the protagonists, compared to how Jamey's friendship influences John?
Several threads, major and minor, weave through this story, creating an odd pattern of tall tales, literature, dreams, myths, lies, and, somewhere in the midst of it all, a bit of truth. Discuss the various subplots the author has created and follow their paths to their conclusions. Was there anything that you felt was not satisfactorily resolved?
Of all the places to go, why do you think John chooses to retreat to Blowhole Cove after his mother's funeral? Do you think he finds solace in the end? What did you make of the ending?