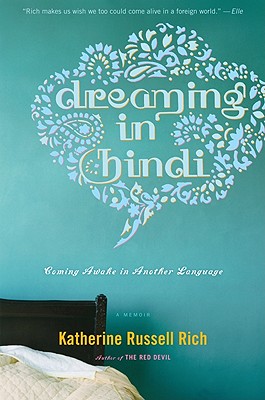 Dreaming in Hindi (Paperback)
Coming Awake in Another Language
Mariner Books, 9780547336930, 384pp.
Publication Date: June 10, 2010
Other Editions of This Title:
Hardcover (7/7/2009)
* Individual store prices may vary.
Description
An eye-opening and courageous memoir that explores what learning a new language can teach us about distant worlds and, ultimately, ourselves.
After miraculously surviving a serious illness, Katherine Rich found herself at an impasse in her career as a magazine editor. She spontaneously accepted a freelance writing assignment to go to India, where she found herself thunderstruck by the place and the language, and before she knew it she was on her way to Udaipur, a city in the northwestern state of Rajasthan, in order to learn Hindi. Rich documents her experiences—ranging from the bizarre to the frightening to the unexpectedly exhilarating—using Hindi as the lens through which she is given a new perspective not only on India, but on the radical way the country and the language itself were changing her. Fascinated by the process, she went on to interview linguistics experts around the world, reporting back from the frontlines of the science wars on what happens in the brain when we learn a new language. She brings both of these experiences together seamlessly in Dreaming in Hindi, a remarkably unique and thoughtful account of self-discovery.

About the Author
KATHERINE RUSSELL RICH was the award-winning author of The Red Devil: To Hell with Cancer—and Back. She wrote for the New York Times Magazine, the Washington Post, Slate, and Vogue, and taught writing at Lesley University in Cambridge, Massachusetts, until her death in 2012 after a nearly quarter-century battle with breast cancer.
Praise For Dreaming in Hindi: Coming Awake in Another Language…
"Dreaming in Hindi is the verbally and emotionally dazzling story of Rich's passage to India, where she tried to master an intricate foreign tongue—and became fluent in the language of human possibility." —O, The Oprah Magazine, "Ten Terrific Reads of 2009"
"Riveting and sharply observed." —Wall Street Journal
"A work that will inevitably be compared to Elizabeth Gilbert's Eat, Pray, Love . . . [Dreaming in Hindi] traces the far-flung adventures of a thoughtful, soul-searching, single woman from New York." —New York Times
"Rich is a charming raconteur." —San Francisco Chronicle

"In her deftly written memoir, Dreaming in Hindi, Rich makes us wish we too could come alive in a foreign world, fearless of mistakes, misperceptions and mishaps, and enlivened by the unfamiliar . . . a natural journalist, [she] gracefully sprinkles reportage about neuroscience and linguistics, as well as her own poignant insights, into her narrative." —Elle
"[A] wonderful memoir . . . Fluidly interspersed within [Rich's] witty, tongue-in-cheek account of the nutty fellow students and nosy, however well-meaning, Indian spectators are comments and elucidation on second-language acquisition from experts, and observations while visiting a school for the deaf . . . In her deft and spirited prose [Rich] depicts being literally 'possessed by words.'" —Publishers Weekly (starred review)
"Rich has a witty, conversational, intimate voice that draws the reader into experiences that sometimes seem surreal, sometimes all too real. The science is fascinating." —Portsmouth Herald
"Lovely." —Houston Chronicle
"Piquant, frank, and penetrating, Rich's intricate memoir is as beguiling as language itself." —Booklist
"A charming intellectual travelogue, partly about the culture and history of India, partly about the nature of language and language learning, and also, as usual for great travel writing, very much about its author. 'I ski Hindi,' [Rich writes and] elsewhere in the book, she skis psycholinguistics, in long, gleeful conversations in university laboratories . . . and just about every other language-related discipline gets at least one downhill run as well." —Mark Liberman in Language Log
"One of the best foreign observers of contemporary India, Rich's gaze on the country is witty, empathetic, and intimate." —Suketu Mehta, author of Maximum City
"A hilarious and erudite book about the pratfalls involved in learning another language. Dreaming in Hindi is also a sobering examination of the violence of culture clash and an eloquent testimony to the transformative power of genuine immersion in another world." —Wendy Doniger, author of The Hindus
"Dreaming in Hindi is a funny, deeply humane journey of words that invites the reader to awaken to new sounds and sensibilities in India. What a gorgeous, intelligent book!" —Jayne Anne Phillips, author of Lark and Termite
Book Videos