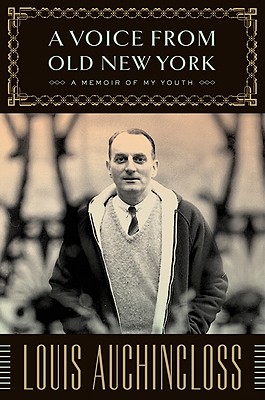 A Voice from Old New York (Hardcover)
A Memoir of My Youth
Houghton Mifflin Harcourt, 9780547341538, 224pp.
Publication Date: December 2, 2010
* Individual store prices may vary.
Description
At the time of his death, Louis Auchincloss—enemy of bores, self-pity, and gossip less than fresh—had just finished taking on a subject he had long avoided: himself. His memoir confirms that, despite the spark of his fiction, Auchincloss himself was the most entertaining character he has created. No traitor to his class but occasionally its critic, he returns us to his Society which was, he maintains, less interesting than its members admitted. You may differ as he unfurls his life with dignity, summoning his family (particularly his father who suffered from depression and forgave him for hating sports) and intimates. Brooke Astor and her circle are here, along with glimpses of Jacqueline Onassis. Most memorable, though, is his way with those outside the salon: the cranky maid; the maiden aunt, perpetually out of place; the less-than-well-born boy who threw himself from a window over a woman and a man. Here is Auchincloss, an American master, being Auchincloss, a rare eye, a generous and lively spirit to the end.
About the Author
Louis Auchincloss was honored in the year 2000 as a "Living Landmark" by the New York Landmarks Conservancy. During his long career he wrote more than sixty books, including the story collection Manhattan Monologues and the novel The Rector of Justin. The former president of the Academy of Arts and Letters, he resided in New York City until his death in January 2010.

Praise For A Voice from Old New York: A Memoir of My Youth…
"Incisive, perceptive, openminded, open-hearted, and civilized, just like the rest of [Auchincloss's] work." —
Booklist

"The prolific author's last book is a farewell to a way of life that was gone before he was. . . . [Auchincloss] was the ideal chronicler of Gotham's smart set and an apt student of the upper echelons of a putative classless society. . . . Throughout the memoir, the author's prose is lapidary, graceful and eminently readable. In a world of postmodern letters, Auchincloss draws a curtain on a premodern, Whartonesque way of life. An anthropological guide to the phantom
politesse
of Old New York, rendered as neatly as ever." —
Kirkus Reviews


"Graceful and entertaining . . . Excellent." --
Publishers Weekly
, starred review
"Too often pigeonholed and/or dismissed as a mere chronicler of the manners of the Northeastern upper class, [Auchincloss] was in fact a writer of rare skill and range, and his best books should find readers for a long time. . . .
A Voice from Old New York
  brings his career to a fit conclusion, a fine little book that may help readers understand that his literary legacy is far more complex and durable than most of his critics acknowledge." --
Washington Post

"Louis Auchincloss's memoir largely manages to be entertaining and occasionally even moving." --
Boston Globe
"Often captivating . . . It is a pleasure... to have one more chance to read the graceful, patrician Auchincloss prose and to spend a few more moments in his Whartonesque world." -- Wall Street Journal
or
Not Currently Available for Direct Purchase