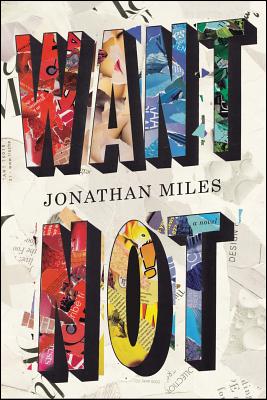 Want Not
Hardcover

* Individual store prices may vary.
Other Editions of This Title:
Paperback (5/13/2014)
MP3 CD (6/21/2016)
Compact Disc (4/4/2019)
Description
A compulsively readable, deeply human novel that examines our most basic and unquenchable emotion: want.  
With his critically acclaimed first novel, Jonathan Miles was widely praised as a comic genius "after something bigger" (David Ulin, Los Angeles Times) whose fiction was "not just philosophically but emotionally rewarding" (Richard Russo, New York Times Book Review, front cover).

Now, in his much anticipated second novel, Want Not, Miles takes a giant leap forward with this highly inventive and corrosively funny story of our times, a three-pronged tale of human excess that sifts through the detritus of several disparate lives—lost loves, blown chances, countless words and deeds misdirected or misunderstood—all conjoined in their come-hell-or-high-water search for fulfillment.

As the novel opens on Thanksgiving Day, readers are telescoped into three different worlds in various states of disrepair—a young freegan couple living off the grid in New York City; a once-prominent linguist, sacked at midlife by the dissolution of his marriage and his father's losing battle with Alzheimer's; and a self-made debt-collecting magnate, whose brute talent for squeezing money out of unlikely places has yielded him a royal existence, trophy wife included.

Want and desire propel these characters forward toward something, anything, more, until their worlds collide, briefly, randomly, yet irrevocably, in a shattering ending that will haunt readers long after the last page is turned.

With a satirist's eye and a romantic's heart, Miles captures the morass and comedy of contemporary life in all its excess. Bold, unblinking, unforgettable in its irony and pathos, Want Not is a wicked, bighearted literary novel that confirms the arrival of a major voice in American fiction.

Praise For Want Not…
"I loved this book…Jonathan Miles can write, and here he's written a wonderful book, and there's no one I would not urge to read it….This is the work of a fluid, confident and profoundly talented writer who gets more fluid, more confident and seemingly more talented even within the book itself. As it progresses, 'Want Not' so assuredly accumulates power and profundity and momentum that I read the last 200 pages without pause." –
Dave Eggers, New York Times Book Review
"[a] shrewd, funny, and sometimes devastating new novel….What WANT NOT does best, though, isn't plotting but portraits of humanity: the small epiphanies and private hurts of every person whose life, like the detritus they produce, is as beautifully mundane and unique as a fingerprint. A-" – Entertainment Weekly
"Panoramic...For readers who relish extravagant language, scathing wit and philosophical heft, Want Not wastes nothing." – Kirkus, STARRED
"With forthright wit and stunning intimacy, Miles doesn't hesitate to broach the uncomfortable consequences of unchecked abundance and desire. The result is a wild tangle of high-octane, entertaining prose, an astonishing leap for this accomplished novelist."
–
Booklist
"Before you gird your loins and stuff your birds for Thanksgiving, spend some highly rewarding hours with all the trash and waste in Jonathan Miles's new novel, WANT NOT."
– Bloomberg
"outrageously funny" – Ron Charles, WashingtonPost.com
"Whether you're a chronic hoarder or a censorious neatnik, make room on the shelf for this terrific new book from Jonathan Miles called "Want Not." Best known for his first comic novel, "Dear American Airlines," Miles is back with a complex, often hilarious, ultimately moving story about who we are and what we discard — subjects that have always been more intimately linked than we care to admit. "Want Not" is — someone's got to say it — the best trashy novel of the year....Even as "Want Not" paws through the bones of pre¬history, the wasteland of our modern economy and the ashes of the future, Miles's elegant and thoughtful voice suggests that all is not lost. The novel may begin with prickly satire, it may dig deep into America's disposable lifestyle, but it ultimately pivots to scenes of surprising tenderness. Despite our extravagant waste, despite our carelessness with each other, despite that temptation to despair that everything is flotsam and jetsam, Miles offers a heartfelt affirmation of human value. That's what makes this a novel to hoard." – Washington Post
"What is extremely apparent...is Jonathan Miles' extraordinary talent. Where so many writers are impressionists, Miles is more of a photo realist....Miles presents such fully developed characters, you come to know their essences." –
New Jersey Star Ledger
"When prompted to offer up a pithy description of life on Planet Earth for future generations, one might be tempted to filch a line from a character in Jonathan Miles'second novel: 'We came, we saw, we trashed.' With a title like WANT NOT you'd think its author, if not the book's characters, might agree. But what makes Miles' new book (after the much lauded DEAR AMERICAN AIRLINES so luminous and so resonant is what it asks instead: Or did we?" – The Oregonian
"WANT NOT, the sophomore effort of Jonathan Miles, author of the much-praised comic rant of a novel DEAR AMERICAN AIRLINES, does not disappoint. WANT NOT leaps nimbly from topic to topic, each sentence providing a miniature window into its author's energetic and wide-ranging mind: from freeganism to conspicuous consumption; from Manhattan's Alphabet City to residential New Jersey to the backwoods of Tennessee; and from neighbors with nothing but geographical location in common to sisters who share nothing but blood….Sitting down with WANT NOT is like finding yourself opposite the most interesting person at a dinner party. It pulls you in immediately; makes you shake your head in wonder and delight at your new companion's wit, originality, and compelling turns of phrase; and, best of all, surprises you into laughter."
– Pittsburgh Post-Gazette
"rapturous prose [and] the blend of ideas and characters...result in a novel that's sharp and occasionally breathtaking." – Time Out New York
"With a large set of people to get to know in the novel, and all of them compelling, Jonathan Miles delivers his second novel WANT NOT with a great big smile. Funnier than ever the author, acclaimed for his DEAR AMERICAN AIRLINES, loves to go off on a tangent and wander along with just his prose as a tiny flashlight in the woods. – Edge Media

"This is a novel with a strong point of view, but it's far from a polemic. Miles is as funny as he is observant, and he allows us to laugh at ourselves as he forces us to look at some of the more unattractive aspects of humanity. This is a hard novel to pitch in a few sentences, but it's an easy one to recommend. Simply put, it's one of the best of the year." – BookRiot
"With a light Midas touch, Miles turns all the glut and ache of late America into pure gold. If you're in that soul-hunt up the food chain and down the dial for something more satisfying than the hollow abundance of our contemporary lives, read this book. It is warm, complex, comic, honest, and never flinching. Want Not wastes not a word, while its pleasures are endless." – Joshua Ferris, author of The Unnamed and Then We Came to the End
"In this powerful, blisteringly funny novel, Jonathan Miles makes a startling discovery: We are what we throw away. It's in our castoff goods, edibles, chances and people that our authentic selves are revealed; or, as one of his many memorable characters puts it, 'garbage [is] the only
truthful
thing civilization produced.' Miles mines the depths of waste so artfully that by the end of this extraordinary novel, we're left with the suspicion that redemption may well be no more, and no less, than an existential salvage operation."
– Ben Fountain, author of Billy Lynn's Long Halftime Walk and Brief Encounters with Che Guevara
"
Want Not
, Jonathan Miles' brilliant and original take on a culture
–
ours
–
that mindlessly seems to squander all that is dear, is as witty as it is mind-blowing and eye-opening. The combination of high-octane prose and Miles' compassion for his characters make for a novel that stirs the collective conscience. A clear-eyed, exuberant entertainment."
– Helen Schulman, author of This Beautiful Life and A Day at the Beach
Houghton Mifflin Harcourt, 9780547352206, 400pp.
Publication Date: November 5, 2013
About the Author
JONATHAN MILES's first novel, Dear American Airlines, was named a New York Times Notable Book and a Best Book of the Year by the Los Angeles Times and the Wall Street Journal. A former columnist for the New York Times, he serves as a contributing editor to magazines as diverse as Field & Stream and Details, and writes regularly for the New York Times Book Review and The Literary Review (UK). A former longtime resident of Oxford, Mississippi, he currently lives with his family in rural New Jersey.
or
Not Currently Available for Direct Purchase