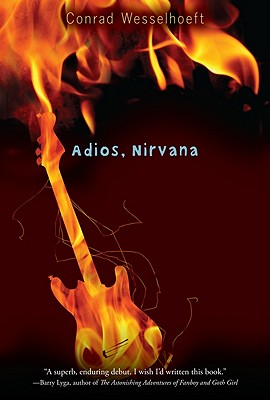 Adios, Nirvana (Hardcover)
Houghton Mifflin Harcourt (HMH), 9780547368955, 235pp.
Publication Date: October 25, 2010
* Individual store prices may vary.
Description
When you piss off a bridge into a snowstorm, it feels like you're connecting with eternal things. Paying homage to something or someone. But who? The Druids? Walt Whitman? No, I pay homage to one person only, my brother, my twin.
In life. In death.
Telemachus.
Since the death of his brother, Jonathan's been losing his grip on reality. Last year's Best Young Poet and gifted guitarist is now Taft High School's resident tortured artist, when he bothers to show up. He's on track to repeat eleventh grade, but his English teacher, his principal, and his crew of Thicks (who refuse to be seniors without him) won't sit back and let him fail.
Praise For Adios, Nirvana…
A 2011 ALA Best Fiction for Young Adults Book


"Wesselhoeft offers a psychologically complex debut that will intrigue heavy-metal aficionados and drama junkies alike. Peopled with the elderly and infirm, crazy parents, caring educators, and poignant teens trying desperately to overcome death's pull, it mixes real and fictional musicians and historical events to create a moving picture of struggling adolescents and the adults who reach out with helping hands. Adios, Nirvana targets an audience of YAs who rarely see themselves in print."—Booklist
"
Adios, Nirvana
 is a bit like road rash. It rakes you raw; gets under your skin; and leaves a few shards stuck permanently in your elbow. It is well worth the trip."—Richie Partington, RichiesPicks.com "Scribble its name on a wish list, type it into your PDA, or pre-order it...because to miss it would be shame. This was (without a doubt) the BEST book I have read in a year, and if I could give it 6 stars I would. Get it, live, it, love it...pass it on."—Misty Baker, Kindleobsessed.com blog "At heart,
Adios, Nirvana
is everything I'd hoped
The Catcher in the Rye
would be...
Adios, Nirvana
is fresh, it's impossible not to feel sympathy for Jonathan and I find myself really wanting to keep reading to see if he can successfully battle his demons. Laced with details into things teens are exposed to on a regular basis—drinking, suicidal thoughts, depression and music, most of all the music—I really loved every minute of Jonathan's coming-of-age tale."—
Roundtable Reviews
"Homage to poetry, music, friendship, and youth, this brash, hip story should attract its share of skater dudes and guitar jammers."—School Library Journal

"Jonathan's narration is all about style, moving between clipped, one-line sentences and heavily imagistic rhapsodies influenced by his heroes Charles Bukowski and Walt Whitman, soaring often into descriptions of his music and the atmospheric West Seattle milieu that colors his sensibilities and returning frequently to Homeric allusion."—The Bulletin


"A wonderful blend of contemporary, historical, and literary fiction. [Wesselhoeft's] use of figurative language makes each page dance with images of raw realism....This is a poignant piece for older teens."—VOYA
or
Not Currently Available for Direct Purchase