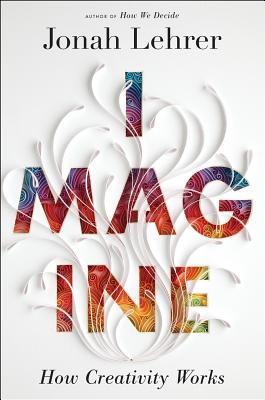 Imagine
How Creativity Works
Hardcover

* Individual store prices may vary.
Description
Did you know that the most creative companies have centralized bathrooms? That brainstorming meetings are a terrible idea? That the color blue can help you double your creative output?
From the "New York Times "best-selling author of "How We Decide" comes a sparkling and revelatory look at the new science of creativity. Shattering the myth of muses, higher powers, even creative types, Jonah Lehrer demonstrates that creativity is not a single gift possessed by the lucky few. It's a variety of distinct thought processes that we can all learn to use more effectively.
Lehrer reveals the importance of embracing the rut, thinking like a child, daydreaming productively, and adopting an outsider's perspective (travel helps). He unveils the optimal mix of old and new partners in any creative collaboration, and explains why criticism is essential to the process. Then he zooms out to show how we can make our neighborhoods more vibrant, our companies more productive, and our schools more effective.
You ll learn about Bob Dylan's writing habits and the drug addictions of poets. You ll meet a Manhattan bartender who thinks like a chemist, and an autistic surfer who invented an entirely new surfing move. You ll see why Elizabethan England experienced a creative explosion, and how Pixar's office space is designed to spark the next big leap in animation.
Collapsing the layers separating the neuron from the finished symphony, "Imagine "reveals the deep inventiveness of the human mind, and its essential role in our increasingly complex world.

http: //www.jonahlehrer.com/
Praise For Imagine: How Creativity Works…
"Not many writers can make plausible links among musicians Bob Dylan, Yo-Yo Ma and David Byrne, animators at Pixar, neuroscientists at MIT, an amateur bartender in New York, entrepreneurs in Silicon Valley and Israeli army reservists. Not many reporters do research about an expert surfer who has Asperger's, information theorists, industrial psychologists and artists. But Jonah Lehrer is such a writer-reporter, who weaves compelling and surprising connections based on detailed investigation and deep understanding. He says that working memory is an essential tool of the imagination, and his book is an excellent example of how a dynamic storehouse of captivating information feeds creative thinking and writing....IMAGINE doesn't offer a prescription for how we are to become more imaginative, but it does emphasize some key ingredients of a creative culture: taking education seriously, increasing possibilities for human mixing and cultivating a willingness to take risks. Lehrer practices what he preaches, showing an appetite for learning, a determined effort to cross fields and disciplines, and a delight in exploring new possibilities. Reading his book exercises the imagination; the rest is up to us."—Washington Post
"Bob Dylan. W.H. Auden. The man who invented Post-it Notes. The people who work at Pixar. If only we all were as creative as those writers and innovators. As it turns out, we are.That's just one of many messages in
IMAGINE: How Creativity Works
, Jonah Lehrer's terrific study of humans' "ability to imagine what never existed."
—Houston Chronicle
"Jonah Lehrer—who, in my opinion, has done more for the popular understanding of psychology and neuroscience than any other writer working today. . . what makes
IMAGINE
outstanding is that the book itself is an epitome of an increasingly important form of creativity—the ability to pull together perspectives, insights, and bits of information into a mashup narrative framework that illuminates a subject in an entirely new way."
—Atlantic.com
"In
IMAGINE
, journalist Jonah Lehrer lays bare the magic trick. With the help of elegant experiments, mind-aching riddles and unlikely characters, he lets us peer inside our heads and see for ourselves what's going on when our best ideas come to us....
IMAGINE
should appeal to everyone, not just because of Lehrer's compelling writing style but also because it puts paid to the idea that creativity is a gift enjoyed only by the lucky few. We can all be more creative, we just need to know how. This book will show you."
—New Scientist
"Drawing from a wide array of scientific and sociological research—and everything from the poetry of W.H. Auden to the films of Pixar—he makes a convincing case that innovation cannot only be studied and measured, but also nurtured and encouraged. . . . This is an inspiring and engaging book that reveals creativity as less a sign of rare genius than a natural human potential."
—The Economist
"The author of Proust Was a Neuroscientist argues his case using examples ranging from the songs of Bob Dylan to the invention of the Swiffer, adding practical tips (the color blue stimulates imagination; brainstorming meetings don't work) for better right-brain thinking."
— Details
"
IMAGINE
argues that modern science allows us to identify and harness the many different thought processes from which creativity emerges. The book is least convincing when Lehrer makes sweeping claims: he fixates on Elizabethan England as an age of 'excess genius,' as though no artists have equaled its accomplishments since, and he relies too heavily on patents as measures of creativity. The book's strength lies in specific examples – detailed stories about 3M, Pixar, Bob Dylan and Don Lee, the computer programmer who became a master mixer of quirky cocktails. These insightful tales make
IMAGINE
well worth the read."
—Scientific American
"Who wouldn't love a book that validates what cubicle workers already know: Brainstorming meetings are a waste of time."
—USA Today
"Flummoxed by an intractable problem? You probably just need to work harder, right? Actually, try taking a walk instead. Thanks to how we're hardwired, insight tends to strike suddenly—after we've stopped looking. In this entertaining Gladwell-esque plunge into the science of creativity, Jonah Lehrer mingles with a wide cast of characters—inventors, educators, scientists, a Pixar cofounder, an autistic surfing savant—to deconstruct how we accomplish our great feats of imagination. Notable themes emerge: Failure is necessary. The more people you casually rub shoulders with—on and off the job—the more good ideas you'll have. And societies that unduly restrict citizens' ability to borrow from the ideas of others—see our broken patent system—do so at their peril."
—Mother Jones
"The author of
Proust Was a Neuroscientist
argues his case using examples ranging from the songs of Bob Dylan to the invention of the Swiffer, adding practical tips (the color blue stimulates imagination; brainstorming meetings don't work) for better right-brain thinking."
—Details
"Jonah Lehrer's new book confirms what his fans have known all along – that he knows more about science than a lot of scientists and more about writing than a lot of writers."—
Malcolm Gladwell, author of The Tipping Point and Outliers
"Jonah Lehrer may be the most talented explainer of science that we've got. His engrossing investigation of creativity and its sources makes
IMAGINE
his best book yet."—
Joshua Foer, author of Moonwalking with Einstein
"Lehrer writes with verve, creating an informative, readable book that sparkles with ideas."
—Kirkus
"Imagine is a great introduction for anyone curious about the nature and dynamics of creativity."
—Booklist
Houghton Mifflin Harcourt, 9780547386072, 304pp.
Publication Date: March 19, 2012
About the Author
JONAH LEHRER is a contributing editor at "Wired" and a frequent contributor to "The New Yorker." He writes the Head Case column for the" Wall Street Journal" and regularly appears on WNYC s "Radiolab." His writing has also appeared in "Nature," the" New York Times Magazine," "Scientific American, " and "Outside." The author of two previous books, "Proust Wasa Neuroscientist" and "How We Decide, " he graduated from Columbia University and attended Oxford as a Rhodes scholar."
Coverage from NPR
or
Not Currently Available for Direct Purchase