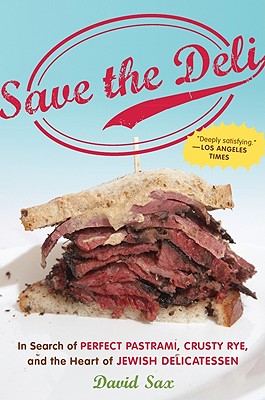 Save the Deli
In Search of Perfect Pastrami, Crusty Rye, and the Heart of Jewish Delicatessen
Paperback

* Individual store prices may vary.
Other Editions of This Title:
Hardcover (10/1/2009)
Description
David Sax's delightful travelogue is a journey across the United States and around the world that investigates the history, the diaspora, and the next generation of delicatessen.
David Sax was alarmed by the state of Jewish delicatessen. As a journalist and lifelong deli lover, he watched in dismay as one beloved deli after another closed its doors, only to be reopened as some bland chain restaurant laying claim to the cuisine it just paved over. Was it still possible to save the deli? He writes about the food itself—how it's made, who makes it best, and where to go for particular dishes—and, ultimately, what he finds is hope: deli newly and lovingly made in places like Boulder, Colorado, longstanding deli traditions thriving in Montreal, and the resurrection of iconic institutions like New York's 2nd Avenue Deli. No cultural history of food has ever tasted so good. 
Praise For Save the Deli: In Search of Perfect Pastrami, Crusty Rye, and the Heart of Jewish Delicatessen…
"David Sax is the M. F. K. Fisher of pickled meats. After Save the Deli, you'll never take a pastrami sandwich for granted again. You'll also be moved by Sax's wonderful portrayal of the folks behind the counters, and their fascinating thoughts on cultural identity, the relentless passage of time—and, of course, kreplach."—A. J. Jacobs, author of The Know It All, The Year of Living Biblically, and the forthcoming The Guinea Pig Diaries
"Nobody this young should be so smart or know so much about delicatessens. He may go down in history as a Jewish hero, the man who saved rye bread. The kid knows how to eat and he knows how to write. You can't ask for more than that, although a glass of cream soda is always nice." —Alan Richman, author of
Fork It Over: The Intrepid Adventures of a Professional Eater
"What if they gave a pastrami on rye and nobody came? Unthinkable? That's what you think. David Sax knows better, and traces the history of the American (and Canadian. And British!) deli-- its arrival, its rise, its potential fall, its possible salvation-- with passion, humor, chutzpah, and tam. Enjoy."-- Ellis Weiner, co-author of Yiddish with Dick and Jane and Oy! Do This, Not That
"A delightful tour of Jewish delicatessens across the nation and abroad, David Sax opens a necessary discussion about the very future of those beloved, yet dwindling, institutions. Save the Deli is a great read."--Ed Koch
"This book is the result of an epic journey, akin to The Odyssey but with Rolaids. With insight, passion, and a digestive system at which one can only marvel, Sax peers between the layers of a pastrami sandwich and glimpses the evolution of community and identity in North America today."--Roger Bennett, author of Bar Mitzvah Disco and Camp Camp
"David Sax's passionate manifesto for sustaining the Jewish deli is so intensely evocative that to read it is like inhaling the aroma of steaming corned beef getting sliced and piled high on glossy-crusted seeded rye, then plated with half-sour pickles and a crisp latke on the side. A voluptuous mitzvah for schmaltzophiles, it also is a singularly practical guide to the best delis from coast to coast and around the world." -- Jane and Michael Stern, authors of 500 Things To Eat Before It's Too Late and Roadfood
"David Sax's book on delicatessens is an important work. The food is an important part of the Jewish culture. We could not have grown up without it. I totally enjoyed our interview and I must say that the book is a great read for anyone, from the culture conscious to the foodies." – Fyvush Finkel, (Yiddish theater legend, actor "Picket Fences" and "Boston Public")
"Save the Deli is a Bromo-fueled cri de coeur on behalf of the uniquely Ashkenazic food that keeps its devotees, whether Jewish or not, from going goyish into that good night. Part elegy, part lament, part rallying cry for a generation whose nitrate levels are already dangerously low, David Sax's book is an  unparalleled look at the past, present and possible future of the pastrami, corned beef, smoked meat, kishka and cabbage rolls that have given generations the strength to kvetch and a reason to do so." – Michael Wex, author of Born to Kvetch
"Just the thought of a book dedicated to the history and cultural importance of Jewish Deli in North American makes my mouth water. And who better to take on the project than passionate writer and adventurer David Sax. His knowledge and experience make him the perfect  man for the job. Without a bible like this how will our next generation of eaters know the delight and pure satisfaction of biting into that perfect pastrami on rye, smothered in mustard and accompanied by a full-sour dill pickle?" -- Gail Simmons, Judge on Bravo's Top Chef
"The wandering of the Jews is frozen in the marble of the corned beef on rye. The fall of the Temple, the exile, life in the ghetto, reliance on the cheapest meat and the ensuing need to tenderize and smoke and spice, the crossing to the New World -- it all culminates in the towering sandwich you find at the Carnegie in New York, Junior's in L.A., Manny's in Chicago. . . . In his deeply satisfying new book "Save the Deli: In Search of Perfect Pastrami, Crusty Rye, and the Heart of Jewish Delicatessen," David Sax sets out to tell this story one city, one deli, one tradition at a time . . . tasting and kvetching and chronicling the state of the cuisine, all this activity set against a dread premonition -- that the deli is going away, and the long run is over."—LA Times
Mariner Books, 9780547386447, 352pp.
Publication Date: October 1, 2010
About the Author
The world's foremost expert on delicatessen, DAVID SAX has visited hundreds of delis, scoping out the best places to eat every Jewish delicacy, and has created a dedicated network of deli lovers through savethedeli.com. His journalism—on everything from food, travel, and drink to culture and politics—has appeared in New York, GQ, Saveur, and the New York Times.