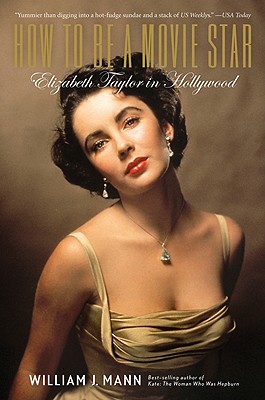 How to Be a Movie Star
Elizabeth Taylor in Hollywood
Paperback

* Individual store prices may vary.
Other Editions of This Title:
MP3 CD (6/28/2016)
Hardcover (10/21/2009)
Paperback (7/1/2011)
Description
Elizabeth Taylor has never been short on star power, but in this unprecedented biography, the spotlight is entirely on her—a spirited beauty full of magic, professional daring, and wit.
Acclaimed biographer William Mann follows Elizabeth Taylor publicly as she makes her ascent at MGM, falls into (and out of) marriages, wins Oscars, fights studio feuds, and combats America's conservative values with her decidedly modern love affairs. But he also shines a light on Elizabeth's rich private life, revealing a love for her craft and a loyalty to the underdog that fueled her lifelong battle against the studio system. Swathed in mink, disposing of husbands but keeping the diamonds—this is Elizabeth Taylor as she lived and loved, breaking and making the rules in the game of supreme celebrity.
Praise For How to Be a Movie Star: Elizabeth Taylor in Hollywood…
"How to Be a Movie Star is more than a well-told, thoroughly researched tale about the most compelling movie star of her time. It's the captivating story of how movie-making magic actually happens—and a truly lively portrait of the greatest screen magician of them all. Mann knows his subject intimately."
—Peter Richmond, author of Fever: The Life and Music of Miss Peggy Lee

"Was Elizabeth Taylor the greatest product of the Hollywood star machine or its greatest victim? Or was she, perhaps, its inventor? At a time when celebrity culture seems to be spiraling out of control, William J. Mann's smart, engaging, clear-eyed case study of Taylor's unique life in the spotlight locates the 'real' person somewhere between her private life and her public image. It's a fresh, unique and wholly successful approach to a fascinating story."
—Mark Harris, author of Pictures at a Revolution: Five Movies and the Birth of the New Hollywood

"A dazzling and sagacious red-carpet Technicolor guide book to the lost art of Stardom . . . essential reading for aspiring love goddesses and mere mortals alike."
—Lee Server, author of the bestselling Ava Gardener: "Love is Nothing"

"When I saw Elizabeth Taylor in person, I suddenly found myself screaming like a teen at a Beatles concert. Mann deftly describes how, with great self-assurance, Taylor shrewdly and methodically orchestrated that reaction on a global scale. This is a smart book about a surprisingly savvy superstar. It's one of the best Hollywood biographies I've ever read."
--Ed Sikov, author of Dark Victory: The Life of Bette Davis

"William J. Mann's portrait is meticulous and delicious, capturing the essence of a great movie star, a woman who epitomized the old Hollywood glamour even as she was bucking the system--every system! Through shrewd and intriguing detail, this lively book brings fresh insight into why and how Elizabeth Taylor mesmerized the world she was helping to change."
--Julie Salamon, author of The Devil's Candy and Hospital

"This is a juicy telling of a screen idol who always did things her own way." --San Luis Obispo Tribune

"...a richly enjoyable biography..." --The Sunday Times (UK)

"William Mann has picked the perfect title for a biography of Taylor. She was, truly, the last great movie star." --The Oregonian

"...she knew by instinct, generations before today's crop of starlets, how to interface her personal and professional lives with the public, who adored her for it. Taylor lived out loud, and the world sang along to her tune." --EDGE New York

"...the sorts of details a reader craves...all are rendered with a verve and fluidity that keep the book moving along in a fleet fashion. [Mann] has clearly done his research and just as clearly adores his subject [...] Taylor was at the furious center of it all, and provides as handy and captivating a guide through [the era] as any star of the 20th century could." --The New York Times Book Review

"Mann's eminently yummy entry is pretty much everything you'd want in a Hollywood biography... What does make How to Be a Movie Star distinctive is its focus on the changing nature of personal fame as embodied by a woman whose life has consisted of one superlative after another." --Salon.com

"William J. Mann's ridiculously entertaining biography of Elizabeth Taylor in her Hollywood heyday is yummier than digging into a hot-fudge sundae and a stack of Us Weeklys." --USA Today

"William J. Mann dissects the crafty machinations of her stardom..." --Bookpage

"...wickedly entertaining biography..." --The Times (UK)

"Mann shows what all the fuss was about." --The New York Post

"Mann is carving out a niche for himself as a writer and historian capable of presenting fresh information about oft-covered subjects." --The Washington Blade

"This is an entertaining work, revealing much of the machinery behind star-building and star-maintaining back in the day. The trajectory of gossip queen Hedda Hopper's relationship with Elizabeth--from adoration to loathing--is deliciously conveyed. [...] Mr. Mann does an excellent job capturing the media/public frenzy of her greatest years..." --Liz Smith, for wowOwow.com

"...brilliant combination of history, criticism, and biography...Mann has found the perfect figure for an exploration of the seismic changes that took place in Hollywood--and in American pop culture--between the 1940s and the 1960s. It's a terrific read." --Connecticut News

"Mann's book underscores the fact that Elizabeth Taylor is--above all else--a survivor...Perhaps that is why she is so relevant and remains, even more than half a century later, one of the country's most fascinating celebrities." --Lincoln Tribune
Mariner Books, 9780547386560, 528pp.
Publication Date: April 1, 2010
About the Author
WILLIAM J. MANN is the author of Kate: The Woman Who Was Hepburn, which was named a New York Times Notable Book, as well as several other acclaimed works of fiction and nonfiction. He divides his time between Provincetown, Massachusetts, and New York City.
or
Not Currently Available for Direct Purchase