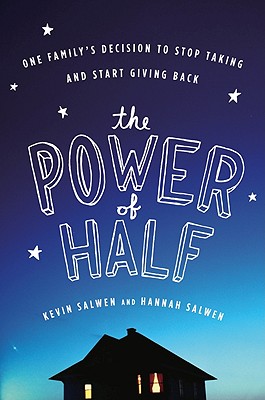 The Power Of Half
One Family's Decision to Stop Taking and Start Giving Back
Paperback

* Individual store prices may vary.
Other Editions of This Title:
Digital Audiobook (2/9/2010)
Compact Disc (6/22/2021)
MP3 CD (6/22/2021)
CD-Audio (2/10/2010)
Hardcover (2/1/2010)
Description
It all started when fourteen-year old Hannah Salwen had a "eureka" moment. Seeing a homeless man in her neighborhood at the precise second a glistening Mercedes coupe pulled up, she said "You know, Dad, if that man had a less nice car, that man there could have a meal."
Until that day, the Salwens had been caught up like so many of us in the classic American dream—providing a good life for their children, accumulating more and more stuff, doing their part but not really feeling it. So when Hannah was stopped in her tracks by this glaring disparity, her parents knew they had to act on her urge to do something. As a family, they made the extraordinary decision to sell their Atlanta mansion, downsize to a house half its size, and give half of the sale price to a worthy charity. What began as an outlandish scheme became a remarkable journey that transported them across the globe and well out of their comfort zone. In the end they learned that they had the power to change a little corner of the world—and they found themselves changing, too.
Praise For The Power Of Half: One Family's Decision to Stop Taking and Start Giving Back…
"Hannah, you rock!" --Ann Curry, The Today Show "You feel lighter reading this book, as if the heavy weight of house and car and appliances, the need to collect these things to feel safe as a family, are lifted and replaced by something that makes much more sense." --The Los Angeles Times  "Mixing humor, inspiration and self-reflection, The Power of Half will give you a whole new perspective on your life.  You can't help but recommit to the values you want to share with your children.  And you'll be reminded that your kids have much to teach you, too." --Jeffrey Zaslow, coauthor of The Last Lecture "The Power of Half is a story of genorosity become realized--a family's unpretentious, morally introspective life becomes a kind of lived enactment and fulfillment of an old ethical and spiritual imperitave: that in giving we receive.  In a sense, then, this is an account of kindness toward others become a family's fateful self-blessing and destiny (and for the rest of us a chain of events to behold, earnestly consider, and take to heart)." --Dr. Robert Coles "Americans are the world's most generous people, but, as The Power of Half shows, the Salwen family is lifting hearts in a new way.  Not Carnegie, Gates, or the United Way.  Sports mom, Little League dad, YouTube-addicted son, and 14-year-old "Hey Dude" daughter are pilgrims on the way of all loving flesh. Who knew Siddartha lived in the suburbs, Mother Teresa wore volleyball kneepads, and the Buddha could emerge from his dream at a traffic light: When the heart is full, give half." --Michael Capuzzo, author of Close to the Shore and The Murder Room  "The Power of Half proves so much about leadership.  Most importantly, that leadership comes in all ages, as long as there is a decision made to let it out and foster it.  Hannah and her family inspire me to want to improve the relationships in my life through the power of renewed energy.  I'm planning to give this book to everyone I know." --Alicia Mandel, United States Olympic Committee "The Power of Half is not just an extraordinary story of a 14-year-old girl who pushes her family to look outside of themselves and give something big back to the world.  The Salwen father-daughter duo sets a new standard for families and individuals seeking to inject meaning into their lives.  What does your family stand for?  What 'half' are you willing to give back?  Read this book and, like me and my family, you'll want to tackle these questions and change your life." --Daniel H. Pink, author of A Whole New Mind  and Drive "Hannah Salwen and her dad show what can happen when the best of youthful idealism combines with a "can-do" attitude looking to change the world for the better, one family at a time.  Hannah inspires every one of her readers to ask, 'What can I do to help?'  An adventure with a conscience.  Brava!" --Susanne B. Beck, Executive Director, National Coalition of Girls' Schools 
Mariner Books, 9780547394541, 256pp.
Publication Date: January 7, 2011
About the Author
Kevin Salwen was a reporter and editor at the Wall Street Journal for more than eighteen years. He serves on the board of Habitat for Humanity and works with the U.S. Olympic Committee.


Hannah Salwen is a junior at the Atlanta Girls' School. She has been volunteering consistently since the fifth grade.
or
Not Currently Available for Direct Purchase