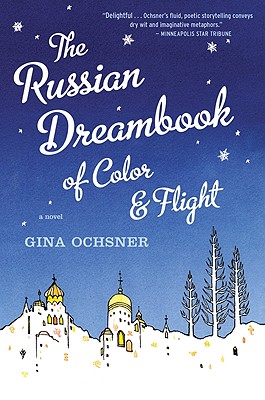 The Russian Dreambook of Color and Flight
Paperback

* Individual store prices may vary.
Other Editions of This Title:
Hardcover (2/1/2010)
Description
In a crumbling apartment building in post-Soviet Russia, there's a ghost who won't keep quiet. Mircha fell from the roof and was never properly buried, so he sticks around to heckle the living: his wife, Azade; Olga, a disillusioned translator/censor for a military newspaper; Yuri, an army veteran who always wears an aviator's helmet; and Tanya, a student of hope, words, and color. Tanya carries a notebook wherever she goes, recording her dreams of finding love and escaping her job at the All-Russia All-Cosmopolitan Museum, a place that holds a fantastic and terrible collection of art knockoffs created with the materials at hand, from foam to chewing gum, Popsicle sticks to tomato juice. When the museum's director hears of an American group seeking to fund art in Russia, it looks as if Tanya might get her chance at a better life, if she can only convince them of the collection's worth. Enlisting the help of her neighbors, Tanya scrambles to save her dreams, and along the way discovers that love may have been waiting in her own courtyard all along.
Mariner Books, 9780547394558, 384pp.
Publication Date: February 15, 2011
About the Author
GINA OCHSNER is the author of two collections of short stories, People I Wanted to Be and The Necessary Grace to Fall, both of which won the Oregon Book Award, and a novel, The Russian Dreambook of Color and Flight, which was long-listed for the Orange Prize. Her work has appeared in The New Yorker and The Best American Nonrequired Reading. She is a recipient of the Flannery O'Connor Award, the William Faulkner Prize, an NEA grant, a Guggenheim, and the Raymond Carver Prize. She lives in Oregon.
 
References to the title abound in the story. "Without a dream we are dead" (p. 29) Olga says. Why are dreams so important to these characters? "At the end of her human self and wishing nothing more than for a few moments of flight, misery turned her leaden bones to hollow ones. And then her mother wasn't a woman anymore but a bird . . . 'This is how she flies away'" (p. 70). Where else do you see flights in the novel?
"Tanya rolled her eyes heavenward. She took another swallow of air, of cloud" (p. 137). How does Tanya's notebook sustain her? What is her relationship to clouds and to color?
Discuss the role tradition plays in the lives of so many of these characters. Where does each of the families in the building come from and how do their heritages either free or hamper them from pursuing their dreams? Gina Ochsner has said, "What draws me to Eastern Europe is the knotted nature of the past with the present. I used to think that history was a mere plot line of events that happened in the past. I'm beginning to think that history is a state of being, a collectively constructed, shared, and carried creature that is not only constantly being rewritten and revised, but is at all times rewriting us." How do you see this expressed in the book?
Ochsner has also said, "Dreambook is also a story about stories: our need to keep certain fictions alive; our need to have certain stories told in particular ways; our insistence on and faith in these stories, which are more than superstitions wearing words, more than lucky talismans—they are the substance of hope and life itself." How do stories sustain these characters? How are stories important to you? What are the stories that sustain you individually and culturally?
"I'll tell you what's down there. It's an old story" (p. 333) Olga says about the gaping hole in the courtyard of the apartment building. What do you think the hole is?
Why does Yuri hear a ticking in his head? Why does he love fishing so much?
Why do the application questions from the Americans of Russian Extraction for the Causes of Beautification so confound Tanya and the others? How do they show the differences between American and Russian cultures? When the Americans arrive, how do their reactions to the museum, the city, and the apartment building's environs further demonstrate these differences?
Why does Mircha haunt the living after he's died? What other fantastical elements did you find in the novel? Why do you think the author used magical realism in her story? How do these elements enhance our understanding of these characters and their lives?
"And where do people go to get rid of what they don't need? The toilet, of course" (p. 193). Where do you see the struggle to dispose of things in this novel, both physical and emotional?
How does Olga reconcile herself to telling or not telling the truth? Do you think there are varying degrees of truth? When do you think it might be okay to not tell the truth?
Why do so many of the characters in the novel avoid love?