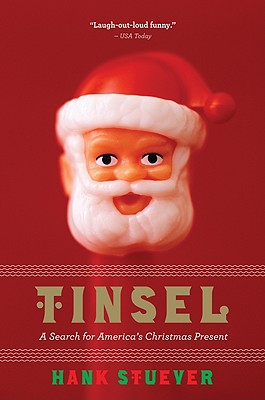 Tinsel
A Search for America's Christmas Present
Paperback

* Individual store prices may vary.
Other Editions of This Title:
Digital Audiobook (11/11/2009)
MP3 CD (11/11/2009)
Compact Disc (11/11/2009)
Compact Disc (11/11/2009)
Description
In Tinsel, Hank Stuever turns his unerring eye for the idiosyncrasies of modern life to Frisco, Texas—a suburb at once all-American and completely itself—to tell the story of the nation's most over-the-top celebration: Christmas. Stuever's tale begins on the blissful easy-credit dawn of Black Friday, as he jostles for bargains among the crowds at the big-box stores. From there he follows Frisco's true believers as they navigate through three years of holiday drama. Tammie Parnell is the proprietor of "Two Elves with a Twist," a company that decks the halls of other people's McMansions. Jeff and Bridgette Trykoski spend eleven months preparing the visible-from-space, awe-inspiring light display they stage on their lawn each December. And single mother Caroll Cavazos, a devout churchgoer, hopes that the life-affirming moments of the season can transcend her everyday struggles. Tinsel is a humane, revealing, and very funny portrait of one community's quest to discover a more perfect holiday amidst the frenzied, mega-churchy, shoparific world of Christmas.
Praise For Tinsel: A Search for America's Christmas Present…
"In this dazzling feat of reportage, Hank Stuever gets at what's best and worst not just about Christmas but about us as Americans. Hilarious, insightful, compassionate, and hugely entertaining, Tinsel is a gift (holiday or otherwise) to anyone who loves great writing."
—Curtis Sittenfeld, author of American Wife and Prep "Insightful, funny/sad, filled with poetry and despair, who better than Hank Stuever to take on the Christmas Industrial Complex with such ultimate humanity, given that he writes like an angel."
—David Rakoff, author of Don't Get Too Comfortable and Fraud "Hank Stuever could have gone the obvious route in writing about Christmas—mixing the coy with the condescending—but bravely chose to take the road less traveled. The result is a book that is thoughtful, illuminating, compassionate, and even affectionate, and very funny. Mr. Stuever is one of those increasingly rare creatures: a journalist who has his heart in the right place." —Joe Queenan, author of Closing Time "Hank Stuever wades bravely into that strange, terrifying maw that is Christmas, returning from the McMansionvilles of the fly-over territories with a book that is not just hilarious but is suffused with the unexpected sweetness and warmth of dare I say it? A hundred yule logs. It's not just about plastic trees and other garish frontiers of decor. Tinsel is a bigger tale, about what America has become while Santa wasn't watching." —Sandra Tsing Loh, NPR commentator and author of Mother on Fire "Laugh-out-loud funny... Stuever's keen eye misses very little." —USA Today "Wry, compelling, and telling commentary on the state of giving, getting, and celebrating in the holiday season." —Huffington Post "Fascinating... Stuever unwraps both appalling consumerism and genuine holiday spirit — sometimes in the same package — and treats the people he writes about with respect and affection, even when they're doing things he can't quite believe." —St. Petersburg Times "What stands out most in Tinsel is Stuever's genuine interest in his subjects . . . [His] fascination with and empathy for the human experience are abundant." —Minneapolis Star Tribune "Marvelously written and sharply observed." —Austin American-Statesman "A nice antidote to the blizzard of obligations, expectations and traditions that bury us at the end of each year." —Cleveland Plain Dealer "Stuever's clear-eyed examination of America in holiday orgy-mode is energetic, acerbic, and informative . . . Tinsel is well-written journalism about unexceptional people doing (for the most part) unexceptional things, but Stuever's generosity finds the extraordinary everywhere." —The Stranger "[Stuever's] spot-on observations about how modern America celebrates the holiday — in all its retail madness — are satisfying and illuminating. . . He has a knack for keeping you engaged. His gift for ending chapters and segments with startling visual images, pithy summations, a fabulous quote or his thought of the moment creates a glide effect that makes the book difficult to put down." —Palm Beach Post "I knew Christmas in today's America was out of control, but had no idea just how much before reading this book . . .Tinsel is crammed full of data and insights that illuminate how far we've strayed from a family holiday to the commercial and economic abyss we have created for ourselves as a country . . . A snapshot of contemporary America in search of meaning." —San Jose Mercury News "Scrupulously observed, deeply revealing and very, very funny." —San Antonio Express-News —
Mariner Books, 9780547394565, 352pp.
Publication Date: November 11, 2010
About the Author
HANK STUEVER is an award-winning pop-culture writer for the Washington Post's style section. He is the author of Off Ramp, an essay collection, and has appeared on Today, The View, The Late Late Show with Craig Ferguson, and National Public Radio.
Book Videos