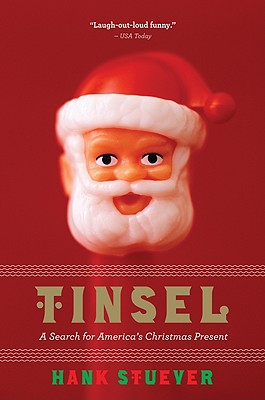 Tinsel
A Search for America's Christmas Present
Paperback

* Individual store prices may vary.
Other Editions of This Title:
Digital Audiobook (11/11/2009)
Audio Cassette (11/1/2009)
Hardcover (11/1/2009)
MP3 CD (11/11/2009)
Compact Disc (11/11/2009)
Compact Disc (11/11/2009)
Description
In Tinsel, Hank Stuever turns his unerring eye for the idiosyncrasies of modern life to Frisco, Texas—a suburb at once all-American and completely itself—to tell the story of the nation's most over-the-top celebration: Christmas. Stuever's tale begins on the blissful easy-credit dawn of Black Friday, as he jostles for bargains among the crowds at the big-box stores. From there he follows Frisco's true believers as they navigate through three years of holiday drama. Tammie Parnell is the proprietor of "Two Elves with a Twist," a company that decks the halls of other people's McMansions. Jeff and Bridgette Trykoski spend eleven months preparing the visible-from-space, awe-inspiring light display they stage on their lawn each December. And single mother Caroll Cavazos, a devout churchgoer, hopes that the life-affirming moments of the season can transcend her everyday struggles. Tinsel is a humane, revealing, and very funny portrait of one community's quest to discover a more perfect holiday amidst the frenzied, mega-churchy, shoparific world of Christmas.
Praise For Tinsel: A Search for America's Christmas Present…
"Cultural anthropology at its most exuberant." – The New Yorker "Laugh-out-loud funny. … Stuever's keen eye misses very little." – USA Today "A delicately calibrated combination of rigorous reporting, observational humor, and old-fashioned empathy, Tinsel is the book that saved Christmas for this curmudgeon." – Laura Miller, Salon
"A study of Christmas excess as an exercise in American anthropology. … [Stuever] manages to find the heart in his characters' obsessive consumerism [and] the somewhat jolly realization that no matter how prepackaged and homogenized the holiday has become, something about it remains inviolably personal." – Entertainment Weekly

"[Stuever's] epistle from big-box America is revealing and humane." – Texas Monthly
"The book you need to read to get ready for the season is Hank Stuever's lively Tinsel. … Stuever is both a magnificent prose stylist and a compelling storyteller, and his richly detailed reportage rings true. … The book doesn't judge; it reveals." – The Dallas Morning News
"Illuminate[s] how far we've strayed from a family holiday to the commercial and economic abyss we have created for ourselves as a country. Tinsel is well worth reading, but it's a coin toss whether those who do so will find it funny or sad. It is a snapshot of contemporary America in search of meaning." – San Jose Mercury News
"A stylishly written and often delightful book that aims to capture all the things that Christmas is about—family, values, religion, ritual, celebration, kitsch. It's fortunate that a writer of Stuever's gifts has undertaken this mission. On page after page, he is wry and witty and astute." – Jamie Malanowski, Washington Monthly
"The ultimate holiday drop-in." – Redbook
"Amazingly reported." – New York ("Approval Matrix") "Stuever unwraps both appalling consumerism and genuine holiday spirit — sometimes in the same package — and treats the people he writes about with respect and affection, even when they're doing things he can't quite believe." – St. Petersburg Times
"[Tinsel] debunks the myths of the holiday and straightens out the picture on our never-quite-accurate nostalgic images. Not exactly the kind of book to read by the hearth with Nat King Cole playing in the background on Christmas Eve. But in Stuever's hands, it is immensely entertaining. … A fast-paced examination of what December 25th has done to Americans, and vice-versa." – The Buffalo News
"Marvelously written and sharply observed. You will definitely laugh; you will probably learn; you might get angry. … Some reporters go to the halls of government to take the pulse of the nation; [Stuever] goes to Bed Bath & Beyond. The man can see the secret life of America in a Slurpee cup." – Patrick Beach, Austin American-Statesman
"Stuever's fascination with and empathy for the human experience are abundant." – Minneapolis Star Tribune "Behind it all are people trying to be happy, trying to bring their families together and trying to have the type of holiday they've been told they have to have -- and Stuever feels for them. Reading Tinsel is a nice antidote to the blizzard of obligations, expectations and traditions that bury us at the end of each year." – Cleveland Plain Dealer
"Stuever's clear-eyed examination of America in holiday-orgy-mode is energetic, acerbic, and informative." – The Stranger
"Whether you love Christmas, hate Christmas, or just love to hate it, this book is fun. (Batteries not included.)" – Albuquerque Journal "Spot-on observations about how modern America celebrates the holiday — in all its retail madness. Satisfying and illuminating [and] difficult to put down. And why should you? It's the holiday season, after all." – The Palm Beach Post "Scrupulously observed … Tinsel is not just the obligatory snapshot of America with Santa, it is a meticulously detailed portrait of a society that remains true to its hunter/gatherer/capitalist roots." – San Antonio Express-News
"What emerges [in Tinsel] is much more than the contest between sacred and secular. It's how the happiest time of year can also be melancholy and how holiday rituals collide with popular culture." – The Oklahoman "[Tinsel is] hilarious and moving. … Excess is Christmas. Excess is us." – Macleans
"Tinsel will make you re-evaluate how you spend your Christmas, and whether you're so blinded by the sale signs and the spectacle that you forget what Christmas is about." – The Seattle Times
"[A] frequently entertaining, informative and laughter-inducing journey into the American consumer psyche. It's a world of Wal-Marts, Best Buys, Olive Gardens, Targets and shopping malls. …There are moments when the characters surprise us (as human beings often do) with their tenderness, realism and understanding that these holiday shenanigans are just part of one big game in which they are bit players." – Christopher Carbone, The Faster Times "In this dazzling feat of reportage, Hank Stuever gets at what's best and worst not just about Christmas but about us as Americans. Hilarious, insightful, compassionate, and hugely entertaining, Tinsel is a gift (holiday or otherwise) to anyone who loves great writing."— Curtis Sittenfeld, author of American Wife and Prep

"Hank Stuever wades bravely into that strange, terrifying maw that is Christmas, returning from the McMansionvilles of the flyover territories with a book that is not just hilarious but is suffused with the unexpected sweetness and warmth of – dare I say it? – 100 Yule logs. Tinsel is about what America has become while Santa wasn't watching." – Sandra Tsing Loh, author of Mother on Fire
"Insightful, funny/sad, filled with poetry and despair. Who better than Hank Stuever to take on the Christmas-Industrial Complex with such ultimate humanity, given that he writes like an angel?" – David Rakoff, author of Half Empty and Fraud
Mariner Books, 9780547394565, 352pp.
Publication Date: November 11, 2010
About the Author
HANK STUEVER is an award-winning pop-culture writer for the Washington Post's style section. He is the author of Off Ramp, an essay collection, and has appeared on Today, The View, The Late Late Show with Craig Ferguson, and National Public Radio.
Book Videos