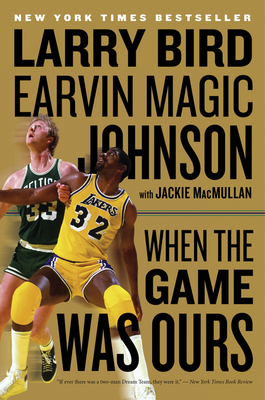 When the Game Was Ours
Paperback

* Individual store prices may vary.
Other Editions of This Title:
Compact Disc (11/1/2009)
Hardcover (11/1/2009)
MP3 CD (9/3/2013)
Compact Disc (9/3/2013)
MP3 CD (1/6/2015)
Compact Disc (3/1/2011)
MP3 CD (11/1/2009)
Description
From the moment these two players took the court on opposing sides, they engaged in a fierce physical and psychological battle. Their uncommonly competitive relationship came to symbolize the most compelling rivalry in the NBA. These were the basketball epics of the 1980s — Celtics vs Lakers, East vs West, physical vs finesse, Old School vs Showtime, even white vs black. Each pushed the other to greatness — together Bird and Johnson collected eight NBA Championships, six MVP awards and helped save the floundering NBA at its most critical time. When it started they were bitter rivals, but along the way they became lifelong friends.  
With intimate, fly-on-the-wall detail, When the Game Was Ours transports readers to this electric era of basketball and reveals for the first time the inner workings of two players dead set on besting one another. From the heady days of trading championships to the darker days of injury and illness, we come to understand Larry's obsessive devotion to winning and how his demons drove him on the court. We hear him talk with candor about playing through chronic pain and its truly exacting toll. In Magic we see a young, invincible star struggle with the sting of defeat, not just as a player but as a team leader.  We are there the moment he learns he's contracted HIV and hear in his own words how that devastating news impacted his relationships in basketball and beyond. But always, in both cases, we see them prevail.
A compelling, up-close-and-personal portrait of basketball's most inimitable duo, When the Game Was Ours is a reevaluation of three decades in counterpoint. It is also a rollicking ride through professional basketball's best times.
Praise For When the Game Was Ours…
"MAGICBIRD, BIRDMAGIC really should be the titled "When the Game was Mine" because that is how they went after each other on the court. In When the Game Was Ours you will enjoy an exhilarating ride down one of the most competitive rivalries ever."
—Pat Riley

"Finally—a book that tells the story of Magic and Larry from their vantage point. When the Game Was Ours took me inside their fascinating rivalry with new insights and revealing details about two men who evolved from bitter competitors into lifelong friends."
—Denzel Washington

"At long last the great book on Bird and Magic—their own account, told from behind the scenes, inside huddles, confidential phone conversations, backseats of cars, and most importantly, from their inner hearts. Their book is alive with truth—it's a story of brilliance, brilliantly told with the help of prize-winning writer Jackie MacMullan."
—Sally Jenkins, author of The Real All Americans, Funny Cide, and It's Not About the Bike with Lance Armstrong


"When The Game Was Ours is the ultimate insiders' account of the rivalry, the friendship, the tension and the bond between Bird and Magic that launched the modern NBA. A real treat for all hoops fans."
—Tom Verducci, author with Joe Torre of the #1 New York Times bestseller, The Yankee Years

"You know that game where you pick a certain number of characters for your favorite dinner party of all time? (The one where you picked Gandhi, Babe Ruth, Li'l Wayne and, who was it, Jenna Jameson?) I just spent a couple of nights with Larry Bird and Magic Johnson in the lyrical When The Game Was Ours and they should be in the mix. They're funny, frank, anecdotal and just plain interesting. This book is terrific."
—Leigh Montville, bestselling author of Ted Williams and The Big Bam

"Unprecedented insight and commentary from the stars themselves on their unique relationship, a compelling mixture of bitter rivalry and mutual admiration... Offers a captivating look at the NBA's greatest era." -- Kirkus Reviews

"Highly entertaining . . . A thrill-packed, lively and moving dual memoir." -- Shelf Awareness

"A terrific read." -- Sports Illustrated

"Spectacular." -- Dan Shaughnessy, The Boston Globe

"An unbelievable read." -- Improper Bostonian

"You have to read this book!" -- Conan O'Brien

"A must-have for any basketball fan." -- Jimmy Kimmel

"A winner...Deftly explores the relationship between the former NBA superstars that started at arm's length [and] became a lasting friendship." -- USA Today

"Greatness commands our attention . . . uplifting . . . If ever there was a two-man Dream Team, they were it." -- New York Times Book Review

"In MacMullan's capable hands, the tale is re-energized . . . a wonderful waltz down memory lane . . . A compelling and enjoyable read, every bit as entertaining as watching Magic and Bird battling on the parquet." – Boston Globe

"Fascinating . . .The former Boston Globe reporter and columnist masterfully weav[es] the recollections of the two protagonists with those of dozens of observers . . .The book is at its most powerful when it hews close to its premise: the evolution of perhaps sports' greatest rivalry . . . The game of basketball has never been better than when it was theirs." -- Washington Post


Mariner Books, 9780547394589, 368pp.
Publication Date: October 1, 2010
About the Author
Larry Bird played thirteen seasons with the Boston Celtics and was elected to the Hall of Fame in 1998. He was head coach of the Indiana Pacers from 1997 to 2000 and currently serves as their President of Basketball Operations.
Earvin Magic Johnson played thirteen seasons with the Los Angeles Lakers and was elected to the Hall of Fame in 2002. Currently he is chairman and CEO of Magic Johnson Enterprises and president of basketball operations for the Los Angeles Lakers.
JACKIE MACMULLAN is the author of New York Times bestsellers Basketball: A Love Story and When the Game Was Ours. She has been a writer for the Boston Globe, Sports Illustrated and ESPN.com.