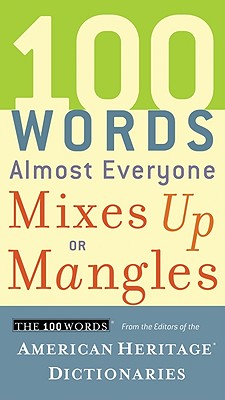 100 Words Almost Everyone Mixes Up or Mangles
Paperback

* Individual store prices may vary.
Other Editions of This Title:
Paperback (9/26/2017)
Paperback (9/27/2016)
Paperback (9/24/2008)
Description
"You mean delegate, not relegate, right?"
 "I think the word is cachet, not cache."
At one time or another we've all suffered the embarrassment of having our remarks corrected by a family member, colleague, or stranger. 100 Words Almost Everyone Mixes Up or Mangles presents fifty pairs of words that people have trouble getting right and keeping straight—words that tend to get corrected when we're least expecting it.
These words include near-synonyms—words with subtle but important distinctions in meaning—like baleful vs. baneful, and effectual vs. efficacious. Other pairings bring together notorious sound-alikes, like faze (bother) vs. phase (stage), pour (put in fluid) vs. pore (read closely), and waive (forgo) vs. wave (say hello). The book also addresses some classic spelling blunders and "nonwords," like beyond the pail, full reign, injust, and inobstrusive.
Each word has a definition and a pronunciation, and most have etymologies explaining the word's origin. The mix-ups themselves are described in fun-to-read notes that provide clear solutions to help readers avoid making needless, uncomfortable gaffes.
100 Words Almost Everyone Mixes Up or Mangles gives readers the chance to improve their command of words that are often heard but not so well expressed.

Houghton Mifflin Harcourt, 9780547395838, 128pp.
Publication Date: September 15, 2010
About the Author
THE EDITORS OF THE AMERICAN HERITAGE DICTIONARIES are a team of professional lexicographers with advanced degrees in various scholarly fields. The editors familiarize themselves with the vocabulary in specific subject areas, collect materials on new developments and usage, and work with expert consultants to ensure that their publications are accurate and up-to-date.
or
Not Currently Available for Direct Purchase