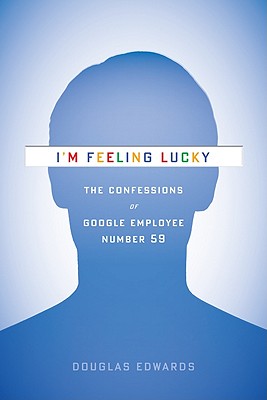 I'm Feeling Lucky (Hardcover)
The Confessions of Google Employee Number 59
Houghton Mifflin Harcourt, 9780547416991, 432pp.
Publication Date: July 12, 2011
Other Editions of This Title:
Paperback (4/3/2012)
MP3 CD (10/11/2016)
Hardcover (7/1/2011)
MP3 CD (4/3/2012)
MP3 CD (4/3/2012)
Compact Disc (4/3/2012)
Compact Disc (4/3/2012)
* Individual store prices may vary.
Description
Comparing Google to an ordinary business is like comparing a rocket to an Edsel. No academic analysis or bystander's account can capture it. Now Doug Edwards, Employee Number 59, offers the first inside view of Google, giving readers a chance to fully experience the bizarre mix of camaraderie and competition at this phenomenal company. Edwards, Google's first director of marketing and brand management, describes it as it happened. We see the first, pioneering steps of Larry Page and Sergey Brin, the company's young, idiosyncratic partners; the evolution of the company's famously nonhierarchical structure (where every employee finds a problem to tackle or a feature to create and works independently); the development of brand identity; the races to develop and implement each new feature; and the many ideas that never came to pass. Above all, Edwards—a former journalist who knows how to write—captures the "Google Experience," the rollercoaster ride of being part of a company creating itself in a whole new universe. 

I'm Feeling Lucky captures for the first time the unique, self-invented, yet profoundly important culture of the world's most transformative corporation.
About the Author
DOUG EDWARDS was the director of consumer marketing and brand management at Google from 1999 to 2005 and was responsible for setting the tone and direction of the company's communications with its users. Prior to joining Google, Edwards was the online brand group manager for the San Jose Mercury News, where he conceived and led development of the technology news site siliconvalley.com.
Praise For I'm Feeling Lucky: The Confessions of Google Employee Number 59…
 "[A] highly entertaining new memoir...I'm Feeling Lucky is at its best, and most hilarious, in its account of the company's earliest days."
-Bloomberg News "Edwards does an excellent job of telling his story with a fun, outsider-insider voice. The writing is sharp and takes full advantage of the fact that Edwards was in a unique position to gauge Google's strengths and weaknesses, coming as he did from an "old-media'' background...Part of what makes the book so rewarding is Edwards's endlessly nuanced take on his former company and its employees"
-Boston Globe"Affectionate, compulsively readable. . . . This lively, thoughtful business memoir is more entertaining than it really has any right to be, and should be required reading for startup aficionados."
—Publishers Weekly"Although there have been many journalistic examinations of the world's most valuable Internet brand, this is the first to capture the process and the feeling of what it was like to be there in the early days."
-Booklist"[Edwards's] perspective as an early employee is valuable and unique...the former 'voice of Google' provides a detailed, quirky and expansive half-memoir/half-historical record."
-Kirkus Reviews

 "I'm Feeling Lucky is funny, revealing, and instructive, with an insider's perspective I hadn't seen anywhere before. I thought I had followed the Google story closely, but I realized how much I'd missed after reading—and enjoying—this book."
—James Fallows, author of Postcards from Tomorrow Square"Douglas Edwards is indeed lucky, sort of an accidental millionaire, a reluctant bystander in a sea of computer geniuses who changed the world. This is a rare look at what happened inside the building of the most important company of our time."
—Seth Godin, author of Linchpin "This is the first Google book told from the inside out. The teller is an ex-employee who joined Google early and who treats readers to vivid inside stories of what life was like before Google became a verb. Douglas Edwards recounts Google's stumble and rise with verve and humor and a generosity of spirit. He kept me turning the pages of this engrossing tale."
—Ken Auletta, author of Googled: The End of the World as We Know It
or
Not Currently Available for Direct Purchase