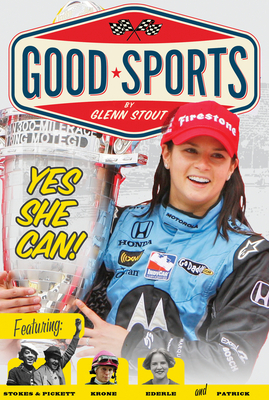 Yes, She Can!: Women's Sports Pioneers (Paperback)
Women's Sports Pioneers
Houghton Mifflin, 9780547417257, 117pp.
Publication Date: April 4, 2011
Description
Not very long ago, many people said girls and women were too weak and delicate to play sports.
Fortunately, a lot of girls didn't listen. Trudy Ederle, Louise Stokes, Tidye Pickett, Julie Krone and Danica Patrick sure didn't. Trudy Ederle swam the English Channel, Louise Stokes and Tidye Pickett made it into the Olympics running track, Julie Krone became jockey, and Danica Patrick decided to drive Indie cars. Yes, She Can tells the inspiring stories of these pioneers in sports. Thanks to them, everyone knows now that girls can do anything they want. Perfect for young athletes, ages 9-12.
About the Author
Glenn Stout is the series editor of The Best American Sports Writing and author of more than forty non-fiction sports biographies under the auspices of Matt Christopher. He is also the author of Baseball Heroes, the first title in the Good Sports series. He lives in Alburgh, VT. Visit Glenn at www.goodsportsbyglennstout.com.
Praise For Yes, She Can!: Women's Sports Pioneers…
"Accessible and inspirational."—Publishers Weekly

"Full of fascinating information about fascinating women in sports history."—Bookbabe blog

"Never patronizing, [Stout] captures both grit and glory in a fast-paced package that goes down easy even as it inspires."—Kirkus Reviews
"An inspiring read for anyone who has been told that she can't, shouldn't, or won't do something because she is a girl."—Booklist
Named to the 2012 Amelia Bloomer List
Advertisement