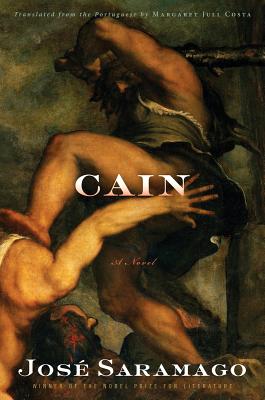 Cain (Hardcover)
Houghton Mifflin Harcourt, 9780547419893, 176pp.
Publication Date: October 4, 2011
Other Editions of This Title:
Paperback (10/9/2012)
Paperback, Spanish (5/30/2011)
MP3 CD (8/23/2016)
Hardcover (7/1/2011)
Paperback (7/1/2011)
Hardcover, Large Print (12/1/2011)
* Individual store prices may vary.
Description
"Suitably disturbing—and a pleasure to read." — The Scotsman

In this, his last novel, José Saramago daringly reimagines the characters and narratives of the Old Testament, recalling his provocative The Gospel According to Jesus Christ. His tale runs from the Garden of Eden, when God realizes he has forgotten to give Adam and Eve the gift of speech, to the moment when Noah's Ark lands on the dry peak of Ararat. Cain, the despised, the murderer, is Saramago's protagonist.
Condemned to wander forever after he kills his brother Abel, Cain makes his way through the world in the company of a personable donkey. He is a witness to and participant in the stories of Isaac and Abraham, the destruction of the Tower of Babel, Moses and the golden calf, the trials of Job. The rapacious Queen Lilith takes him as her lover. An old man with two sheep on a rope crosses his path. And again and again, Cain encounters a God whose actions seem callous, cruel, and unjust. He confronts Him, he argues with Him. "And one thing we know for certain," Saramago writes, "is that they continued to argue and are arguing still."
A startling book—sensual, funny—in all ways a fitting end to Saramago's extraordinary career.

About the Author
JOSÉ SARAMAGO (1922–2010) was the author of many novels, among them Blindness, All the Names, Baltasar and Blimunda, and The Year of the Death of Ricardo Reis. In 1998 he was awarded the Nobel Prize for Literature.
MARGARET JULL COSTA has established herself as the premier translator of Portuguese literature into English today.
Praise For Cain…
"Cain's vagabond journey builds to a stunning climax that, like the book itself, is a fitting capstone to a remarkable career."
-Publishers Weekly, starred
or
Not Currently Available for Direct Purchase