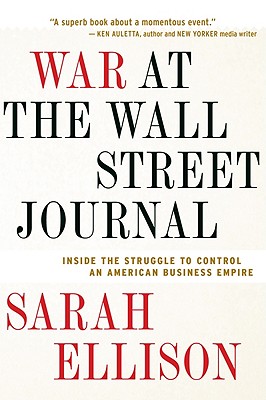 War At The Wall Street Journal
Inside the Struggle to Control an American Business Empire
Paperback

* Individual store prices may vary.
Other Editions of This Title:
Digital Audiobook (5/30/2010)
Paperback, Chinese (2/1/2012)
MP3 CD (5/31/2010)
Compact Disc (5/31/2010)
Compact Disc (5/31/2010)
Description
A tale about big business, an imploding dynasty, a mogul at war, and a deal that epitomized an era of change
While working at the Wall Street Journal, Sarah Ellison won praise for covering the $5 billion acquisition that transformed the pride of Dow Jones and the estimable but eccentric Bancroft family into the jewel of Rupert Murdoch's kingdom. Here she expands that story, using her knowledge of the paper and its people to go deep inside the landmark transaction, as no outsider has or can, and also far beyond it, into the rocky transition when Murdoch's crew tussled with old Journal hands and geared up for battle with the New York Times. With access to all the players, Ellison moves from newsrooms to estates and shows Murdoch, finally, for who he is—maneuvering, firing, undoing all that the Bancrofts had protected. Her superlative account transforms news of the deal into a timeless chronicle of American life and power.
Praise For War At The Wall Street Journal: Inside the Struggle to Control an American Business Empire…
"A scrupulously fair, careful account written from a close distance about how Rupert Murdoch came to own the crown jewel of American business journalism. . .What we get is the mother of all tick-tock, an intimate look at how the Bancroft family fumbled away an asset they never really demonstrated much interest in as Mr. Murdoch pounced. When it comes to taking a measure of Mr. Murdoch, there is little of the moralistic keening that characterized the coverage at the time, with Ms. Ellison instead adopting the tone of an ichthyologist studying the feeding habits of a large, hungry shark."—David Carr, New York Times

"Sarah Ellison has written a definitive, indeed cinematic, account of the News Corporation's conquest and occupation of this venerable business publication, and of the subterranean battle of motives and moods in the Bancroft family psychodrama . . . She spins an absorbing yarn played out on super-yachts and in corporate jets, populated by an irresistible cast of characters." —New York Times Book Review "Ellison, who covered the takeover of Dow Jones as a Wall Street Journal reporter, uses her access . . . to chronicle the deal with precision. Inside the news business such detailed narratives are called "tick-tocks," and hers beats like a metronome." —Washington Post "Balanced and nuanced . . . a riveting and engaging examination of the current state of U.S. media and the drama behind one of its most important companies." —Boston Globe "In August 2007 Rupert Murdoch's News Corporation bought the Wall Street Journal, ending 105 years of control by the Bancroft family and shaking American journalism. War at the Wall Street Journal is the inside scoop." —Economist
"Ellison offers a close look into a raw, aggressive power in international commerce." —Publishers Weekly  "This is an excellent book." —Booklist "A ten-year Journal veteran and thoroughly versed in the paper's culture, the author capably describes the newsroom dynamic, both pre- and post-Murdoch . . . It's a measure of Ellison's evenhandedness that, while clearly no Murdoch fan, she candidly exposes the ownership and management deficiencies that made a journalistic icon so vulnerable to capture. A gripping reconstruction of a media story whose implications have yet to fully unfold." —Kirkus  "An insider's account, though an excerpt suggests that she's ready to be hard on both sides; for anyone who cares about the state of journalism today." —Library Journal "This is a superb book about a momentous event that we knew less about than we thought. With the surgical skill of a first rate reporter and story teller, Sarah Ellison recounts a true story that reads as if ripped from a novel. It is a saga populated by powerful moguls and institutions, by double dealing individuals and a dysfunctional family. There is not much glory in this tale, but there is much to chew on and digest." —Ken Auletta, author of Googled: The End of the World as We Know It "Delicious inside stuff. Sarah Ellison seems to have been present at every party, executive office meeting, secret hotel suite conference, corporate plane ride, etc. in Rupert Murdoch's hijacking of the the Wall Street Journal. Everybody appears to have talked with her. It makes for an engrossing read and the definitive account." —Mark Bowden, author of Black Hawk Down
"[Ellison] spins an absorbing yarn played out on super-yachts and in corporate jets, populated by an irresistible cast of characters." 
—New York Times
"A book as devastatingly definitive as any Journal tick tock." 
R —
Harper Business, 9780547422565, 304pp.
Publication Date: April 14, 2011
About the Author
SARAH ELLISON led the Wall Street Journal's coverage of Rupert Murdoch's bid for Dow Jones. Her stories about the media business have been recognized by the Newswomen's Club of New York and the New York Press Club.