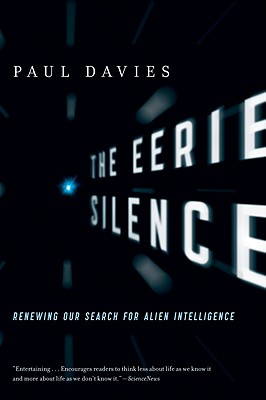 The Eerie Silence
Renewing Our Search for Alien Intelligence
Paperback

* Individual store prices may vary.
Other Editions of This Title:
Digital Audiobook (4/12/2010)
MP3 CD (4/13/2010)
Compact Disc (4/13/2010)
Description
One of the world's leading scientists explains why—and how—the search for intelligent life beyond Earth should be expanded.
Fifty years ago, a young astronomer named Frank Drake first pointed a radio telescope at nearby stars in the hope of picking up a signal from an alien civilization. Thus began one of the boldest scientific projects in history, the Search for Extraterrestrial Intelligence (SETI). After a half-century of scanning the skies, however, astronomers have little to report but an eerie silence—eerie because many scientists are convinced that the universe is teeming with life. Physicist and astrobiologist Paul Davies has been closely involved with SETI for three decades and chairs the SETI Post-Detection Taskgroup, charged with deciding what to do if we're suddenly confronted with evidence of alien intelligence. He believes the search so far has fallen into an anthropocentric trap—assuming that an alien species will look, think, and behave much like us. In this provocative book Davies refocuses the search, challenging existing ideas of what form an alien intelligence might take, how it might try to communicate with us, and how we should respond if it does.
Praise For The Eerie Silence: Renewing Our Search for Alien Intelligence…
"Highly recommended for both science fiction and astronomy buffs."—Publisher's Weekly

"All readers interested in astrobiology, SETI, and extraterrestrial life will benefit from this book."
—Library Journal

"After half a century of fruitless searching, SETI needs a summing up. This book does the job—you need no other. Davies ranks among our very best science writers, and this book should prompt deep rethinking among the entire SETI community."—Gregory Benford, author of Timescape

"Paul Davies has written a most delightful book, perhaps the most thoughtful, thorough, and comprehensive book ever published on the key question: are we alone in the universe? Davies addresses one of the most pivotal questions facing humanity, and does it with wit, style, and rigor. The Eerie Silence will satisfy the curiosity of anyone interested in big cosmic questions about intelligence in the universe." —Michio Kaku, professor of theoretical physics and author of Physics of the Impossible, Hyperspace, and Parallel Worlds

"Paul Davies gives us a panoramic view of the quickening search for cosmic company—a fascinating tale stuffed with novel ideas about the nature of intelligence far beyond our own."—Seth Shostak, Senior Astronomer, SETI Institute

"Are we looking for life in all the wrong places? This is the deep scientific question that inspires Paul Davies' The Eerie Silence. With clarity and passion, Davies not only brings you up to speed on the cutting-edge perspective, he also presents his own preferred strategies for making contact. Within may be found some scenarios that even the sci-fi writers haven't tumbled on yet. A feast for thought about the most fascinating mystery of all." —Ann Druyan, creative director, NASA's Voyager Interstellar Message, and co-creator, with Carl Sagan, of Contact

"Paul Davies imagines the unimaginable. After fifty years in which radio astronomers have listened in vain for voices from a silent sky, with clarity and authority Davies sets out a stunning new prospectus for the continuing search for intelligence beyond the Earth. A must-read for anybody fascinated by the most profound of questions: are we alone?"—Stephen Baxter, author of Manifold: Time and Flood
—
Mariner Books, 9780547422589, 272pp.
Publication Date: April 13, 2011
About the Author
PAUL DAVIES is an internationally acclaimed physicist, cosmologist, and astrobiologist at Arizona State University. He is the author of more than twenty books, including The Mind of God, About Time, How to Build a Time Machine, and The Goldilocks Enigma.
or
Not Currently Available for Direct Purchase