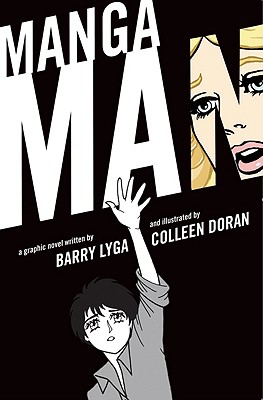 Mangaman (Hardcover)
Houghton Mifflin, 9780547423159, 125pp.
Publication Date: November 15, 2011
* Individual store prices may vary.
or
Not Currently Available for Direct Purchase
Description
East meets West in this innovative and very smart graphic novel by Barry Lyga, illustrated by Colleen Doran.Sci-fi adventure meets love story--and East meets West--in Mangaman, an original
graphic novel for teens.
Ryoko, a manga character from a manga world, falls through the Rip into the "real" world--the western world--and tries to survive as the ultimate outsider at a typical American high school.
When Ryoko falls in love with Marissa Montaigne, the most beautiful girl in the school, his eyes turn to hearts and comic tension tightens as his way of being drawn and expressing himself clashes with this different Western world in which he is stuck in. "Panel-holed" for being different, Ryoko has to figure out how to get back to his manga world, back through the Rip . . . all while he has hearts for eyes for a girl from the wrong kind of comic book.
Barry Lyga writes a metafictive masterpiece as manga meets traditional Western comic book style, while Colleen Doran combines manga techniques and conventions with Western comic book.
About the Author
Barry Lyga is a recovering comic book geek and the author of many books, including, The Astonishing Adventures of Fanboy and Goth Girl, Goth Girl Rising, Boy Toy, and Hero-Type for HMH and Wolverine: Worst Day Ever for Marvel Books and Archvillian for Scholastic. He has also written comic books about everything from sword-wielding nuns to alien revolutionaries. He worked as Marketing Manager at Diamond Comic Distributers for 10 years. He lives in Brooklyn, NY. Visit Barry online at www.barrylyga.com.  Colleen Doran, in a career spanning more than twenty years, has worked on some of the greatest characters in comics, including Superman, Spider-Man, and Wonder Woman, partnered with such writers as Alan Moore and Neil Gaiman. Her books include A Distant Soil and Girl to Grrrl Manga. She has traveled and lectured extensively in Singapore, Japan, Germany, and England, and served as Artist in Residence at the Smithsonian Institute in 2006.She won a grant from the Delphi Institute to study American popular culture, and was chosen to represent the United States at the Japan/America manga/comics seminar in Tokyo.Visit her website at www.colleendoran.com.
Praise For Mangaman…
"An inventive offering, sure to please fans of both American and Japanese comics."—Kirkus, starred review
"Fantastic—in every sense of the word! Lyga and Doran have created an eye-popping fun-ride through the comics traditions of East and West. Fans of both comics and manga will love Mangaman. Colleen Doran's encyclopedic, rapid-fire grasp of manga conventions blows my mind!" —Jeff Smith, author of Bone 
"This is a wonderful, funny, touching story about the ultimate outsider seeking adventure and love within the borders that surround us all.  There's some seriously innovative storytelling going on here, and the artwork is sensational.  If you're looking for a fun read, a romp, a rollicking good time...then seriously: buy this book."  —J. Michael Straczynski, New York Times Bestselling author of
Superman: Earth One
"This title will appeal to readers who are fans of both manga and Western comics or crossover titles such as
Wolverine: Prodigal Son
(2009) and X-men: Misfits (2009)."—
Booklist
"Esteemed artist Doran juggles manga and Western illustration styles effortlessly, capturing their defining characteristics with pitch-perfect accuracy." —
School Library Journal
, starred review "Wonderfully quirky and subversive humor."--
Bulletin
Advertisement