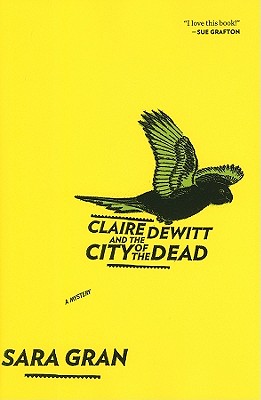 Claire DeWitt and the City of the Dead (Claire DeWitt Novels #1) (Hardcover)
Houghton Mifflin Harcourt, 9780547428499, 288pp.
Publication Date: June 2, 2011
Other Editions of This Title:
Digital Audiobook (6/1/2011)
Paperback (5/1/2012)
CD-Audio (6/2/2011)
Pre-Recorded Audio Player (5/24/2011)
* Individual store prices may vary.
Description
Claire DeWitt is not your average private investigator. She has brilliant deductive skills and is an ace at discovering evidence. But Claire also uses her dreams, omens, and mind-expanding herbs to help her solve mysteries, and relies on Détection — the only book published by the late, great, and mysterious French detective Jacques Silette. 

The tattooed, pot-smoking Claire has just arrived in post-Katrina New Orleans, the city she's avoided since her mentor, Silette's student Constance Darling, was murdered there. Claire is investigating the disappearance of Vic Willing, a prosecutor known for winning convictions in a homicide- plagued city. Has an angry criminal enacted revenge on Vic? Or did he use the storm as a means to disappear? Claire follows the clues, finding old friends and making new enemies — foremost among them Andray Fairview, a young gang member who just might hold the key to the mystery. 

Littered with memories of Claire's years as a girl detective in 1980s Brooklyn, Claire DeWitt and the City of the Dead is a knockout start to a bracingly original new series.
About the Author
Sara Gran is the author of five critically acclaimed novels, including Come Closer, Dope, and the Claire DeWitt series. She also writes for film and TV and has published in the New York Times, the New Orleans Times-Picayune, and USA Today.
Praise For Claire DeWitt and the City of the Dead (Claire DeWitt Novels #1)…
"Just when I begin to despair that the PI novel has worn out its welcome, a writer with a fresh take reminds me why I fell in love with the genre. Sara Gran has long specialized in shaking up and revitalizing other corners of the genre world, so it's no surprise that she performs this same magic in CLAIRE DEWITT AND THE CITY OF THE DEAD. And while I confess to having very little objectivity about New Orleans and no credentials to judge its literary portrayal, this is a valuable addition to the (way too small) body of post-storm novels."--Laura Lippman"Terrific. I love this book! Absolutely love it. This is the first fresh literary voice I've heard in years. Sara Gran recombines all the elements of good, solid story-telling and lifts something original from a well-loved form."--Sue Grafton
"I just burned through Claire DeWitt and the City of the Dead, and it's the first truly fantastic book I've read this year. Gran's evocation of the exposed wounds of New Orleans - before and after the storm - is a master-class in descriptive and emotive writing, and Claire is one of the most exciting new characters in years; a Raymond Chandler heroine with just enough of an off-beat vibe to tilt the whole thing enticingly off-kilter. Everything here - from the smallest touches to the grander mythology setting the tone of the series - just sings."--Drew Williams, Little Professor Book Center"Not your mother's girl detective, Claire DeWitt is a cool blend of Nancy Drew and Sid Vicious.  With
Claire DeWitt and the City of the Dead
, Sara Gran has pulled the traditional female sleuth into the twenty-first century with a novel that's smart and hip, dark and funny.  I can't wait for the next one." - Alafair Burke, author of LONG GONE"Gran (
Dope,
2006, etc.) provides...a comically self-important detective and a searing portrait of post-Katrina New Orleans."--Kirkus Reviews
"As brash and bold as Sherlock Holmes himself, Claire DeWitt arrives in still-chaotic New Orleans 18 months after Katrina. She's been hired to investigate the disappearance of Vic Willing, a local prosecutor, who's not been heard from since the hurricane. Claire surprises the local gangtsa set with her unique bravado. One of them, Andray, is compelled to help her tap into the darkness of Katrina's aftermath. From there, Claire finds her answers. Mentored and deeply inspired by a famous French detective, the I Ching, and profoundly illuminating dreams, a complex Claire leads us into her own nightmares as well. VERDICT This is not to be missed-Claire is a moody, hip, and meticulous investigator. Gran (Dope; Come Closer) builds an addictive sense of anticipation with a fantastical frame. Alternately gritty and dreamy, this would appeal to those who liked Colson Whitehead's The Intuitionist and readers of Charlie Huston (e.g., The Mystic Arts of Erasing All Signs of Death). Highly recommended." --Library Journal STARRED
"Captivating"--Publishers Weekly, STARRED
"If there isn't yet a subgenre called funky noir, this wacky PI novel could be a fragrant first...lots of fun."--Booklist
PRAISE FROM BOOKSELLERS (PRE-PUB TOUR)
"Thanks again for such a wonderful experience last week. I love how HMH and Algonquin are bringing writers to the booksellers ahead of publication date because it makes such a difference having that personal knowledge of the author. And when the authors are *awesome* like Sara is, it makes their books stand out more in my mind, and thus makes me more likely to try to handsell their books. Sure, we all try to sell the books we like and we think a customer will like, but when there's a personal connection with the author, it feels more like we're introducing new readers to not just a book, but a friend."--Emily Crowe, Odyssey Book Shop"Sara Gran is awesome. Don't let her small, bespectacled frame deceive you; she's a firecracker with fascinating stories to tell, and she has an obvious, passionate love of her craft. I could have talked to her for hours. And I love her book so far; it's terrifically different from so many other mysteries I've read. And with regard to New Orleans: she really knows her stuff.I DO very much like the pre-publicity dinners, and not just because of the free booze.  It encourages me to read books I might not ordinarily pick up (*Sara's being an exception, as it's right up my alley), and talking at length with the author about why they wrote the book, their background, etc. all helps me to sell their book." --Hilary Emerson Lay, Spirit of '76 Bookstore"We had a blast with you, Carla and Sara. I think these sorts of pre-pub events are very worth it. I do believe they help generate enthusiasm for a book and an author which helps generate sales. Of course, Sara is an author that it's easy to be enthusiastic about. She's genuine, smart, fun and quick to forge connections. That is, we like her very much. Being a former bookseller, she's kin and you can feel that. In a good way. Like when you meet a cousin you barely know but like instantly. She's our cousin who has made good and we're sorry we don't get to see her more because she lives on the wrong side of the country."--Stan Hynds, Northshire Bookstore  "The novel, Gran's fourth, is difficult to categorize, offering a strangely appealing mix of the mystical and the hard-boiled. The book is beautifully written in a tight, quirky style that distinguishes Gran as one of the more original writers working today."--Bruce DeSilva, Associated Press
or
Not Currently Available for Direct Purchase