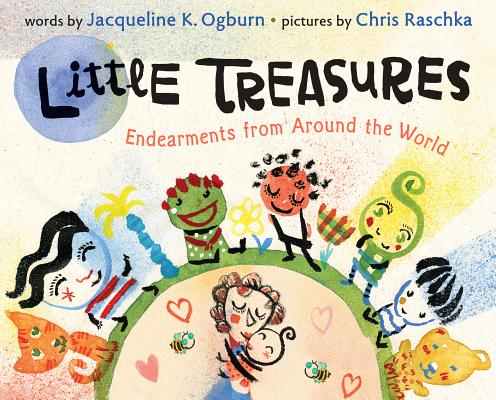 Little Treasures: Endearments from Around the World (Hardcover)
Endearments from Around the World
Houghton Mifflin, 9780547428628, 32pp.
Publication Date: January 3, 2012
Description
A tender collection of endearments for children the world over. All over the world, people express their love for their children through endearments, such as "sweetie pie" or "peanut." A child might be called little angel, angelito, in Spanish or precious, bao bei, in Chinese or my sweet little moon, mera chanda, in Hindi.
Little Treasures offers a wealth of endearments in fourteen languages to share with your own beloved poppet and petit chou.
About the Author
This book began when Jacqueline K. Ogburn heard a friend call his children by German endearments. Years later, with the help of many friends, friends of friends, and complete strangers, that fascination has resulted in Little Treasures: Endearments from Around the World. Ms. Ogburn is also the author of nine other picture books, including A Dignity of Dragons and The Bake Shop Ghost. She lives in Durham, N.C. with her husband and their two chicklets, Claire and Emily. Chris Raschka, writer, illustrator and trained violist is one of the country's top children's book talents. His Yo! Yes? was a Caldecott Honor Book in 1993 while his Hello Goodbye Window won the Caldecott Medal in 2005 . This is Chris's first picture book for Houghton Mifflin Books for Children.
Praise For Little Treasures: Endearments from Around the World…
"An effective and satisfying way of introducing the universal facets and feelings of childhood."--School Library Journal "This will have obvious appeal for populations with large ESL groups, but it would also make an excellent gift book for your own honey/pumpkin/sunshine/babycakes."--Bulletin "Move over, "sunshine." Ogburn and Raschka give families a whole new vocabulary with which to express their love. ...The message about familial love being a universal human trait is clearly and joyfully articulated; it's hard to imagine a sweeter concept." --Publishers Weekly, starred review
"A colorful catalogue of endearments for children spans the globe and expands awareness by showing how love is universal." --
Kirkus
"Marvelous illustrations by the Caldecott winner Raschka and an inclusive look at expressions of love from Poland to Uganda. Little 'Light of My Hearts' (Arabic) and 'Little Fatties' (Chile) will relish the experience." --
New York Times
Advertisement