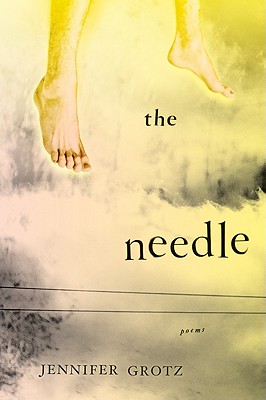 The Needle (Hardcover)
Houghton Mifflin, 9780547444123, 66pp.
Publication Date: March 24, 2011
* Individual store prices may vary.
Description
Following her debut collection, Cusp, chosen by Yusef Komunyakaa to win the Bread Loaf Writers Conference Bakeless Prize, the composed, observed quality of Jennifer Grotz's "The Needle" will remind readers of the poetry of Elizabeth Bishop and Ellen Bryant Voigt. Whether she is describing a town square in Krakow, where many of these poems are set, the ponies of Ocracoke Island, a boy playing a violin, or clouds, she finds the lyrical details that release an atmosphere of heightened, transcendent attention in which the things of the world become the World, what Zbigniew Herbert called royal silence.
Praise For The Needle…
"Despite the fraught subject matter, the mood of these poems remains calm, the rhythm of the lines not hurried by any dramatic enjambments or eccentric syntax. Grotz writes in whole sentences, with a prose logic. By the book's close, memory is not a stitching but "that museum... inventoried in opposition to the present." —Publishers Weekly
"Grotz, as 'an apostle of the now,' offers readers a phenomenology of the visible and the invisible hidden between the lines of the world and the cracks of the evening. A beautiful book, a book of experience and early wisdom,
The Needle
is a summing up of what has happened and a promise of things to come." —Adam Zagajewski, author of 
Without End

"Jennifer Grotz's poems have so many virtues—elegance, a disposition by turns philosophical and romantic, an existential maturity and intentness rare in a young poet—or an old one. The poems in 
The Needle
 practice a rare weighing and mulling of what human life is; and, in a manner almost European, they seem addressed to the 
world
, at times quite critically, at others in passionate allegiance. This work dares largeness and tenderness, and it lifts us with it." —Tony Hoagland, author of
Unincorporated Persons in the Late Honda Dynasty

"These eloquent poems of cities and childhoods are compelling from the first line. In lyrics which are always crafted and intense, a powerfully displaced speaker circles remembrance and grief, balancing detail upon detail until a vivid world appears, ready to topple at any moment into music and elegy. This is a wonderful second collection." —Eavan Boland, author of
Domestic Violence
or
Not Currently Available for Direct Purchase