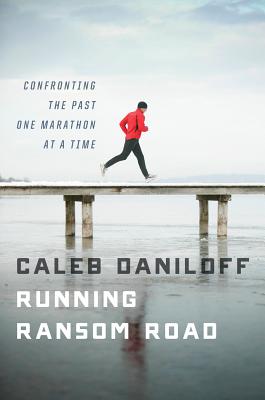 Running Ransom Road: Confronting the Past, One Marathon at a Time (Hardcover)
Confronting the Past, One Marathon at a Time
Houghton Mifflin Harcourt (HMH), 9780547450056, 233pp.
Publication Date: October 9, 2012
* Individual store prices may vary.
or
Not Currently Available for Direct Purchase
Description
The monikers "drunk," "addict," "abuser," and "boozehound "were Caleb Daniloff's for fifteen years. Now, the introduction that fits him best is "My name is Caleb and I am a runner."
In Running Ransom Road, Daniloff, many years sober, confronts his past by setting out, over the course of eighteen months, to run marathons in the cities where he once lived and wreaked havoc. Competing from Boston to New York, Vermont to Moscow, Daniloff explores the sobering and inspiring effects of running as he traverses the trails of his former self, lined with dark bars, ratty apartments, lost loves, and lost chances. With each race he comes to understand who he is, and by extension who he was, and he finds he is not alone. There are countless souls in sneakers running away from something, or better, running past and through whatever it is that haunts them.
In this powerful story of ruin, running, and redemption, Daniloff illuminates the connection between running and addiction and shows that the road to recovery is an arduous but conquerable one. Strapping on a pair of Nikes won't banish all your demons, but it can play an important role in maintaining a clean life. For Daniloff, sweat, strained lungs, and searing muscles are among the paving stones of empowerment, and, if he's lucky, perhaps even self-forgiveness.
Praise For Running Ransom Road: Confronting the Past, One Marathon at a Time…
"A vital, honest, and arresting account of one flawed runner's emotional and spiritual renewal with each step toward the finish line."
—Publishers Weekly
"Daniloff's raw descriptions of his alcohol and drug abuse...are some of the most compelling parts of the book. They harshly illustrate the destruction of addiction and the courage it takes to walk away and build a new life."
—
Booklist
"In an engaging voice, the author brings the courses alive for readers.
He replicates the physical demands of running such courses and the barriers, mental and physical, that need to be broken through to get to the finishing line. He interweaves the story of each race with memories and dialogue from the past, and he is candid about his childhood problems and his competition with his marathon-running father. Confidence in the future lends appeal to this deeply personal memoir."
—
Kirkus Reviews
"Daniloff's
unblinking, ultimately triumphant account
of his journey from mean, hopeless drunk back to humanity and himself—through distance running. It's
a searing tale of spiritual redemption
—one marathon, one mile, one brave, difficult step at a time."
—Steve Friedman, co-author of
New York Times
bestseller,
Eat and Run: My Unlikely Path to Ultramarathon Greatness
"Caleb Daniloff once poured everything he had into his drinking, and it nearly killed him. Then he poured everything into his running, and he was saved. Now he pours everything into writing about both, and we are graced by the result.
Running Ransom Road is a brave, necessary, and uncompromising book."
—John Brant, author of
Duel in the Sun: Alberto Salazar, Dick Beardsley, and America's Greatest Marathon
Advertisement