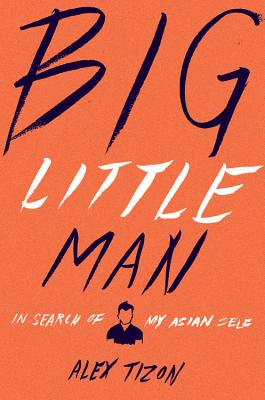 Big Little Man
In Search of My Asian Self
Hardcover

* Individual store prices may vary.
Other Editions of This Title:
Paperback (5/1/2018)
Description
An award-winning writer takes a groundbreaking look at the experience and psyche of the Asian American male.   Alex Tizon landed in an America that saw Asian women as sexy and Asian men as sexless. Immigrating from the Philippines as a young boy, everything he saw and heard taught him to be ashamed of his face, his skin color, his height. His fierce and funny observations of sex and the Asian American male include his own quest for love during college in the 1980s, a tortured tutorial on stereotypes that still make it hard for Asian men to get the girl. Tizon writes: "I had to educate myself on my own worth. It was a sloppy, piecemeal education, but I had to do it because no one else was going to do it for me." And then, a transformation. First, Tizon's growing understanding that shame is universal: that his own just happened to be about race. Next, seismic cultural changes – from Jerry Yang's phenomenal success with Yahoo! Inc., to actor Ken Watanabe's emergence in Hollywood blockbusters, to Jeremy Lin's meteoric NBA rise. Finally, Tizon's deeply original, taboo-bending investigation turns outward, tracking the unheard stories of young Asian men today, in a landscape still complex but much changed for the Asian American man. 
Praise For Big Little Man: In Search of My Asian Self…
"In Big Little Man Alex Tizon fearlessly penetrates the core of not just what it means to be male and Asian in America, but what it means to be human anywhere."-Cheryl Strayed, author of Wild"Part candid memoir, part incisive cultural study, Big Little Man addresses - and explodes - the stereotypes of Asian manhood. Alex Tizon writes with acumen and courage, and the result is a book at once illuminating and, yes, liberating." -Peter Ho Davies, author of The Welsh Girl "A well-paced, engaging combo of history, memoir, and social analysis. . . Tizon's skill as a feature reporter serves the book well, producing a narrative that moves fluidly between subjects, settings, and gazes." -- Publishers Weekly "A deft, illuminating memoir and cultural history." -- Kirkus Reviews "Written compellingly....eye-opening... deeply felt, extensively researched." -- Booklist "Tizon's candid journey into the shifting and multiplying definitions of manliness and the masculine ideal is revelatory and sobering."-- Library Journal "Highly readable . . . This personal narrative of self-education and growth will engage any reader captivated by the sources of American, and Asian-American, manhood — its multitude of inheritances and prospects." – Minneapolis Star Tribune"At once a ruthlessly honest personal story and a devastating critique of contemporary American culture . . . What makes [Tizon's] writing compelling is his ability to investigate and explain complex topics, deftly weaving in information from websites, history texts, university research and social media, combined with intense self-examination. His willingness to look inward gives him more authority to unpack some of the damaging misperceptions about Asian men."  -- Seattle Times  
Houghton Mifflin Harcourt, 9780547450483, 272pp.
Publication Date: June 10, 2014
About the Author
ALEX TIZON, a Pulitzer Prize–winning journalist, was former Seattle bureau chief for the Los Angeles Times and longtime staff writer for the Seattle Times. He coproduced a 60 Minutes segment on Third World mail-order brides in Asia, and taught at the University of Oregon. Big Little Man was the winner of the prestigious Work in Progress Prize from the J. Anthony Lukas Prize Project.
Coverage from NPR
or
Not Currently Available for Direct Purchase