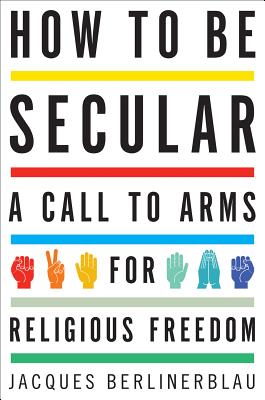 How to Be Secular (Hardcover)
A Call to Arms for Religious Freedom
Houghton Mifflin Harcourt, 9780547473345, 336pp.
Publication Date: September 11, 2012
Other Editions of This Title:
Paperback (9/17/2013)
MP3 CD (7/19/2016)
* Individual store prices may vary.
Description
"Berlinerblau mounts a careful, judicious, and compelling argument that America needs more secularists—not only among nonbelievers but among believers as well. It will change the way we think and talk about religious freedom."
—Randall Balmer, author of
Thy Kingdom Come: How the Religious Right Distorts Faith and Threatens America
Weary of religious conservatives urging "defense of marriage" and atheist polemicists decrying the crimes of religion? Sick of pundits who want only to recast American life in their own image? Americans are stuck in an all-or-nothing landscape for religion in public life. What are reasonable citizens to do?
Seen as godless by the religious and weak by the atheists, secularism mostly has been misunderstood. In
How to Be Secular
, Berlinerblau argues for a return to America's hard-won secular tradition; the best way to protect religious diversity and freedom lies in keeping an eye on the encroachment of each into the other.
Berlinerblau passionately defends the virtues of secularism, reminds us what it is and what it can protect, and urges us to mobilize around its cause, which is for all Americans to continue to enjoy freedom for—and from—religion. This is an urgent wake-up call for progressives in and out of all faiths.
About the Author
JACQUES BERLINERBLAU, professor at Georgetown University and director of the Program for Jewish Civilization, is the author of four books. He has appeared on radio, television, and print, including NPR, CNN, Al-Jazeera, The Economist, The Jerusalem Post, U.S. News and World Report and the Washington Post. He is the host of the webcast "Faith Complex," which appears on The Huffington Post and elsewhere.
Praise For How to Be Secular: A Call to Arms for Religious Freedom…
"How to Be Secular serves as an important reminder that, as I have noted in the past, we protect our rights to our personal beliefs by preserving the rights of our neighbors to believe otherwise. I agree wholeheartedly with Berlinerblau's argument and highly recommend this powerful book."
—Mario M. Cuomo, Former New York State Governor

"As someone whose faith is an important part of his life, I highly recommend this book and Berlinblau's defense of religious freedom. With great insight and clarity, he explains why it is important to protect and preserve secularism as a philosophy and he then lays out a twelve step program to revive it."  
—Ambassador Dennis Ross, Counselor to the Washington Institute for Near East Policy and former U.S. peace envoy to the Middle East

"In this new look at church-state relations in America, Berlinerblau manages to be serious and sprightly in equal measure. This is a call to reject extremism of any sort and return to the American genius for accommodation of our differences—even, indeed especially, our differences over the role of religion in our public life."
—Elliot Abrams, former Deputy National Security Advisor

"This book brought tears to my secular Jewish eyes, it was so good. Berlinerbau is not just an astonishing secular thinker; he knows how to turn a phrase, and he knows how to keep the pages turning. Now put that down that tefillin and read it!"
—Gary Shteyngart, author of Super Sad True Love Story, among others

"As the nasty strife has heated up between religious leaders who intrude their particular values into public life on the one side and noisy atheists who insist that religiously-inspired voices should be banned from the public square on the other, I have looked for a book that sorts all this out in a reasonable and convincing manner. This is that book. Well-informed, even handed and crafted in a readable, engaging style, it shines a clear light into the murkiness."
—Harvey Cox, professor of divinity at Harvard and author of The Future of Faith

"This insightful book is not designed to convince you of the non-existence of God or the afterlife; it exists to convince both the non-theistic and the religious that if we don't find a way to work together, we will all pay a heavy price. Berlinerblau makes a compelling, urgent case, with rigorous regard to history as well as a keen eye for the relevance of today's many new variations of fundamentalism."
—Barry Lynn, executive director of Americans United for Separation of Church and State

"Jacques Berlinerblau mounts a careful, judicious, and compelling argument that America needs more secularists—not only among nonbelievers but among believers as well. The author's argument merits a wide hearing and will change the way we think and talk about religious freedom."
—Randall Balmer, author of Thy Kingdom Come: How the Religious Right Distorts Faith and Threatens America, among others

"Passionately arguing secularism as essential for observance of the First Amendment's religion clauses, Berlinerblau eloquently divorces it from absolute separation and atheism, traces its history, emphasizing the mid-twentieth-century period of its greatest influence and the expansion of civil rights that abetted, and advocates its revival."
—Booklist

"Berlinerblau offers a solid history of secularism in America and a defense of its virtues at a time when conservative Christians attack it as a moral evil and advance the 'flawed' idea that one cannot be both religious and secular...An impassioned argument for 'a firm and dignified defense of the imperiled secularish virtues and moderation, toleration, and self-criticism.'"
—Kirkus Reviews

"Berlinerblau succeeds in making concrete the current threats to secularism and offers a reasoned blueprint for an organized secular movement to regain its political power."
—Publishers Weekly
or
Not Currently Available for Direct Purchase