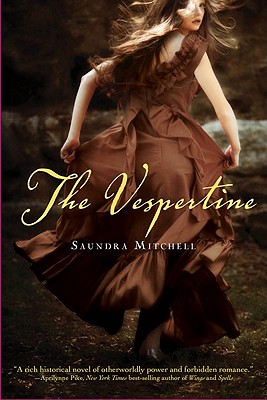 The Vespertine (Hardcover)
HMH Books for Young Readers, 9780547482477, 304pp.
Publication Date: March 7, 2011
Other Editions of This Title:
Paperback (3/20/2012)
Prebound (3/20/2012)
* Individual store prices may vary.
Description
It's the summer of 1889, and Amelia van den Broek is new to Baltimore and eager to take in all the pleasures the city has to offer. But her gaiety is interrupted by disturbing, dreamlike visions she has only at sunset—visions that offer glimpses of the future. Soon, friends and strangers alike call on Amelia to hear her prophecies. However, a forbidden romance with Nathaniel, an artist, threatens the new life Amelia is building in Baltimore. This enigmatic young man is keeping secrets of his own—still, Amelia finds herself irrepressibly drawn to him.When one of her darkest visions comes to pass, Amelia's world is thrown into chaos. And those around her begin to wonder if she's not the seer of dark portents, but the cause.
About the Author
Saundra Mitchell
is a screenwriter and author. Her companion novels
The Vespertine, The Springsweet,
and
The Elementals
have been praised for their rich historical settings, evocative language, and heart-pounding romance. Her debut novel,
Shadowed Summer,
was a 2010 Edgar Award Nominee, a Junior Library Guild selection, and an ALAN Pick. Visit her website at
www.saundramitchell.com
.
Praise For The Vespertine…
Praise for The Vespertine:
"[A] richly conceived historical romance. . . . Fans of Libba Bray's A Great and Terrible Beauty will find themselves enchanted by this atmospheric tale."—Bulletin"Equal parts vivid period detail, gothic melodrama, and foreboding premonitions coming true . . . an absorbing tale."—Booklist"Written in a passionate, inviting voice, The Vespertine is a rich, historical novel of otherworldly power, forbidden romance, and questionable motives."
—Aprilynne Pike, New York Times Bestselling Author of Wings and Spells "Sheer pleasure from beginning to end."—TeenReads.com"I savored every word of The Vespertine; I knew it was an amazing book from the first page and I was entranced until the very last."—Carrie Ryan, New York Times bestselling author of The Forest of Hands and Teeth series Praise for The Springsweet:"A lovely historical romance. . . . The author conjures a convincing picture of life on the Oklahoma prairie, painting an absorbing portrait of the landscape and of the people there. . . . A high-quality, absorbing drama."—Kirkus Reviews"The Springsweet will steal your heart. Zora is a wounded heroine who had me cheering as she rediscovers the strength she thought she'd lost. Blend in a smoldering, yet refreshingly subtle hero, and add a twist of magic and you have a perfect romance in the Old West with another of Saundra Mitchell's signature rich and nuanced historic settings!"—Aprilynne Pike, New York Times bestselling author of Wings and Spells"I didn't think YA historicals could get better than The Vespertine. The Springsweet proved me wrong. This is a gorgeous, unputdownable book that will stay with you long after it's through. Saundra Mitchell just gets better and better."—Sarah MacLean, NYT and USA Today bestselling Author of Nine Rules to Break When Romancing a Rake and Ten Ways to Be Adored When Landing a Lord"With Saundra Mitchell's trademark evocative and gorgeous language, The Springsweet takes us across the plains, where the people thirst for love just as the land thirsts for water. I never wanted this book to end!"—Carrie Ryan, New York Times best-selling author of The Forest of Hands and Teeth series Praise for The Elementals:"In The Elementals the worlds of The Vespertine and The Springsweet collide with glass-brittle hopes and devastating consequences. The children of the supernatural must learn what their parents have long known, that even the most innocent magic demands a cost. A sumptuous read, as bittersweet as it is beautiful."—Aprilynne Pike, New York Times bestselling author of Wings and Spells"Saundra Mitchell pulls off a thrilling conclusion to a mesmerizing series! She just gets better and better!"—Carrie Ryan, New York Times bestselling author of The Forest of Hands and Teeth series"Mitchell convincingly portrays the glittering, raucous L.A. of the burgeoning movie industry and the oppressive unease of looming war."—Booklist
or
Not Currently Available for Direct Purchase