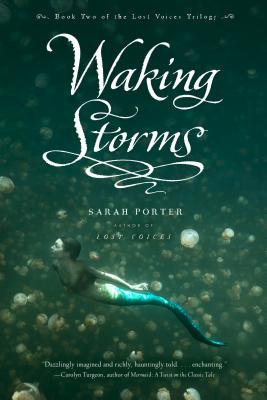 Waking Storms (Lost Voices Trilogy #2) (Paperback)
Graphia Books, 9780547482545, 405pp.
Publication Date: June 4, 2013
Description
"Enchanting."--Carolyn Turgeon, author of Mermaid: A Twist on the Classic TaleAfter parting ways with her troubled mermaid tribe, Luce receives news that the tribes queen wants her dead. Dorian, the boy Luce broke mermaid law to save, is determined to make her pay for the murder of his family. And while the mermaids believe that humans never suspect their existence, there are ominous signs to the contrary. But when Luce and Dorian meet, they wonder if love can overpower the hatred they know they should feel for each other. Can Luce fulfill her rightful role as queen of the mermaids without sacrificing her forbidden romance with Dorian?
Praise For Waking Storms (Lost Voices Trilogy #2)…
Praise for Waking Storms "Sarah Porter's mermaid world is dazzlingly imagined and richly, hauntingly told. Waking Storms is as enchanting—and dark, and lush, and tragic, and gorgeous—as the mermaids' song."—Carolyn Turgeon, author of Mermaid: A Twist on the Classic Tale "Porter has crafted another winner. . . . Like any good middle novel in a trilogy, Waking Storms leaves plenty of strings untied to keep you hungry for the final installment. But unlike many weaker series, this book also stands up completely on its own two feet (fins?) and is as deep, dark and magical as Lost Voices. A reader could pick it up not having read the previous title and be fine, while fans of the first novel surely will not be disappointed."--teenreads.com   Praise for Lost Voices "[A] haunting debut. . . . Porter's writing is expressive and graceful. . . . a captivatingly different story."—Booklist

"A beautifully written and heartbreaking story about a lost soul struggling to forgive the people she loved who wronged her, and ultimately to forgive herself."—Jennifer Echols, author of Going Too Far   Praise for The Twice Lost "The Twice Lost offers a moving, action-packed and deeply satisfying ending to Sarah Porter's brilliant Lost Voices trilogy. What a beautiful, intense world of ferocious lost girls who find themselves at last. I loved it."--Carolyn Turgeon, author of Mermaid and The Fairest of Them All
Advertisement