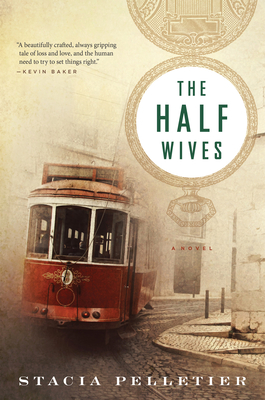 The Half Wives (Hardcover)
Houghton Mifflin Harcourt, 9780547491165, 336pp.
Publication Date: April 4, 2017
Other Editions of This Title:
Paperback (4/24/2018)
* Individual store prices may vary.
Description
Over the course of one momentous day, two women who have built their lives around the same man find themselves moving toward an inevitable reckoning.

Former Lutheran minister Henry Plageman is a master secret keeper and a man wracked by grief. He and his wife, Marilyn, tragically lost their young son, Jack, many years ago. But he now has another child—a daughter, eight-year-old Blue—with Lucy, the woman he fell in love with after his marriage collapsed.

The Half Wives follows these interconnected characters on May 22, 1897, the anniversary of Jack's birth. Marilyn distracts herself with charity work at an orphanage. Henry needs to wrangle his way out of the police station, where he has spent the night for disorderly conduct. Lucy must rescue and rein in the intrepid Blue, who has fallen in a saltwater well. But before long, these four  will all be drawn on this day to the same destination: to the city cemetery on the outskirts of San Francisco, to the grave that means so much to all of them. The collision of lives and secrets that follows will leave no one unaltered.
About the Author
STACIA PELLETIER is the author of Accidents of Providence, which was short-listed for the Townsend Prize in Fiction, and The Half Wives. She earned graduate degrees in religion and historical theology from Emory University in Atlanta.  A two-time fellow of the Hambidge Center, located in the mountains of North Georgia, she currently lives in Decatur, Georgia, and works at Emory University's School of Medicine.
 
Praise For The Half Wives…
"[A] finely tuned novel about grief, interpersonal connections, and the long journey toward independence... The novel moves smoothly... between present-day events and people's memories about their moments of happiness and heartache. Pelletier provides poignant insight into the odd dependent relationship between Lucy and Marilyn that directs their lives, even though they've never met, and Marilyn doesn't know of Lucy's existence." 
—Reading the Past

"Pelletier sketches [her] characters in great detail to create a moving story of hope and loss."
—Booklist Online

"Pelletier's writing is moving and enthralling and conveys the conflict at the heart of the book... [she] keeps readers hooked right up to the book's satisfying conclusion."
—Publishers Weekly

"Pelletier's second novel unfolds a complex story in the span of 24 hours... [The author] expertly fills in the back story—introspection and memories mingle smoothly with the present... Well-crafted characters struggling alone with shared grief furnishes a coursing river on which this intriguing story effortlessly flows. Tough to put down." 
—Kirkus Reviews

"A a thought-provoking read." 
—West Metro Mommy Reads

"The Half Wives is a profoundly hypnotic and mesmerizing work. The characters do not capture you as much as claim you, as the writing—languid, heartbreaking, and hopeful—pulls you deep into their world. The backdrop of Old San Francisco comes gloriously alive, as though the mist of the city itself rose from every page."
—Kathy Hepinstall, author of Blue Asylum and others

"Stacia Pelletier's The Half Wives is set in the past, but it is a story for any time: a poignant, sometimes heart-rending, beautifully crafted, always gripping tale of loss and love, and the human need to try to set things right. A great read."
—Kevin Baker, author of The Big Crowd
or
Not Currently Available for Direct Purchase