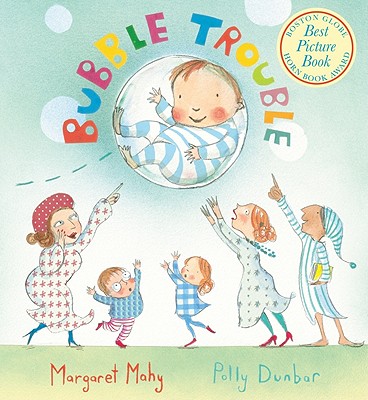 Bubble Trouble board book
Board book

* Individual store prices may vary.
Other Editions of This Title:
Hardcover (4/6/2009)
Paperback (5/14/2013)
Paperback (4/1/2011)
Hardcover (5/1/2010)
Description
Little Mabel blew a bubble, and it caused a lot of trouble . . .When little Mabel's bubble gets away from her, it's her baby brother who gets into trouble. Soon he's floating out of the house, above the fence, and all over town! It's up to Mabel, Mother, and the rest of the townspeople to get him safely back down. Who knew that so much trouble could come from one little bubble?
Praise For Bubble Trouble board book…
Winner of the 2009 Boston Globe-Horn Book Award in the Picture Book category!
2009 Horn Book Fanfare List
2010 USBBY Outstanding International Books Honor List
Nominated for a 2009 Cybil Award in the Fiction Picture Books Category
A CCBC Choice 2010
Publishers Weekly 2009 "Cuffies" List: "Hottest Book to Go Out of Stock," Honorable Mention

"Mabel blows a bubble that envelops her baby brother, gently wafting him all over the village, causing shock and excitement among the population. Chrysta and Greville Gribble, Tybal and his mother Sybil, the crabby Copples, feeble Mrs. Treeble and Canon Dapple come up with an improbable plan to catch the bubbled baby. Meanwhile, mischievous rebel Abel bursts the bubble with his slingshot and the villagers gallantly come to the rescue by catching him in a quilt. The action moves with breathless frenzy. Mahy is a master at creating verse that is as light and airy as the baby's bubble. Filled with lovely Briticisms, alliterative nonsense words, double, triple and internal rhymes, it's meant to be read aloud—'Again!'—and will lead both breathless readers and listeners to delighted giggles. The text floats across the pages in waves and arcs, and Dunbar's joyous watercolor-and–cut-paper illustrations are wonderfully expressive, a visual treat moving apace with the text. A frothy, effervescent gift."—Kirkus Reviews, STARRED review


"Bubble, bubble, tongue-twisting trouble! When Mabel blows a bubble, it causes a bit of trouble—in the inimitable Mahy way. The rhythm and rhyme of her newest exuberant offering has echoes of the 'bibble-bubble-babble' of her older 17 Kings and 42 Elephants (rev. 9/87) with added tongue-stumbling internal rhymes to keep even the most accomplished storyteller on her toes. Little Mabel's bubble surrounds Baby and takes him on an adventure of amazing heights. The whole town is alarmed as the bobbling bubble floats farther astray, but happy Baby is comfortably enthralled with his bird's-eye view of the commotion. Dunbar's cut-paper and watercolor full-page illustrations are entirely faithful to the lively tale. Every little detail of this raucous story is depicted in the dramatic spreads—a good thing, as the words are a pleasant stretch for lap listeners. Who wouldn't love the sound of nefarious, cavorting, grapple, and the like tripping off the reader's tongue? The suspense builds in both words and pictures, and little ones' eyes will be as round as the bubble. Read this aloud and expect a lot of giggles and calls for a repeat performance. It will take a few readings to get through without stumbling, but that only adds to the fun."—Horn Book, STARRED review
"A truckload of trouble and mountains of mayhem ensue when young Mabel blows a bubble that enfolds her baby brother and carries him aloft. He is pursued by his frantic mother and sister,
'crumpled Mr. Copple and his wife,' 'feeble Mrs. Threeble,' 'Greville Gribble,' the chapel choir, and other townsfolk. The text floats in waves along with the bouncing baby across the energetic watercolor and cut-paper spreads. Dressed in stripes and plaids, nightshirts and jogging suits, the crowd sprints along through backyards and gardens, gesticulating wildly as the smiling infant floats by. Eventually, the rescuers form a human ladder to reach him. But Abel, 'a rascal and a rebel,' performs a dastardly deed with his slingshot and the people watch in horror as the baby plummets through the air. It takes three page turns for readers to reach the delightful resolution of this perilous predicament. There is no mistaking the baby's happy landing as his smiling face and waving arms and feet fill the spread. This tale, with its over-the-top silliness, is a storyhour gem. And with some practice, the rhyme, alliterative phrases, and names will fall trippingly off the tongue. Fabulous fun!"—School Library Journal, STARRED review
"Mahy is clearly in love with language here, as she offers a text that flounces and bounces like the baby in the bubble. . . . Children will find their ears perking up at the tongue-twisting text, and they may become word lovers, too, after listening to this."—Booklist
"An ebullient cocktail of sweetness and absurdity. . . . Readers-aloud will have as much fun as listeners with this frothy confection, so get ready to let that baby bounce."—The Bulletin of the Center for Children's Books
HMH Books for Young Readers, 9780547507255, 32pp.
Publication Date: April 4, 2011
About the Author
Margaret Mahy lived in New Zealand and was internationally acknowledged as one of the most outstanding children's writers of her day. She was the author of more than two hundred books for children of all ages, two of which received England's Carnegie Medal and others of which have garnered numerous citations from the American Library Association. She was also the recipient of an Order of New Zealand, the highest honor a citizen can receive. In 2006 she receivd the Hans Christian Andersen award for her contributions to international children's literature.
Polly Dunbar is the author and illustrator of Penguin, Dog Blue, and Flyaway Katie (all published by Candlewick). She is also the illustrator of Margaret Mahy's Down the Back of the Chair. She studied illustration at Bright Art School and now lives and works in Brighton, England. 
or
Not Currently Available for Direct Purchase