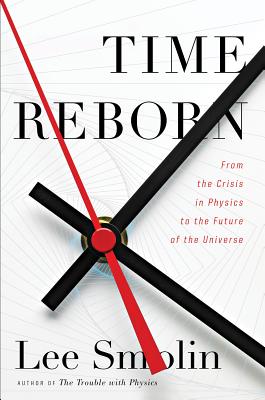 Time Reborn (Hardcover)
From the Crisis in Physics to the Future of the Universe
Houghton Mifflin Harcourt, 9780547511726, 352pp.
Publication Date: April 23, 2013
Other Editions of This Title:
Digital Audiobook (6/27/2013)
Paperback (4/8/2014)
MP3 CD (6/28/2013)
Compact Disc (6/28/2013)
Compact Disc (6/28/2013)
* Individual store prices may vary.
Description
From one of our foremost thinkers and public intellectuals, a radical new view of the nature of time and the cosmos

What is time?

This deceptively simple question is the single most important problem facing science as we probe more deeply into the fundamentals of the universe. All of the mysteries physicists and cosmologists face—from the Big Bang to the future of the universe, from the puzzles of quantum physics to the unification of forces and particles—come down to the nature of time.

The fact that time is real may seem obvious. You experience it passing every day when you watch clocks tick, bread toast, and children grow. But most physicists, from Newton to Einstein to today's quantum theorists, have seen things differently. The scientific case for time being an illusion is formidable. That is why the consequences of adopting the view that time is real are revolutionary.

Lee Smolin, author of the controversial bestseller The Trouble with Physics, argues that a limited notion of time is holding physics back. It's time for a major revolution in scientific thought. The reality of time could be the key to the next big breakthrough in theoretical physics.

What if the laws of physics themselves were not timeless? What if they could evolve? Time Reborn offers a radical new approach to cosmology that embraces the reality of time and opens up a whole new universe of possibilities. There are few ideas that, like our notion of time, shape our thinking about literally everything, with huge implications for physics and beyond—from climate change to the economic crisis. Smolin explains in lively and lucid prose how the true nature of time impacts our world.
About the Author
Lee Smolin is a theoretical physicist who has made influential contributions to the search for a unification of physics. He is a founding faculty member of the Perimeter Institute for Theoretical Physics. His previous books include The Trouble with Physics, The Life of the Cosmos and Three Roads to Quantum Gravity.
Praise For Time Reborn: From the Crisis in Physics to the Future of the Universe…
"[Smolin's] book, a mix of science, philosophy and science fiction, is at once entertaining, thought-provoking, fabulously ambitious and fabulously speculative." —
The New York Times
"Provocative, original, and unsettling." —
The New York Review of Books
"Brilliant…Smolin gives what is, for me, the best analysis of the nature of time from a physics viewpoint in a popular science book I have ever seen." —
Popular Science
"Smolin provides a much-needed dose of clarity about time, with implications that go far beyond physics to economics, politics, and personal philosophy.
An essential book for physicists and non-physicists alike, Time Reborn offers a path to better theory and potentially to a better society.
" —Jaron Lanier, author of
You Are Not a Gadget
and
The Fate of Power and the Future of Dignity
"
Applying his deep mastery of cosmology, quantum mechanics, general relativity and all the diverse attempts at quantum gravity, in Time Reborn
Lee Smolin weaves a convincing and entirely new view of reality
. He shows us how contemporary physics eliminates time and argues persuasively that any adequate cosmology rests on making time and 'now' fundamental." —Stuart Kauffman, University of Vermont, author of
At Home in the Universe
"
Smolin is an excellent writer, a creative thinker and is ecumenical in the way he covers so many different branches of thought.
Even as I mentally argued with this book, I kept on ploughing through to see how Smolin dealt with the objections. I would love to sit down with him over a drink and debate the ins and outs of his theory. And that is how this book should be read: as an account that makes you ask questions." —
Nature
"An entertaining, head-spinning and, yes, timely blend of philosophy, science, and speculation to put the Now back into physics." —
The Telegraph
"An energetic case for a paradigm shift that could produce mind-boggling changes in the way we experience our world." —
Publishers Weekly
"A thoughtful, complex re-evaluation of the role of time in the universe…A flood of ideas from an imaginative thinker." —
Kirkus
"With rare conceptual daring, Smolin beckons toward a new perspective for doing cosmological theory…A thrilling intellectual ride!"—Booklist (starred review)
Coverage from NPR
or
Not Currently Available for Direct Purchase