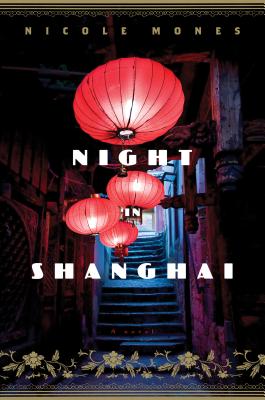 Night in Shanghai (Hardcover)
Houghton Mifflin Harcourt, 9780547516172, 288pp.
Publication Date: March 4, 2014
Other Editions of This Title:
Digital Audiobook (5/5/2014)
Compact Disc (5/6/2014)
Paperback (1/6/2015)
MP3 CD (5/6/2014)
Compact Disc (5/6/2014)
* Individual store prices may vary.
Description
In 1936, classical pianist Thomas Greene is recruited to Shanghai to lead a jazz orchestra of fellow African-American expats. From being flat broke in segregated Baltimore to living in a mansion with servants of his own, he becomes the toast of a city obsessed with music, money, pleasure and power, even as it ignores the rising winds of war.Song Yuhua is refined and educated, and has been bonded since age eighteen to Shanghai's most powerful crime boss in payment for her father's gambling debts. Outwardly submissive, she burns with rage and risks her life spying on her master for the Communist Party.Only when Shanghai is shattered by the Japanese invasion do Song and Thomas find their way to each other. Though their union is forbidden, neither can back down from it in the turbulent years of occupation and resistance that follow. Torn between music and survival, freedom and commitment, love and world war, they are borne on an irresistible riff of melody and improvisation to
Night in Shanghai
's final, impossible choice.In this stunningly researched novel, Nicole Mones not only tells the forgotten story of black musicians in the Chinese jazz age, but also weaves in a startling true tale of Holocaust heroism little-known in the West.
View the Trailer:
www.nicolemones.com
About the Author
Nicole Mones is the prizewinning author of three previous novels, The Last Chinese Chef, Lost in Translation, and A Cup of Light, which are published in more than twenty-five countries.
Praise For Night in Shanghai…
"Historical fiction at its best."
—Alan Cheuse, All Things Considered, NPR
"Mones' engrossing historical novel illuminates the danger, depravity, and drama of this dark period with brave authenticity."
—Carol Haggas, Booklist
"Keeps the suspense mounting until the end."
—Kirkus Reviews"Historical fiction fans will not be disappointed."
—Library Journal"With a magician's sleight of hand, Nicole Mones conjures up the jazz-filled, complex, turbulent world of Shanghai just before World War II. A rich and thoroughly captivating read."
—Gail Tsukiyama, author of The Samurai's Garden"What an incredible thing Mones does in this novel of the compelling, sexy, rich and complicated world of historical Shanghai."
—Marisa Silver, author of Mary Coin"Mones' genius lies in her attention for detail... NIGHT IN SHANGHAI is a riveting, entertaining and illuminating look at a moment that has been largely lost from history."
—January Magazine"Real-life historical figures and fictional characters are cleverly intertwined in this gripping story. Shanghai's seedy underbelly is exposed, and woven into the tor-tapping swing of the big-band era... powerful."
—the
West Australian
, Perth"An entertainingly engrossing story of love, life and passion couched in an enlightening, erudite exposé of the nuanced historical events that culminated in World War II. A novel to be savored.. and remembered for a long time."
—June J. McInerney,
authorexposure.com
"Both of them young and awkward, but gifted and smart, (Thomas and Song) make for an odd but brilliant pair of lovers. They light up the pages of this novel....
Night in Shanghai
, an intelligent historical romance, shows off with forceful insight, terrific characters, and a telling sense of detail. And, folks, it swings."
—Alan Cheuse, All Things Considered, NPR
Before the novel begins, Mones offers this Chinese adage: "An inch of time is worth an inch of gold. An inch of gold cannot buy an inch of time." This saying comes from an ancient text that imparted life lessons to children. What lesson do you take from it? What do you think it meant to Thomas, Song, and Lin?generic viagra price canada
Chiang Kai-shek pursued a policy of "first internal pacification, then external resistance" (2), because he thought the Communists posed a greater threat to China than the Japanese invasion. Looking back from today, do you think he was correct? Or do you think Song was right to build her life around opposing this?generic viagra price canada
Song says, "Jazz was the sun around which this paradise revolved" (2). In the 1930s, jazz was very popular around the world, perhaps the defining music of its era. What do you think has been the defining music of your era? How has that music shaped and enriched your life?generic viagra price canada
Jazz musician Charlie Parker said, "Music is your experience, your thoughts, your wisdom. If you don't live it, it won't come out of your horn." What living does Thomas have to accomplish before he can finally throw off his fetters at the piano? What makes it possible for him?generic viagra price canada
"I was reborn first through the movement, and then again, through him. After our time together I knew, no matter where the two of us were, that while he lived, I would never be alone. I knew I would return to him. But just as much, I knew I needed to go north" (180). Many people struggle to find a balance between love and self-actualization. Do you think Thomas and Song made the right decisions? What do you think would have happened to them, and to their feelings for each other, if they had chosen differently?generic viagra price canada
All the major events in Night in Shanghai actually happened, and except for Thomas Greene, Song Yuhua, Lin Ming, and David Epstein, almost all the book's characters really lived (and can be seen in photos and film on the author's website). The novel ends with a nonfiction-style epilogue. Did the novel's fidelity to true events affect your perception of the story? Do you think there is something different about a story based on true events?generic viagra price canada
"He lost himself in his dreams of Song, but in his rational moments, he was aware of life slipping away" (211). Do you think Thomas sacrifices too much in waiting for her? In the end, who makes the greatest sacrifice, Thomas or Song? Explain.generic viagra price canada
When Thomas and David play for refugee audiences, they realize their music provides a powerful and poignant memory of the past that has been left behind forever. Thomas thinks, "This is what they want from music, a feeling, a connection to another time" (214). Do you ever listen to music to feel connected to another time? To what times and places does music carry you back?generic viagra price canada
Coverage from NPR
or
Not Currently Available for Direct Purchase