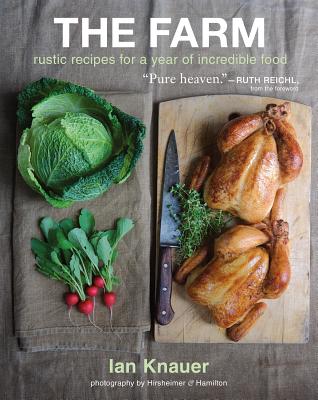 The Farm (Hardcover)
Rustic Recipes for a Year of Incredible Food
Rux Martin/Houghton Mifflin Harcourt, 9780547516912, 256pp.
Publication Date: April 17, 2012
* Individual store prices may vary.
Description
When Ian Knauer was a cook in the Gourmet test kitchen, he quickly became known for recipes so stupendously good that they turned the heads of the country's top food editors—effortless combinations that made the best of seasonal produce or treats from the Pennsylvania farm that has been in his family since the eighteenth century.

In The Farm, Knauer brings his creations to your kitchen. From Cold-Spring-Night Asparagus Soup to Brick Chicken with Corn and Basil Salad, the 150 recipes in this book will help you make the most of your market, garden, or CSA. They are fresh, modern spins on American classics, with ingredients anyone can obtain. Each one is simple, distinctive, and satisfying, getting the best food to the table in the least amount of time. They are both homey and sophisticated.

You'll find recipes that incorporate all parts of the vegetable, like Pasta with Radishes and Blue Cheese, which incorporates the radish leaves as well as the root, and spritely Swiss Chard Salad. You'll learn how to make great food from simple ingredients you have on hand, like Potato Nachos. You'll discover recipes for less-familiar produce from your market or your backyard, such as Chicken with Garlic Scape Pesto and Dandelion Green Salad with Hot Bacon Dressing.

Many of these recipes have been in Knauer's family for generations, like Pennsylvania Dutch-Style Green Beans or Cloud Biscuits. You won't want to miss his expertly tweaked renditions of his mother and grandmother's desserts: Strawberry Cream Cheese Pie, Blueberry Belle Crunch, and Mary's Lemon Sponge Pie.

Whether you want to learn how to roast a pig, make your own hot sauce, or brew hard cider, The Farm brings artisanal cooking home, even as Knauer's vivid stories trace a year in the seasons of the farm.
About the Author
A former food editor at Gourmet, Ian Knauer wrote extensively for the magazine and its website and also co-hosted the magazines awarding winning television series, Diary of a Foodie, and Adventures with Ruth. He now develops recipes for the Food Network, including for the show The Next Food Network Star, and the Cooking Channel. He contributes articles and recipes to Men's Health, Men's Journal, theAtlantic.com, Bon Appétit, Fine Cooking, AOL Food, Salon.com., and Gillt.com. He blogs at http://bigcitycountryboy.blogspot.com.