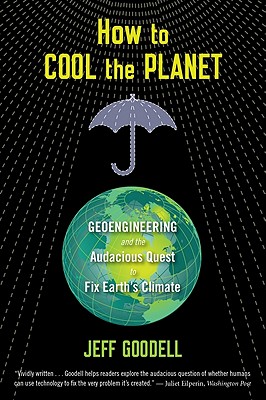 How to Cool the Planet: Geoengineering and the Audacious Quest to Fix Earth's Climate (Paperback)
Geoengineering and the Audacious Quest to Fix Earth's Climate
Mariner Books, 9780547520230, 262pp.
Publication Date: April 6, 2011
Description
Climate discussions often focus on potential impacts over a long period of time--several decades, a century even. But change could also happen much more suddenly. What if we had a real climate emergency--how could we cool the planet in a hurry? This question has led a group of scientists to pursue extreme solutions: huge contraptions that would suck CO2 from the air, machines that brighten clouds and deflect sunlight away from the earth, even artificial volcanoes that spray heat-reflecting particles into the atmosphere. This is the radical and controversial world of geoengineering. How to Cool the Planet, Jeff Goodell explores the scientific, political, and moral aspects of geoengineering. How are we going to change the temperature of whole regions if we can't even predict next week's weather? What about wars waged with climate control as the primary weapon? There are certainly risks, but Goodell persuades us that geoengineering may be our last best hope, a Plan B for the environment. And if it is, we need to know enough to get it right.
Praise For How to Cool the Planet: Geoengineering and the Audacious Quest to Fix Earth's Climate…
"Goodell explores with infectious curiosity and thoughtful narration this strange, promising, and untested suite of climate fixes." — BusinessWeek

"[Goodell's] provocative account achieves a fine balance between the inventor's enthusiasm and the scientist's skepticism." —Publishers Weekly

"Goodell follows Big Coal (2006) with a lively and invaluable introduction to the simultaneously alarming and promising field of geoengineering… Hopefully his incisive and entertaining overview will help shape the debate." — Booklist (starred review)

"How to Cool the Planet is thoughtful, informative, and darkly entertaining. It's the best treatment of this important (and scary) topic you can find." — Elizabeth Kolbert, author of Field Notes from a Catastrophe

"In the highly contentious climate debate geoengineering remains one of the most controversial, yet intriguing, remaining questions. In this vividly written, thoughtful book, Jeff Goodell helps readers explore the audacious question of whether humans can use technology to fix the very problem it's created." — Juliet Eilperin, national environmental reporter, Washington Post

"This could be the most important book written about the climate. Goodell compellingly describes the characters, ideas and motivations of a small band of geoengineers, scientists who would manipulate the very substance of our planet to alleviate global heating. As one of them, I know that what he writes is true, and I share his fear that geoengineering may put us on a path yet more deadly than the one we took to end war by inventing nuclear weapons. Yet if climate change becomes unbearable, we may be driven to geoengineering as a last resort. Read this unforgettable book; once started, you will not be able to put it down." — James Lovelock, author of Gaia and The Vanishing Face of Gaia

Advertisement