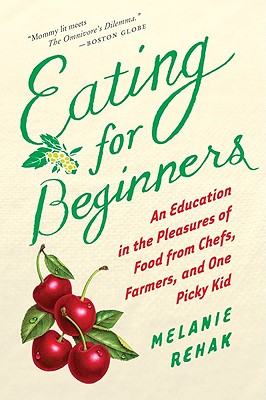 Eating for Beginners (Paperback)
An Education in the Pleasures of Food from Chefs, Farmers, and One Picky Kid
Mariner Books, 9780547520353, 288pp.
Publication Date: August 17, 2011
Other Editions of This Title:
Hardcover (7/8/2010)
* Individual store prices may vary.
Description
With grace, humor, and irresistible recipes, the author of Girl Sleuth takes us on her journey as an amateur chef, amateur farmer, and amateur parent

Melanie Rehak was always a passionate cook and food lover. Since reading the likes of Michael Pollan, Eric Schlosser, and Wendell Berry, she'd tried to eat thoughtfully as well. But after the birth of her son, Jules, she wanted to know more: What mattered most, organic or local? Who were these local farmers? Was it possible to be an ethical consumer and still revel in the delights of food? And why wouldn't Jules eat anything, organic or not?

Eating for Beginners details the year she spent discovering what how to be an eater and a parent in today's increasingly complicated world. She joined the kitchen staff at applewood, a small restaurant owned by a young couple committed to using locally grown food, and worked on some of the farms that supplied it. Between prepping the nightly menu, milking goats, and sorting beans, Rehak gained an understanding of her own about what to eat and why. (It didn't hurt that, along the way, even the most dedicated organic farmers admitted that their children sometimes ate McDonald's.) And as we follow her on her quest to find the pleasure in doing the right thing—and become a better cook in the bargain—we too will make our peace with food.

About the Author
Melanie Rehak is a poet and critic. A recipient of the New York Public Library's Tukman Fellowship at the Cullman Center for Scholars and Writers, she writes for the New York Times Magazine, the New Yorker, Vogue, and the Nation, among others. She lives in Brooklyn.

Praise For Eating for Beginners: An Education in the Pleasures of Food from Chefs, Farmers, and One Picky Kid…
"Hilarious, moving and full of life, Eating for Beginners restores joy to its rightful place at the dinner table. Melanie Rehak's absorbing journey will appeal not only to people who want to spend less time worrying about what to cook, eat, or feed a family, but to those of us who are looking for a way to feel more confident in all of our choices. Whether she's picking kale or picking Cheerios off the floor, Rehak is always excellent company." -- Gretchen Rubin, author of The Happiness Project