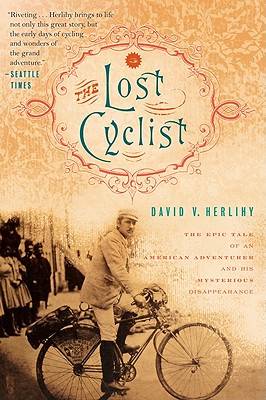 The Lost Cyclist (Paperback)
The Epic Tale of an American Adventurer and His Mysterious Disappearance
Mariner Books, 9780547521985, 368pp.
Publication Date: May 4, 2011
* Individual store prices may vary.
Description
In the late 1880s, Frank Lenz of Pittsburgh, a renowned high-wheel racer and long-distance tourist, dreamed of cycling around the world. He finally got his chance by recasting himself as a champion of the downsized "safety-bicycle" with inflatable tires, the forerunner of the modern road bike that was about to become wildly popular. In the spring of 1892 he quit his accounting job and gamely set out west to cover twenty thousand miles over three continents as a correspondent for Outing magazine. Two years later, after having survived countless near disasters and unimaginable hardships, he approached Europe for the final leg.
He never made it. His mysterious disappearance in eastern Turkey sparked an international outcry and compelled Outing to send William Sachtleben, another larger-than-life cyclist, on Lenz's trail. Bringing to light a wealth of information, Herlihy's gripping narrative captures the soaring joys and constant dangers accompanying the bicycle adventurer in the days before paved roads and automobiles. This untold story culminates with Sachtleben's heroic effort to bring Lenz's accused murderers to justice, even as troubled Turkey teetered on the edge of collapse.
About the Author
DAVID V. HERLIHY is the author of Bicycle: The History, winner of the 2004 Award for Excellence in the History of Science. A leading authority in his field, he has been interviewed by numerous television, radio, and newspaper personalities in the United States and abroad, and his work has appeared in a wide variety of general-interest and specialty magazines.
Praise For The Lost Cyclist: The Epic Tale of an American Adventurer and His Mysterious Disappearance…
"Fascinating . . . Herlihy combines an admirable talent for sleuthing with the narrative skills of a first-rate storyteller . . . This should appeal to most lovers of history, as well as to bicycling enthusiasts. Strongly recommended." —Library Journal
"Riveting... Herlihy brings to life not only this great story, but the early days of cycling and wonders of the grand adventure. He cements his place as the bard of cycling." -- Seattle Times
"Herlihy's gripping, fast-paced tale of larger-than-life cyclists and the era in which the bicycle came into its own as a means of transportation and recreation should appeal to a broad range of readers . . . The book combines elements of a mystery thriller with those of a fascinating travel tale set in the historical context of a fast-changing world on the brink of the 20th century." -- Associated Press"Grippingly detailed . . What's fascinating about this thoroughly researched story is the cluelessness, recklessness and luckiness – to a point, anyway – of American travelers in general and Americans in the overinflated world of early American biking in particular." -- New York Times Book Review
"This well-researched and stylishly writtten book puts Lenz back in the public eye as well as offering readers a look at the very early days of modern cycling." -- Booklist
"Gripping... Ideal reading for global-minded adventure lovers." -- Star Tribune
"Herlihy's story transcends its historical research in the end--and certainly to the author's credit--becoming a truly sad and captivating human drama on youthful curiosity that proves perilous." -- New City
"This meticulously-researched account exposes readers to an unfamiliar world. Readers with a love of cycling or curiosity about this moment in history will appreciate Herlihy's knowledge and passion." -- PublishersWeekly.com
"Herlihy's tale is a fresh reminder of how the bicycle has long inspired big dreams in so many of its enthusiasts. And he's provided a clear portrait of an era when it took a true adventurer to explore much of the globe." -- The Oregonian"Herlihy's book is a travelogue, a whodunit -- and a chase story... [Herlihy] comes up with a theory -- but this is a thriller that ends with a mystery, unsolved to this day." -- Bloomberg
"A good story, a rousing historical document, and a tribute to the enduring glory both of humanity's aspirations to exceed oneself, and of 'the most efficient machine ever made,' the bicycle, which can carry both body and spirit farther than anyone thought possible only a few generations past." -- BicycleFixation.com