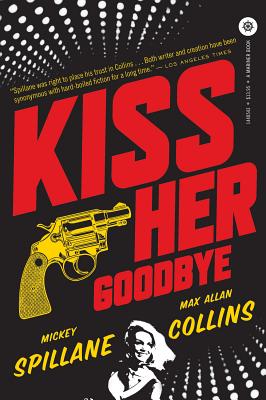 Kiss Her Goodbye (Paperback)
Mariner Books, 9780547541204, 288pp.
Publication Date: June 12, 2012
Other Editions of This Title:
Digital Audiobook (5/24/2011)
Hardcover (5/1/2011)
MP3 CD (5/25/2011)
Compact Disc (5/25/2011)
* Individual store prices may vary.
Description
"Entertaining . . . proof of how well Max Allan Collins has managed to mimic Spillane's style." -- The Onion, A. V. Club Mike Hammer has been away from New York too long when he learns that an old mentor on the New York police force has committed suicide. Suspicious, Hammer returns for the funeral. When a woman is murdered practically on the funeral home's doorstep, he gets drawn into the hunt for Nazi diamonds, a mysterious beauty who was close to Doolan in his final days, and a gang of drug racketeers. Soon Hammer is hobnobbing with coke-snorting celebrities at a notorious disco. Everything leads to a Mafia social club where Hammer and his .45 come calling, sparking the wildest showdown since Spillane's classic One Lonely Night. " Spillane's and Collins's] risks pay off on the page, resulting in some of the finest novels of their respective careers . . . Kiss Her Goodbye is a throwback in the best sense of the word: it reminds us why Spillane was so good in the first place; and Collins, too . . . This is action-mystery par excellence." -- Los Angeles Review of Books
Praise For Kiss Her Goodbye…
"The violent death of his old cop mentor calls Mike Hammer back to New York and more of the same death-dealing intrigue he first made his specialty in I, the Jury 64 years ago.
According to Capt. Pat Chambers, all the evidence indicates that Insp. Bill Doolan, retired and facing the end stages of cancer, shot himself in the heart. But Mike (
The Big Bang
, 2010, etc.) isn't buying it, and it's not long before new evidence bears him out. A waitress is killed in a senseless mugging only a few blocks from Doolan's funeral. A friendly hooker who has dinner with Mike is struck by a hit-and-run driver who was obviously aiming for her companion. The waitress's ex-boyfriend, who supposedly left town years ago, turns up dead. What can an aging private eye do? "I was older. I was jaded. I was retired," reflects Mike. "
But I was still Mike Hammer
." Naturally, he's lionized by everyone in the Big Apple, from rookie Congressman Alex Jaynor to kinky ADA Angela Marshall to reformed crime-family scion Anthony ("don't call me Little Tony") Tretriano, to hot Latina chanteuse Chrome, who sings in Anthony's club, to Alberto Bonetti, the druglord whose son Sal Mike killed in self-defense. Sal will be followed into the great beyond by over two dozen souls, most of them sent hither by Mike. Working from an unfinished novel by the late Spillane, Collins provides the franchise's trademark winking salacity, self-congratulatory vigilantism and sadistic violence, topped off with a climax that combines the final scenes of two of Mike's most celebrated cases." —Kirkus Reviews
or
Not Currently Available for Direct Purchase