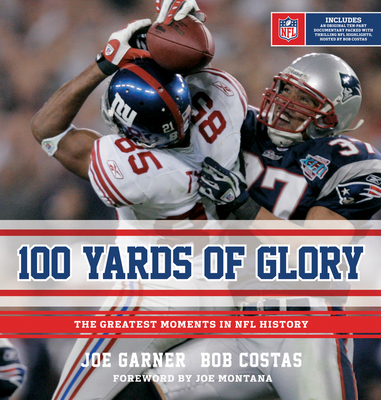 100 Yards of Glory (Hardcover)
The Greatest Moments in NFL History
Houghton Mifflin Harcourt, 9780547547985, 320pp.
Publication Date: November 8, 2011
* Individual store prices may vary.
Description
Relive the greatest moments in the NFL

The Immaculate Reception. The Ice Bowl. The Music City Miracle. The Catch. For nearly a century, the National Football League has provided fans with pulse-pounding moments on the gridiron.
      In the tradition of their best-selling collaboration And the Crowd Goes Wild, veteran chronicler of popular history Joe Garner and broadcast icon Bob Costas team up to bring fans this one-of-a-kind compendium of NFL history. 100 Yards of Glory celebrates 100 of professional football's greatest moments, players, coaches, teams, and triumphs. The richly illustrated text is accompanied by an original ten-part documentary, hosted by the inimitable Bob Costas, produced by an Emmy Award–winning team, and featuring thrilling game footage, commentary, and highlights, direct from the NFL's own archives.
      From the great dynasties to the improbable catches, the legendary coaches to the heroic QBs, the most incredible comebacks to the most notorious collapses, 100 Yards of Glory relives—in print and on screen—the most unforgettable moments in the game's history. 100 Yards of Glory is a must-have for any football fan.

Don't miss:
• The infamous 1934 "Sneakers Game"
• Roger Staubach's Hail Mary pass
• Tony Dorsett's amazing 99-yard run
• Coach Vince Lombardi's first—and last—playoff loss
• The 1985 Chicago Bears defense—the "Monsters of the Midway"
• Johnny U in the 1958 AFC Championship: "The Greatest Game Ever Played"
• Eli Manning's Giants toppling Tom Brady's Patriots in Super Bowl XLII
• Landry's Cowboys, Walsh's 49ers, Belichick's Patriots, and Lombardi's Packers
• Drew Brees hoisting the Lombardi trophy for jubilant New Orleans Saints fans
• And much more.


About the Author
Joe Garner is the author of four bestselling multimedia collections, including We Interrupt this Broadcast (with Brian Williams),
And the Crowd Goes Wild
and
And the Fans Roared
(with Bob Costas).
A nineteen-time Emmy Award winner, Bob Costas is the host of NBC's Football Night in America and the lead anchor for the MLB network. Costas also hosts NBC's coverage of the Olympic Games, the U.S. Open, Kentucky Derby, and more.
Praise For 100 Yards of Glory: The Greatest Moments in NFL History…
"100 YARDS OF GLORY: The Greatest Moments in NFL History will make a swell present . . . It's like those great NFL Films documentaries, with the dynamism of the video and voice-overs exchanged for the dignified distance of the page." —New York Times Book Review