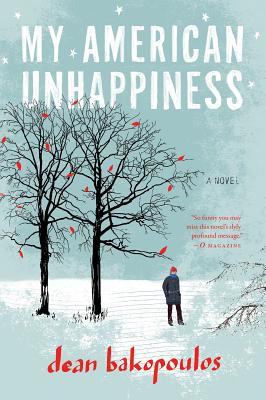 My American Unhappiness
Paperback

* Individual store prices may vary.
Other Editions of This Title:
Hardcover (6/7/2011)
Description
"Bakopoulos has invented a man for all rainy seasons—a horny, heartbroken cousin of Richard Ford's Frank Bascombe." —Tom Piazza

"A winning distraction, a smart entertainment." —New York Times Book Review

A clairvoyant when it comes to the Starbucks orders, a renegade when it comes to bureaucracy, Zeke asks almost everybody he meets, "Why are you so unhappy?" The answers he receives—a mix of true sadness and absurd complaint—become the core of an obsessive project, "The Inventory of American Unhappiness," a project that becomes all the more personally meaningful as he follows steps outlined in a women's magazine on finding the perfect mate. Incisively tapping the voice of one of the most charming—and deluded—narrators to come along in years, Dean Bakopolous captures our zeitgeist with lacerating wit and a big heart, confirming Jonathan Miles's (author of Dear American Airlines) claim that "there's no such thing as unhappiness when you're holding a Dean Bakopolous novel."

"Hilarious and heartfelt . . . This funny-sad novel seems to take elements of the author's own life . . . and twists them in a funhouse mirror—with delightful results." —NPR
Praise For My American Unhappiness…
My American Unhappiness "shimmers with mischief and offbeat charm. A dark entertainment infused by a bluesy yearning for a better America."
—Kirkus Reviews"Bakopoulos writes with great heart and a cold eye, and his limpid, ironic prose will appeal to those who like the early work of Martin Amis."
—Library Journal"My American Unhappiness is a smart, funny, charming novel - an incisive critique of the way we live now, but aremed, unlike contemporary satire, with a big, generous heart. I got addicted to the misadventures of Zeke Pappas. I didn't want the book to end."
—Dan Chaon, author of Await Your Reply

"In Zeke Pappas, Dean Bakopoulos has invented a man for all rainy seasons - a horny, heartbroken cousin of Richard Ford's Frank Bascombe, telling a long, tall tale of anomie in the heartland."
—Tom Piazza, author of City of Refuge

"If the nature of despair, as Kierkegaard wrote, is to be unaware of itself, then Zeke Pappas is its perfect spokesman: a blithely deluded nebbish whose epic longings—to document the emptiness at the center of American life and to win the heart of Sofia Coppola and/or his local Starbucks barista—propel him into ever more twisted predicaments. There's no such thing as unhappiness when you're holding a Dean Bakopoulos novel in your hands."
—Jonathan Miles, author of Dear American Airlines

"Vivid as a searchlight gliding across suburban picture windows , MY AMERICAN UNHAPPINESS displays its author's saddened comic wisdom, as apparently self-effacing as it is marvelously inventive and observant. Dean Bakopoulos is a writer to watch, a novelist to cherish."
—Peter Straub, author of A Dark Matter

"Zeke Pappas, the visionary behind the American Unhappiness project, is the perfect hero for our times - an age of J. Crew catalogs and Starbucks lattes, of political absurdities and almost-fractured families barely holding themselves together. In telling Zeke's story, Dean Bakopoulos brings together razor-sharp comic timing, brilliant social commentary, and big-hearted compassion that embraces the imperfection of American life. The result is a smart, funny and exceptionally entertaining book."
—Alix Ohlin, author of Babylon and Other Stories"My American Unhappiness is a major accomplishment from one of my generation's finest storytellers, a profoundly funny, moving, beautifully-detailed, and ultimately hopeful portrait of our country in a certain moment. Its self-deprecating hero, Zack Pappas, earnest, kind, and brooding, with wry intelligence and deep compassion, is indelible. I loved every page of this book. The torch has been passed -- Dean Bakopoulos is our next great Midwestern writer."
—Davy Rothbart, The Lone Surfer of Montana, Kansas: Stories, founder and editor of Found Magazine, contributor to public radio'sThis American Life"Dean Bakopoulos in an American prophet — who divines the end of optimism in this brilliant new novel that will choke you with tears and laughter. My American Unhappiness deserves a hallowed place on the shelf somewhere among Studs Terkel's Working and Walker Percy's The Moviegoer. "
—Benjamin Percy, The Wilding  and Refresh, Refresh
Mariner Books, 9780547549101, 288pp.
Publication Date: July 3, 2012
About the Author
Dean Bakopoulos is the author of the novel Please Don't Come Back from the Moon, a New York Times Notable Book, and the recipient of fellowships from the National Endowment for the Arts and the Guggenheim Foundation. He is on the faculty at Iowa State University and the Warren Wilson MFA Program for Writers.
Zeke's story, though universal in its sense of loss and loneliness, is woven tightly into the experience of midwestern Americans during the post-9/11 "Dubya" years. What kinds of cues does the author use to create a sense of time and place in the novel? Do you think it would have worked equally well set in another part of the country, or in another era?
Zeke muses, "Everybody seems happy through a window" (p. 30). Do you agree or disagree with this sentiment? Discuss how the novel offers a different kind of window through which to view the characters' happiness or unhappiness. When the novel opens, does Zeke seem happy or unhappy? In what ways is the novel his own answer to his question, "Why are you so unhappy?"
Compare and contrast the battle waged by Zeke's brother Cougar who fought and died in the post-9/11 invasion of Iraq, with Zeke's anti-war protests and his work in the humanities. Do you think it's fair to say that both brothers are fighting for something important, an ideal, or a way of life? What do you make of Zeke's definition of and distinction between art and the humanities on page 139?
"The Starbucks Challenge" is a small ritual Zeke enacts daily both for Minn's entertainment and perhaps to mitigate his own increasing unhappiness. Identify and discuss other ways that characters in the novel seek to alleviate their unhappiness, if only briefly.
Does Zeke's description of the American condition on pages 45–47 strike you as familiar, or is Zeke, as his assistant Lara suggests, just convincing his subjects (and you the reader) of their unhappiness? Do you think the very act of asking, "Why are you so unhappy?" can influence a response so profoundly as to turn a positive outlook into a negative one? Why or why not?
Why aren't Mack and Joseph excited about Zeke's announcement that he's getting married? Do you think the pronouncement would have been received differently if Zeke were a woman, given that the advice he's following comes from a women's magazine? Do you think it's more socially acceptable for a woman to be on the hunt for a mate? Identify other ways that Zeke's character defies stereotypes of the midwestern male in this novel.
When Zeke's mother has to choose whether to make her son happy or do what's best for her granddaughters, April and May, she decides she should get custody of the girls. How do you feel about her decision? What would you do?
When Zeke's mother has to choose whether to make her son happy or do what's best for her granddaughters, April and May, she decides she should get custody of the girls. How do you feel about her decision? What would you do?
My American Unhappiness in some ways seeks to illuminate the nation's post-9/11 malaise, a temporary insanity and depression that affected people more deeply, Zeke might argue, than they're even aware. On a microcosmic level, Zeke's family suffers a post-9/11 transformation as well with the death of his father, brother, and wife all within a short period of time following the attacks. Discuss how Zeke's sense of identity is influenced by his nuclear family (parents and brother) and compare and contrast that to his role in his post-9/11 family (mother and nieces).
Valerie, Zeke's missing and presumed-dead wife, haunts more than half the novel before reappearing. How much of this incident has affected Zeke's ability to pursue and maintain a relationship in his post-Valerie life? What else might be holding him back from asking out Minn, Lara, or Elizabeth prior to his mother's ultimatum?
Pages 249–250 contain a kind of rant about Zeke's frustration that Americans are only interested in the story of themselves. Discuss his diatribe in the context of his misguided attempts to connect with the women in his life. Additionally, what do you make of the chapter titles in light of this criticism?
The last scene of the novel leaves the reader, literally, with a ray of hope. What meaning do you think the author intended for you to take away from this ending? Was it enough to lift the mood of the novel, which essentially spirals downward as Zeke's life and rationality fall apart?
What would your response to "Why are you so unhappy?" be? Try writing an answer as though you were responding on the project's website and then share these with each other.