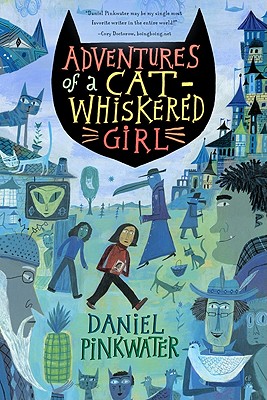 Adventures of a Cat-Whiskered Girl (Paperback)
HMH Books for Young Readers, 9780547550022, 288pp.
Publication Date: May 2, 2011
* Individual store prices may vary.
Description
Big Audrey is a girl . . .
with cat's whiskers . . .
and sort of cat's eyes.
But, is there an other cat-whiskered, sort of cat-eyed girl?
Big Audrey waves goodbye to her friends Iggy and Neddie, Seamus, and Crazy Wig, in Los Angeles and hitches a ride with bongo-playing-while-driving Marlon Brando across the country to Poughkeepsie, New York, city of mystery. She finds she has questions needing answers—and a bit of inter-plane-of-existence traveling to do.
Big Audrey and her telepathic friend Molly zigzag off on an incredibly strange and kooky adventure, and solve the mystery of the cat-whiskered doppelganger.
About the Author
Daniel Pinkwater lives with his wife, the illustrator and novelist Jill Pinkwater, and several dogs and cats in a very old farmhouse in New York's Hudson River Valley.
Praise For Adventures of a Cat-Whiskered Girl…
"Well stocked with the usual oddball characters and fabulous throwaway lines ("Doughnuts are not unknown where I come from, but they are not used as food"), the book sails along in an airy and vastly entertaining way to an appropriately daffy resolution. Pinkwater is definitely on a roll—or in this case a fritter."--Kirkus
"Mixing the absurd with the profound, Pinkwater's odd narration will have even the most serious readers laughing at the chaos. As Audrey notes, "Very often when crazy people are not actively being crazy, they are less crazy than regular people who are a little bit crazy at all times."--Booklist
"Pinkwater meanders all over the place in his storytelling, weaving together nonsense and humor with bits of actual history and science. The story is fast-paced and laugh-out-loud funny, and though the ending, if it can be called that, doesn't let up on the weirdness, readers will find reasons to delight on every page."--Publishers Weekly