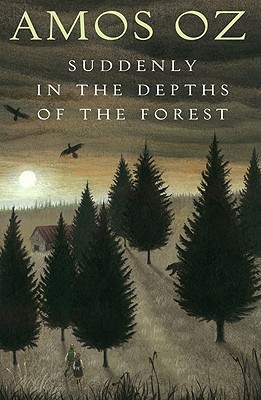 Suddenly in the Depths of the Forest (Hardcover)
Harcourt Children's Books, 9780547551531, 134pp.
Publication Date: March 21, 2011
* Individual store prices may vary.
or
Not Currently Available for Direct Purchase
Description
In a gray and gloomy village, all of the animals--from dogs and cats to fish and snails--disappeared years before. No one talks about it and no one knows why, though everyone agrees that the village has been cursed. But when two children see a fish--a tiny one and just for a second--they become determined to unravel the mystery of where the animals have gone. And so they travel into the depths of the forest with that mission in mind, terrified and hopeful about what they may encounter. From the internationally bestselling author Amos Oz, this is a hauntingly beautiful fable for both children and adults about tolerance, loneliness, denial, and remembrance.
Praise For Suddenly in the Depths of the Forest…
"From the whispered tales of a local monster to the brash, spunky heroes on a quest, internationally acclaimed Israeli author Oz litters his story with fairy-tale tropes that give this narrative a fable-like quality; the atmosphere is intriguingly secretive and shadowed, but the prose is measured and accessible and the length manageable....There is plenty to discuss here, making it a useful classroom companion when tackling issues of historical and contemporary conflicts." —The Bulletin
"It's through Matti and Maya's willingness to challenge everything that Oz channels hope."—
Publishers Weekly

"Oz creates palpable tension with a repetitive, almost hypnotic rhythm and lyrical language that twists a discussion-provoking morality tale into something much more enchanting." —Booklist
Praise for
Suddenly in the Depths of the Forest
from the UK: "If you're a reader... you'll be prepared simply to be enchanted. You'll recognize no one, and see only yourself." —
The Guardian
"Both a children's fable and an allegory for adults. It may be a fast read, but it has enormous resonances." —
The Independent
Praise for
Rhyming Life and Death
: "From the prodigious Oz comes a delightfully elusive...story of imagination, talent and the transitory nature of fame...Stamped with Oz's charm and graceful skill in creating rich characters, this is a must for any fan." —
Publishers Weekly
"Hilarious and profound, Oz's tale of a mischievous taleteller ponders the eroticism of stories and the mysterious ways language and literature bridge the divide between inner and outer worlds; and it helps us make some sense, however gossamer, of life and death. A slyly philosophical novel." —
Booklist
Advertisement