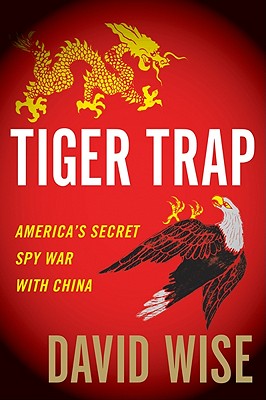 Tiger Trap: America's Secret Spy War with China (Hardcover)
America's Secret Spy War with China
Houghton Mifflin Harcourt, 9780547553108, 304pp.
Publication Date: June 1, 2011
* Individual store prices may vary.
or
Not Currently Available for Direct Purchase
Description
For decades, while America obsessed over Soviet spies, China quietly penetrated the highest levels of government. Now, for the first time, based on numerous interviews with key insiders at the FBI and CIA as well as with Chinese agents and people close to them, David Wise tells the full story of China's many victories and defeats in its American spy wars.Two key cases interweave throughout: Katrina Leung, code-named Parlor Maid, worked for the FBI for years, even after she became a secret double agent for China, aided by love affairs with both of her FBI handlers. Here, too, is the inside story of the case, code-named Tiger Trap, of a key Chinese-American scientist suspected of stealing nuclear weapons secrets. These two cases led to many others, involving famous names from Wen Ho Lee to Richard Nixon, stunning national security leaks, and sophisticated cyberspying. The story takes us up to the present, with a West Coast spy ring whose members were sentenced in 2010 but it surely will continue for years to come, as China faces off against America. David Wise's history of China's spy wars in America is packed with eye-popping revelations.
Praise For Tiger Trap: America's Secret Spy War with China…
"Wise's conclusion is sobering--'China's spying on America is ongoing, current, and shows no signs of diminishing--and his book is a fascinating history of Chinese espionage that should appeal to a diverse readership."
-Publishers Weekly
"David Wise has done it again. This time it's China. He's taken us deep into the American efforts to root out Chinese spies here and abroad. As always, Wise is the master - writing with clarity and style abou thte murky and consequential underworld of nuclear espionage."
- Tom Brokaw "David Wise is a master of the nonfiction thriller and, once again, he delivers a fact-filled inside account, with sources named and no one spared, including some very amorous and reckless FBI agents.   There is an important message in
Tiger Trap
-- about the often overlooked threat posed by China's demonstrated ability to dig out America's most important military and economic secrets."
-Seymour M. Hersh "David Wise has given us a rare combination in today's literary world -- a book that is great reading, while at the same time shedding light on a subject whose seriousness should concern every thinking American."
- Jim Webb, U.S. Senator from Virginia
,
author of
Born Fighting
,
Fields of Fire
"Extraordinary. A stunningly detailed history of China's spy war with us - from sexy socialite double agents to "kill switches" implanted offshore in the computer chips for our electric grid. Wise remains the master."
–
R. James Woolsey, former Director of Central Intelligence "Forget Moscow rules, Lubyanka Prison, and KGB assassins.  Today's most threatening web of spies is spun out of Beijing and reaches from Silicon Valley to the Pentagon.  David Wise has written a dead-on accurate narrative of major PRC cases against American targets.  He names names, details agent tradecraft, and takes you into the courtroom and even a jail cell to witness the final unraveling of these sensational cases.  You will never think about Chinese espionage the same way again. " - Peter Earnest, Executive Director of the International Spy Museum
Advertisement