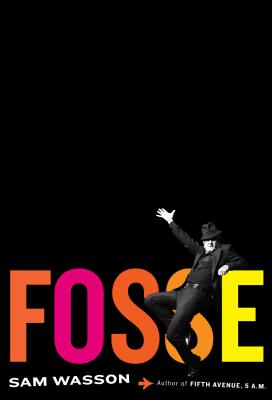 Fosse
Hardcover

* Individual store prices may vary.
Other Editions of This Title:
Digital Audiobook (11/4/2013)
Paperback (11/4/2014)
Compact Disc (11/5/2013)
Compact Disc (11/5/2013)
MP3 CD (11/5/2013)
Description
More than a quarter-century after his death, Bob Fosse's fingerprints on popular culture remain indelible. The only person ever to win Oscar, Emmy, and Tony awards in the same year, Fosse revolutionized nearly every facet of American entertainment, forever marking Broadway and Hollywood with his iconic style — hat tilted, fingers splayed — that would influence generations of performing artists. Yet in spite of Fosse's innumerable achievements, no accomplishment ever seemed to satisfy him, and offstage his life was shadowed in turmoil and anxiety.Now, bestselling author Sam Wasson unveils the man behind the swaggering sex appeal, tracing Fosse's untold reinventions of himself over a career that would spawn The Pajama Game, Cabaret, Pippin, All That Jazz, and Chicago, one of the longest-running Broadway musicals ever. Drawing on a wealth of unpublished material and hundreds of sources — friends, enemies, lovers, and collaborators, many of whom have never spoken publicly about Fosse before — Wasson illuminates not only Fosse's prodigious professional life, but also his close and conflicted relationships with everyone from Liza Minnelli to Ann Reinking to Jessica Lange and Dustin Hoffman. Wasson also uncovers the deep wounds that propelled Fosse's insatiable appetites — for spotlights, women, and life itself. In this sweeping, richly detailed account, Wasson's stylish, effervescent prose proves the ideal vehicle for revealing Bob Fosse as he truly was — after hours, close up, and in vibrant color.

Praise For Fosse…
Chicago Tribune Best Books of 2013
Publisher's Weekly Best Books of 2013
NPR's Best Books of 2013
Los Angeles Times Best Seller
Entertainment Weekly's Top 10 Books of 2013
Newsday's Top 10 Books of 2013
Los Angeles Public Library Best Non-Fiction Books of 2013
Kirkus Best Non-Fiction Books of 2013
"Mr. Wasson is a smart and savvy reporter, and his book abounds with colorful firsthand tales—
required reading
for anyone eager to understand his brand of — to use a term that appears here constantly, and can't be outdone — razzle-dazzle."
—Janet Maslin,
New York Times
"Fascinating
and exhaustive biography...Mr. Wasson has taken complete control of his subject."
—
Wall Street Journal
''He thought he was the best, and he thought he was terrible.'' The man in question is legendary choreographer and director Bob Fosse, whose celebrated life and career get their due in Sam Wasson's spellbinding 695-page biography, Fosse. You don't need to be a Broadway expert to enjoy this portrait of a man whose rise to power was famously fueled by insecurity. It's all here: accounts of his monstrous, masterful directing style; the explosive personal battles behind his Tony-winning triumphs; his incendiary relationship with Gwen Verdon. Wasson simply doesn't miss a thing. Give the guy a (jazz) hand. A-"
—Entertainment Weekly
"Impeccably researched."
—Vanity Fair
"The only thing that could have been better than Sam Wasson's page-turning, comprehensively rendered biography of choreographer-director Bob Fosse would have been Fosse's own memoir...Wasson's own narrative style has a jazzy, discursive and relentless energy well aligned with its subject."
—
USA Today
"Thorough and lively biography."
—
New Yorker
, Briefly Noted
"Amazingly well-written."

—
New York Journal of Books
"Unlike countless biographies of artists and performers, "Fosse" does not rely on dime-store psychoanalysis in explicating its subject and his flaws...Wasson, so skilled at providing a macro overview -- he seamlessly outlines the history of both the American stage and the American movie musical to better foreground Fosse's transformations of each -- has also written a book filled with
dazzling
aperçus."
—
Newsday
"Wasson's biography is
richly researched and passionate,
and while Fosse's film pursuits are only a part of the story, his life had a cinematic sweep."
—
The Philadelphia Inquirer
"The reason I picked up Fosse, though, has as much to do with its author as with its subject. . . . Wasson is a canny chronicler of old Hollywood and its outsize personalities. (The cast of characters is enough to recommend the book: Audrey Hepburn, Truman Capote, Henry Mancini, Edith Head.) More than that, he understands that style matters, and, like his subjects, he has a flair for it."
—New Yorker
"Definitive."
—Hollywood Reporter
"Scintillating
. . . There's an enormous amount of scholarship here, yet the story never drags, so adroitly does [Wasson] blend his material into a fluent narrative around evocative scenes where character emerges novelistically."
—
Publishers Weekly
(starred review)"Here's something you can't say about many celebrity biographies: at nearly 750 pages, it feels like it ends too soon . . .
A pure joy
to read, cover to cover."
—
Booklist
"Lushly researched . . . [Wasson] has amassed a mountain of data about Fosse but has sculpted it into something
moving and memorable
. . . . Graceful prose creates a richly detailed and poignant portrait." —
Kirkus
(starred review)"Deep inside this comprehensive study, Sam Wasson uses a phrase to describe the movie
Cabaret
: 'the bejeweling of horror.' Bob Fosse's whole life was something like that, a man who created magnificent, bejeweled art at personal cost. It's an American story, powerfully told."
— Paul Hendrickson, author of
Hemingway's Boat: Everything He Loved in Life, and Lost
"I tore through this masterful biography, loving it from beginning to end. Wasson writes with a verve ideally tuned to his subject, sparkling with wit and fresh insight. . . . This is a life lived large — and dangerously — amid cultural currents that propelled and inspired Fosse as a dancer, choreographer, and director. In
Fosse
, Sam Wasson energetically and authoritatively brings it all into sharp focus, with uncanny depth and perception."
— Sally Bedell Smith, author of
Elizabeth the Queen
"Hard work is evident in the intricate depiction of a complicated, brilliant man...A thoroughly researched and fascinating look at Fosse, viewed through the relationships and work that defined him. Highly recommended for theater or movie aficionados, aspiring performers, and fans of engrossing biography."
—Library Journal, STARRED review
"Sam Wasson's Fosse is terrific in both senses of the word. It's magnificent and frightening in equal measure, a biography so detailed and exacting that it makes you feel so close to Bob Fosse at all the major and many of the minor events of his life that you can practically smell the cigarette stink . . . Fosse is one of the best, most entertaining biographies I have ever read. . . . [Wasson's] intelligent prose flies off the page. He's not only an impressive researcher—he interviewed more than 300 of Fosse's friends and associates— but a wonderfully witty writer who chose every one of the book's vast number of words with extraordinary care. And he's got a killer sense of humor. Some sentences of this book are so damn funny that I laughed out loud." — Film Quarterly
Eamon Dolan/Houghton Mifflin Harcourt, 9780547553290, 736pp.
Publication Date: November 5, 2013
About the Author
SAM WASSON is the author of five books including the best-selling Fosse and Fifth Avenue, 5 AM: Audrey Hepburn, Breakfast at Tiffany's, and the Dawn of the Modern Woman. He lives in Los Angeles.
Coverage from NPR
or
Not Currently Available for Direct Purchase