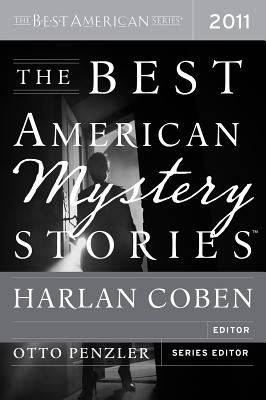 The Best American Mystery Stories 2011 (The Best American Series ®)
Paperback

* Individual store prices may vary.
Other Editions of This Title:
Hardcover (12/1/2011)
Description
The Best American Series®
First, Best, and Best-Selling
The Best American series is the premier annual showcase for the country's finest short fiction and nonfiction. Each volume's series editor selects notable works from hundreds of magazines, journals, and websites. A special guest editor, a leading writer in the field, then chooses the best twenty or so pieces to publish. This unique system has made the Best American series the most respected—and most popular—of its kind.
The Best American Mystery Stories 2011 includes

Lawrence Block, Brendan DuBois, Loren D. Estleman,
Beth Ann Fennelly and Tom Franklin, Ed Gorman, Richard Lange, S. J. Rozan,
Mickey Spillane and Max Allan Collins, and others
Praise For The Best American Mystery Stories 2011 (The Best American Series ®)…
The excellent 15th edition of this "best of" series, edited by myster maven Otto Penzler, contains 20 winning short stories, many by relative unknowns. Among the standouts are Brendan DuBois's "Ride-Along," in which a veteran cop and a freelance reporter get involved in a robbery, and Beth Ann Fennelly and Tom Franklin's "What His Hands Had Been Waiting For," in which the struggle for survival in the Mississippi Delta during the terrible 1927 flood takes a strange turn. In Ed Gorman's memorable "Flying Solo," two old men dying of cancer make the most of their last days. As in previous volumes, it's hard to find lighter fare, but S.J. Rozan's clever "Chin Yong-Yun Takes a Case" is a beautifully crafted and satisfying tale of amateur detection. Other contributors include such pros as Lawrence Block, Loren D. Estleman, and Mickey Spillane and Max Collins. --STARRED Publishers Weekly "Ranging from homespun to lush and tropical, this year's crop of 20 stories offers a variety of tastes and textures.But exotic doesn't always mean compelling. Charles McCarry's "The End of the String," set in Africa, lumbers like an elephant toward a conclusion as momentous as a mouse. "Diamond Alley," Dennis McFadden's quiet tale of small-town teens confronting the murder of a popular classmate, packs a far greater punch. Family stories are equally powerful. In Christopher Merkner's chilling "Last Cottage," a young couple tries to outlast a neighbor determined to oust them from their waterfront home. Across cultures, mothers protect. In Richard Lange's "Baby Killer," Blanca struggles with an acting-out granddaughter. And although embarrassed by her profession, a Chinese mother helps her detective daughter in S.J. Rozan's "Chin Yong-Yun Takes a Case." An absentee father's return challenges a wife who's moved on in Joe R. Lansdale's "The Stars Are Falling." But Chris F. Holm shows in "The Hitter" that sometimes the greatest threat is to the dads themselves. Families don't always grow through birth or marriage, as Beth Ann Fennelly and Tom Franklin reveal in "What His Hands Had Been Waiting For." And of course, some families are just plain toxic, as Lawrence Block's "Clean Slate" and Loren D. Estleman's "Sometimes a Hyena" aptly demonstrate. But nasty behavior isn't just a family affair. Eric Barnes shows teenagers wreaking havoc for no particular reason in his slow-moving "Something Pretty, Something Beautiful." And in "A Long Time Dead," Mickey Spillane and Max Allan Collins show that evil can turn up where it's least expected.       It has its highs and lows, but the best of Coben's Best is really first-rate."—Kirkus
Mariner Books, 9780547553962, 432pp.
Publication Date: October 4, 2011
About the Author
Harlan Coben's last three consecutive novels Caught, Long Lost, and Hold Tight all debuted  at #1 on the New York Times bestseller list and lists around the world. He is a winner of the Edgar Award, the Shamus Award, and the Anthony Award.
OTTO PENZLER is a renowned mystery editor, publisher, columnist, and owner of New York's The Mysterious Bookshop, the oldest and largest bookstore solely dedicated to mystery fiction. He has edited more than fifty crime-fiction anthologies. He lives in New York.