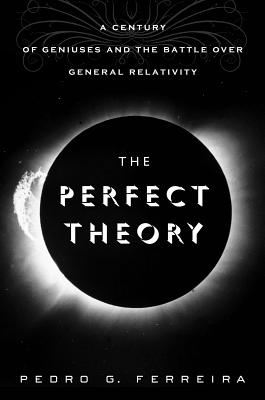 The Perfect Theory (Hardcover)
A Century of Geniuses and the Battle over General Relativity
Houghton Mifflin Harcourt, 9780547554891, 304pp.
Publication Date: February 4, 2014
Other Editions of This Title:
Paperback (3/24/2015)
Compact Disc (4/1/2014)
Compact Disc (4/1/2014)
MP3 CD (4/1/2014)
* Individual store prices may vary.
Description
How did one elegant theory incite a scientific revolution? Physicists have been exploring, debating, and questioning the general theory of relativity ever since Albert Einstein first presented it in 1915. Their work has uncovered a number of the universe's more surprising secrets, and many believe further wonders remain hidden within the theory's tangle of equations, waiting to be exposed. In this sweeping narrative of science and culture, astrophysicist Pedro Ferreira brings general relativity to life through the story of the brilliant physicists, mathematicians, and astronomers who have taken up its challenge. For these scientists, the theory has been both a treasure trove and an enigma, fueling a century of intellectual struggle and triumph.. Einstein's theory, which explains the relationships among gravity, space, and time, is possibly the most perfect intellectual achievement of modern physics, yet studying it has always been a controversial endeavor. Relativists were the target of persecution in Hitler's Germany, hounded in Stalin's Russia, and disdained in 1950s America. Even today, PhD students are warned that specializing in general relativity will make them unemployable. Despite these pitfalls, general relativity has flourished, delivering key insights into our understanding of the origin of time and the evolution of all the stars and galaxies in the cosmos. Its adherents have revealed what lies at the farthest reaches of the universe, shed light on the smallest scales of existence, and explained how the fabric of reality emerges. Dark matter, dark energy, black holes, and string theory are all progeny of Einstein's theory. We are in the midst of a momentous transformation in modern physics. As scientists look farther and more clearly into space than ever before, The Perfect Theory reveals the greater relevance of general relativity, showing us where it started, where it has led, and where it can still take us.
About the Author
PEDRO G. FERREIRA is a professor of astrophysics at the University of Oxford. An expert in cosmology, the early universe and general relativity, he writes frequently for trade and academic science publications and is a regular commentator for the BBC.
Praise For The Perfect Theory: A Century of Geniuses and the Battle over General Relativity…
"It's been a heck of a century for relativity, and The Perfect Theory is a perfect guide for this most beloved branch of modern physics." —Sam Kean, Wall Street Journal
"In The Perfect Theory, Ferreira masterfully portrays the science and scientists behind general relativity's star-crossed history and argues that even now we are only just beginning to realize its vitality as a tool for understanding the cosmos." —Scientific American
"
The Perfect Theory is a rollicking good read.
We watch as Einstein's brilliant successors struggle and squabble about everything from black holes to quantum gravity.
With crisp explanations and narrative flair, Ferreira offers us a fun, fresh take on a magnificent part of modern science
." —Steven Strogatz, Schurman Professor of Applied Mathematics, Cornell University, author of
The Joy of x
"Einstein's general theory of relativity was the greatest of his many contributions to physics, but surprisingly little has been written about how the subject blossomed after his death, with profound implications for current cosmology and astrophysics.
Pedro Ferreira provides an enthralling account of the ideas and personalities of those involved.
" —Sir Roger Penrose, Emeritus Rouse Ball Professor of Mathematics, University of Oxford"Pedro Ferreira portrays a community ensnared by a single great idea.
With vivid detail, he brings to life the awesome story of one of humanity's greatest achievements.
" —Janna Levin, Professor of Physics and Astronomy, Barnard College/Columbia University, author of
How the Universe Got Its Spots
"Einstein's general relativity is a theory of unrivaled elegance and simplicity. But the history of general relativity is messy, unpredictable, and occasionally dramatic.
Pedro Ferreira is an expert guide to the twists and turns scientists have gone through in a quest to understand space and time.
" —Sean Carroll, theoretical physicist, author of
The Particle at the End of the Universe
"A fascinating introduction to our present understanding of space, time, and gravity, and to the confusion about how to go about finding a still better theory." —P. James Peebles, Albert Einstein Professor Emeritus of Science, Princeton University"Einstein's beautiful theory is is now, more than ever, one of the liveliest frontiers of science, and crucial to our understanding of the cosmos.
Pedro Ferreira describes, accessibly and non-technically, how the key breakthroughs have been made, and the personalities who made them.
" —Lord Martin Rees, Great Britain's Astronomer Royal"You couldn't ask for a better guide to the outer reaches of the universe and the inner workings of the minds of those who've navigated it." —Marcus du Sautoy, Simonyi Professor for the Public Understanding of Science, University of Oxford, author of
The Music of the Primes
"Ferreira does not downplay relativity's complexity and avoids the easy route of oversimplifying it into a cosmic magic show. The result is
one of the best popular accounts of how Einstein and his followers have been trying to explain the universe for decades
." —
Kirkus
(starred review)"With palpable delight, Ferreira details false starts, chance discoveries, and the vindication of long-ridiculed ideas that emerged from the work that predicted singularities, M-theory, and dark energy. He also shows that Einstein didn't work in a vacuum; international collaboration made confirmation of his theory possible, while overturning some initial conclusions. Perhaps most importantly,
Ferreira's clear explanations offer a wonderful look into a world of those who tackle the hard math that is 'the key to understanding the history of the universe, the origin of time, and the evolution of... the cosmos.'
" —
Publishers Weekly
"No book better prepares armchair physicists for the intellectual excitement ahead!" —
Booklist
(starred review)  
or
Not Currently Available for Direct Purchase