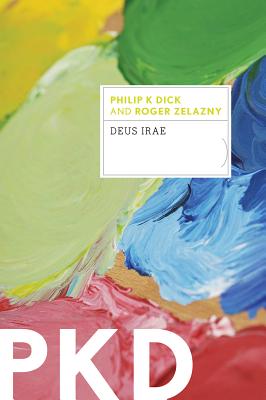 Deus Irae (Paperback)
Mariner Books, 9780547572222, 240pp.
Publication Date: April 16, 2013
Other Editions of This Title:
MP3 CD (8/25/2015)
Compact Disc (4/16/2013)
Compact Disc (4/16/2013)
MP3 CD (4/16/2013)
MP3 CD (4/16/2013)
* Individual store prices may vary.
Description
An artist searches for God so he can paint his portrait in Philip K. Dick's collaboration with Roger Zelazny.
After World War III, the Servants of Wrath cult deified the mysterious Carlton Lufteufel, creator of the doomsday weapon that wiped out much of humanity. But to worship the man, they need an image of him as a god, and no one has ever seen him. So the high priests send a limbless master painter named Tibor McMasters into the wilderness on a mission to find Lufteufel and capture his likeness. Unfortunately for Tibor, the nation's remaining Christians do not want him to succeed and are willing to kill to ensure that the so-called Deus Irae remains hidden. This hallucinatory tale through a nuclear wasteland asks what price the artist must pay for art and tries to figure out just what makes a god.
About the Author
Over a writing career that spanned three decades, PHILIP K. DICK (1928–1982) published 36 science fiction novels and 121 short stories in which he explored the essence of what makes man human and the dangers of centralized power. Toward the end of his life, his work turned to deeply personal, metaphysical questions concerning the nature of God. Eleven novels and short stories have been adapted to film, notably Blade Runner (based on Do Androids Dream of Electric Sheep?), Total Recall,Minority Report, and A Scanner Darkly. The recipient of critical acclaim and numerous awards throughout his career, Dick was inducted into the Science Fiction Hall of Fame in 2005, and in 2007 the Library of America published a selection of his novels in three volumes. His work has been translated into more than twenty-five languages.