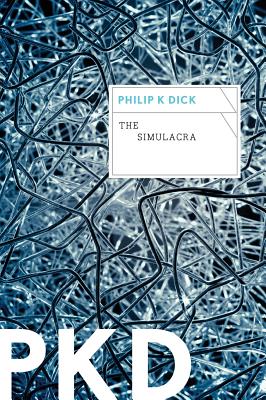 The Simulacra (Paperback)
Mariner Books, 9780547572505, 240pp.
Publication Date: October 18, 2011
Other Editions of This Title:
MP3 CD (8/18/2015)
MP3 CD (10/1/2011)
Compact Disc (10/1/2011)
MP3 CD (10/1/2011)
Compact Disc (10/1/2011)
MP3 CD (9/18/2012)
MP3 CD (9/18/2012)
Compact Disc (9/18/2012)
Compact Disc (9/18/2012)
* Individual store prices may vary.
Description
On a ravaged Earth, fate and circumstances bring together a disparate group of characters, including a fascist with dreams of a coup, a composer who plays his instrument with his mind, a First Lady who calls all the shots, and the world's last practicing therapist. And they all must contend with an underclass that is beginning to ask a few too many questions, aided by a man called Loony Luke and his very persuasive pet alien.
In classic Philip K. Dick fashion, The Simulacra combines time travel, psychotherapy, telekinesis, androids, and Neanderthal-like mutants to create a rousing, mind-bending story where there are conspiracies within conspiracies and nothing is ever what it seems.
About the Author
Over a writing career that spanned three decades, PHILIP K. DICK (1928–1982) published 36 science fiction novels and 121 short stories in which he explored the essence of what makes man human and the dangers of centralized power. Toward the end of his life, his work turned toward deeply personal, metaphysical questions concerning the nature of God. Eleven novels and short stories have been adapted to film, notably Blade Runner (based on Do Androids Dream of Electric Sheep?), Total Recall,Minority Report, and A Scanner Darkly. The recipient of critical acclaim and numerous awards throughout his career, Dick was inducted into the Science Fiction Hall of Fame in 2005, and in 2007 the Library of America published a selection of his novels in three volumes. His work has been translated into more than twenty-five languages.
or
Not Currently Available for Direct Purchase