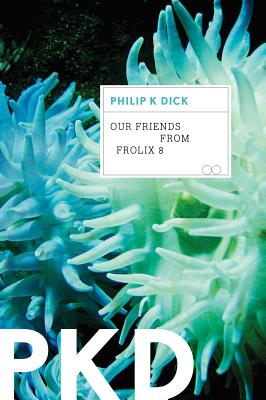 Our Friends from Frolix 8 (Paperback)
Mariner Books, 9780547572598, 240pp.
Publication Date: April 16, 2013
Other Editions of This Title:
MP3 CD (8/18/2015)
MP3 CD (4/16/2013)
MP3 CD (4/16/2013)
Compact Disc (4/16/2013)
Compact Disc (4/16/2013)
* Individual store prices may vary.
Description
This satirical adventure from Philip K. Dick deals with issues of power, class, and politics, set in a world ruled by big-brained elites.
 In
Our Friends from Frolix 8
, the world is run by an elite few. And what determines whether one is part of the elite isn't wealth or privilege, but brains. As children, every citizen of Earth is tested; some are found to be super-smart New Men and some are Unusuals, with various psychic powers. The vast majority are Undermen, performing menial jobs in an overpopulated world.
Nick Appleton is an Underman, content to go with the flow and eke out an existence as a tire regroover. But after his son is classified as an Underman, Appleton begins to question the hierarchy. Strengthening his resolve, and energizing the resistance movement, is news that the great resistance leader Thors Provoni is returning from a trip to the furthest reaches of space. And he's brought help: a giant, indestructible alien.
About the Author
Over a writing career that spanned three decades, PHILIP K. DICK (1928–1982) published 36 science fiction novels and 121 short stories in which he explored the essence of what makes man human and the dangers of centralized power. Toward the end of his life, his work turned toward deeply personal, metaphysical questions concerning the nature of God. Eleven novels and short stories have been adapted to film, notably Blade Runner (based on Do Androids Dream of Electric Sheep?), Total Recall,Minority Report, and A Scanner Darkly. The recipient of critical acclaim and numerous awards throughout his career, Dick was inducted into the Science Fiction Hall of Fame in 2005, and in 2007 the Library of America published a selection of his novels in three volumes. His work has been translated into more than twenty-five languages.