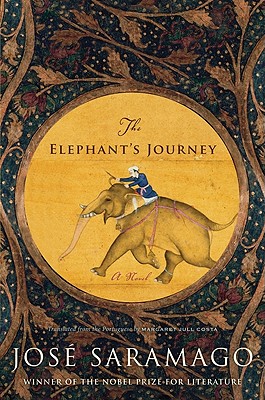 The Elephant's Journey (Paperback)
Mariner Books, 9780547574110, 224pp.
Publication Date: May 11, 2011
Other Editions of This Title:
Paperback, Spanish (7/1/2010)
Hardcover (9/1/2010)
MP3 CD (8/23/2016)
Paperback (7/1/2011)
* Individual store prices may vary.
Description
A delightful, witty tale of friendship and adventure from prize-winning novelist José Saramago
In 1551, King João III of Portugal gave Archduke Maximilian an unusual wedding present: an elephant named Solomon. In José Saramago's remarkable and imaginative retelling, Solomon and his keeper, Subhro, begin in dismal conditions, forgotten in a corner of the palace grounds. When it occurs to the king and queen that an elephant would be an appropriate wedding gift, everyone rushes to get them ready: Subhro is given two new suits of clothes and Solomon a long overdue scrub. Accompanied by the Archduke, his new wife, and the royal guard, these unlikely heroes traverse a continent riven by the Reformation and civil wars, witnessed along the way by scholars, historians, and wide-eyed ordinary people as they make their way through the storied cities of northern Italy; they brave the Alps and the terrifying Isarco and Brenner Passes; across the Mediterranean Sea and up the Inn River; and at last, toward their grand entry into the imperial city.
About the Author
JOSÉ SARAMAGO (1922–2010) was the author of many novels, among them Blindness, All the Names, Baltasar and Blimunda, and The Year of the Death of Ricardo Reis. In 1998 he was awarded the Nobel Prize for Literature.
MARGARET JULL COSTA has established herself as the premier translator of Portuguese literature into English today.
Praise For The Elephant's Journey…
"It would be hard to more highly recommend a novel to be downed in a single draft…Simply, this books flows, and keeps on flowing."
--The New York Times

"His most optimistic, playful, humorous and magical book, a grace note written near the end of his life...The Elephant's Journey is a tale rich in irony and empathy, regularly interrupted by witty reflections on human nature and arch commentary on the powerful who insult human dignity."
-- Los Angeles Times

"Saramago...spun this whimsical yet compulsively readable tale...it's a perfect example of why [he] will be remembered as a master of surreal, enchanting prose."
-- GQ

"A picaresque romp that gleefully skewers the benighted souls clinging to outmoded worldviews while breathtaking new realities unfold right in front of them."
-- Milwaukee Journal-Sentinel