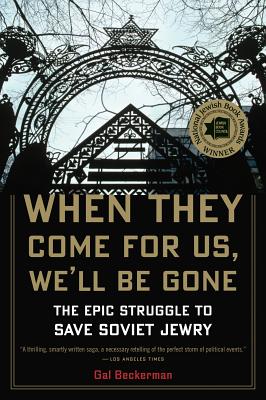 When They Come For Us, We'll Be Gone
The Epic Struggle to Save Soviet Jewry
Paperback

* Individual store prices may vary.
Other Editions of This Title:
Hardcover (9/1/2010)
Description
A New Yorker Reviewers' Favorites

"Beckerman recounts the historic trajectory of this grand assertion of human rights with passionate clarity and pellucid conviction."—Cynthia Ozick

AT THE END OF WORLD WAR II, NEARLY THREE MILLION JEWS WERE TRAPPED INSIDE THE SOVIET UNION. They lived a paradox—unwanted by a repressive Stalinist state, yet forbidden to leave. When They Come for Us, We'll Be Gone is the astonishing and inspiring story of their rescue. Drawing on newly released Soviet government documents and hundreds of interviews, Beckerman shows how the movement led to a mass exodus in 1989 and forced human rights into the center of American foreign policy. In cinematic detail, this multigenerational saga, filled with suspense and revelations, provides an essential missing piece of Cold War and Jewish history.

"Fresh, surprising and exceedingly well-researched."—Anne Applebaum, Washington Post Best Nonfiction 2010

"A riveting work of reporting and a magisterial history of one of the twentieth century's great dramas of liberation."—Commentary

Praise For When They Come For Us, We'll Be Gone: The Epic Struggle to Save Soviet Jewry…
"Gal Beckerman has written the definitive account of what might be the most successful human rights campaign of our time. This is a wonderful book: The narrative is thrilling and propulsive; the writing is beautiful; and the research absolutely authoritative. The movement to free Soviet Jewry will be studied for years to come as a model of non-violent civil disobedience, and Gal Beckerman's book will be read years from now as the masterwork on the subject."
—Jeffrey Goldberg, National Correspondent, The Atlantic, and author of Prisoners: A Story of Friendship and Terror

"Gal Beckerman's book shines a long-needed spotlight on one of the great human rights struggles of the past century. It is dramatic, revelatory and deeply inspiring."
—Ron Rosenbaum, author of Explaining Hitler and The Shakespeare Wars

"Among the great liberation strivings of the twentieth century — civil rights in America, the end of apartheid in South Africa, the independence of India — one of the most painfully achieved was the exodus of Jews from Soviet oppression. Gal Beckerman recounts the historic trajectory of this grand assertion of human rights with passionate clarity and pellucid conviction. His tireless persistence in pursuit of a stirring heroic chronicle is itself a form of heroism."
—Cynthia Ozick

"Gal Beckerman has written the Parting the Waters of the Jewish experience. In this stirring epic   —   intellectually brilliant, historically authoritative and emotionally heartfelt in equal measure   —   he has chronicled one of the great liberation struggles of modern times. And he has placed himself at the apex of his generation of nonfiction writers."
—Samuel G. Freedman, author of Jew vs. Jew

"A beautifully written book with both depth and cinematic qualities."
—Gary Shteyngart, author of The Russian Debutante's Handbook and Absurdistan "A fascinating, deeply researched, and revealing account of the brave Jews in the Soviet Union and of those in the West who worked tirelessly on their behalf."
— Sir Martin Gilbert, author of Churchill: A Life

"At last, the Soviet Jewry movement has found its chronicler. To read this book is to relive the heroism and the heartache, the desperation and the jubilation that marked the long struggle to free Soviet Jews. This is a moving, reliable and memorable narrative of one of the greatest human rights dramas of our time."
— J onathan D. Sarna, Joseph H. & Belle R. Braun Professor of American Jewish History, Brandeis University, and author of American Judaism: A History "Colorfully fleshes out personal stories within the headlines . . . A comprehensive, contextually rich study. " -- Kirkus Reviews "Absorbing and inspiring . . . An outstanding chronicle of a great effort conducted by determined and courageous men and women." -- Booklist, starred review "Enthralling . . . A must read." -- Russian Life "Masterful and highly readable history."' -- The Forward "Comprehensive and readable . . .it's Beckerman's intimate portrait of the U.S. and Soviet outsiders that makes us care about their struggle." -- Newsday

"Remarkable... The author is gifted at weaving this very human and very political tale together." -- Cleveland Plain Dealer

"A brief review can scarcely compass the breadth and richness of Beckerman's narrative or do justice to the unimaginable physical and moral courage and the resourcefulness of the dissidents and refuseniks crowding his pages. His honest recounting of their human failings and rivalries makes their achievement all the more remarkable. Beckerman also reminds us of the extent to which contemporary American Jewry was shaped by thi
Mariner Books, 9780547577470, 624pp.
Publication Date: September 13, 2011
About the Author
Gal Beckerman is a reporter at The Forward. He was a longtime editor and staff writer at the Columbia Journalism Review and has also written for the New York Times Book Review, Jerusalem Post, and Utne Reader, among other publications. He was a Fellow at the Alexander von Humboldt Foundation in Berlin and the recipient of a Pulitzer Traveling Fellowship from the Columbia Graduate School of Journalism.
or
Not Currently Available for Direct Purchase